What makes product videos so important? It's all about maximizing your creative content and driving attention to your Amazon product listing in the competitive world of Amazon. Having experience with Amazon product videography is necessary to stand out and succeed.
Ideas For Using Videos To Enhance Your Amazon Brand
The more engaging and memorable your videos are, the more likely viewers will watch, purchase, and share your material with their networks. Here are a few essential elements to include in a product video to improve sales on Amazon:
You can establish a dedicated and personalized landing page for your company on Amazon using the free tool known as Amazon Stores. With the help of Amazon's store-builder tool (which does not require design expertise), you can easily create an outstanding shopping experience. 
Showing off your brand's history through Amazon Stores is another excellent idea. Establishing significant connections with your clients through Amazon Stores can help you showcase your brand's history. Customers will remember you if you strategically use Amazon Stores' features and convey the story of your business there.
Read More: Amazon Brand Story: Everything you Need to Know
Product videos on amazon give you a great chance to entertain your customers by demonstrating the ideal experience. Making product videos will provide online customers with a far better picture of what to expect and the trust they need to make a purchase.  
Building trust and a good relationship with your customers is more likely the more you can demonstrate the "why" of your product. And if you can make your viewers laugh, weep, smile, or experience other happy feelings while viewing your product videos, then you've done a good job! 
Improve the Product Detail Pages
Sales and organic rankings can increase by producing appealing content for your product description pages. A+ Content unlocks high-definition pictures, videos, comparison tables, and other multimedia elements and can be added to your product detail pages. 
Rich content and compelling media can encourage customers to buy your goods. The secret is to be imaginative and instructive while showcasing how your products are better than your rivals. Enhancing your product detail pages will aid in product differentiation, communicate your unique brand story, and provide customers with more information to help in buying decisions.
Read More: Amazon Videography From Planning to Filming
Use Common Amazon Product Videos
 You can make different types for product videos. You should use a specific video on your listing, depending on your products. For instance, a product highlight or lifestyle video will most effectively convey your product if you offer clothing or jewelry. 
A compelling unboxing/explainer video can encourage viewers to buy something. You've probably seen videos like this on YouTube before, where someone completely unboxes a product so you can see and learn about everything inside.
 Customers can unbox the product virtually with the help of this type of video, giving them the satisfaction of knowing what their item will look like when it arrives. 
They help clients by letting them know what to anticipate from the product and how it can help them with their problems.
These videos give users step-by-step instructions on utilizing a product and offer practical advice. They work well to boost client happiness and lower the possibility of returns.
This kind of video displays your product side-by-side with another company's offering. It's a risky move that will likely pay off significantly if your product outperforms the competition for valid reasons. Remember that you can't share the names of your rivals with anyone.
 Alternatively, you may say something like "ours vs theirs." A product that can solve a specific problem that your competitors' products have is the perfect candidate for this type of video. 
Your target market is shown using the product in a lifestyle video. This allows potential consumers to visualize using the product and understand how they could like it. Knowing your target audience and what they want is crucial when producing this kind of video. 
To assist people in relating to your product and see how it might enhance their life, try to establish a relationship with them. 
What Standards Apply To Videos For Amazon Product Listings?
 Can you add any form of product-related video to an Amazon product listing? Yes, but you have to stick to amazon product video guidelines, which were put in place for the platform's improvement. 
Upload movies in English and stick to speaking in that language

Comparison videos must include supporting evidence to back up your assertions.

Display how the product is used, how valuable it is, and why you appreciate it.

Utilize evaluations that are at least a year old.

Your products must belong to you, your trademark should be registered, and you should be the only owner.

Use accurate competitor information, but avoid using vulgar language or damaging branding that damages a brand.

Avoid using contentious subjects like politics, health claims, or promotions for discounts or product prices.
As you can see from the list, these rules significantly influence how videos are created, and Amazon needs to be known for being flexible regarding regulations. Keep in mind the long-term objectives of your brand. 
Does it make sense to engage in extensive discussion if you intend to grow into international markets? Will other cultures and nations be able to understand your video or experience the same effects? Please provide answers to these queries before production. 
Read More: Secrets of Amazon Product Videography
How Visual Storytelling Improves Your Amazon Brand?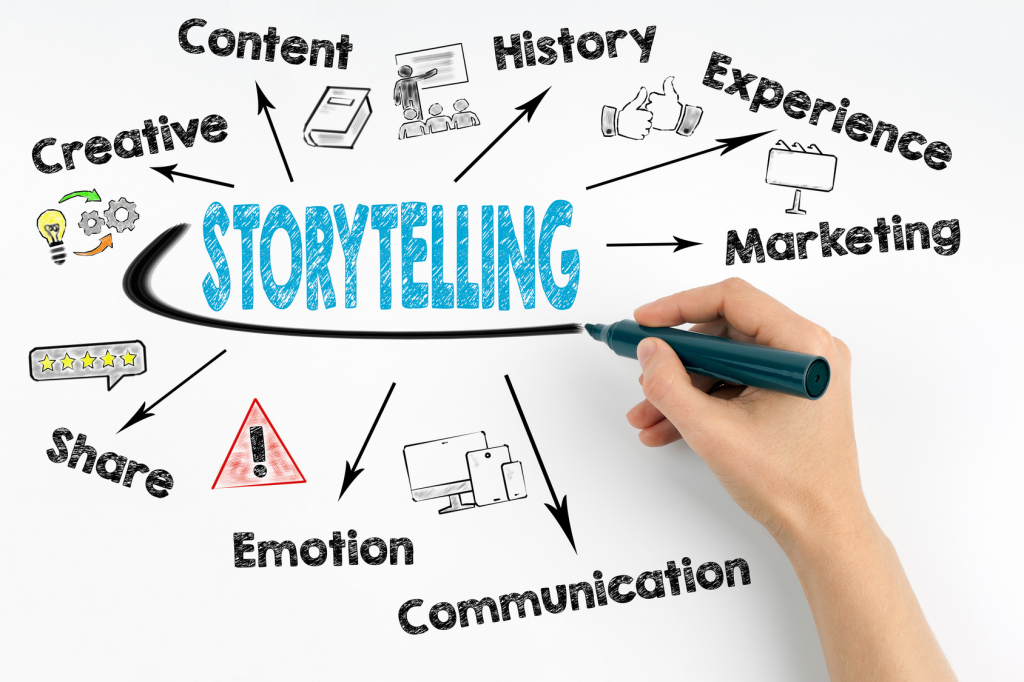 Marketing professionals believe it takes eight seconds to turn visitors into loyal consumers. But the crucial query is: what drives the conversion? Your content's quality is the issue. 
The content visitors see when they arrive on a product page after searching is crucial in maintaining their attention. There is much information on Amazon product pages, some necessary and some not. 
Amazon Brand Stories Can Cut Down on Returns and Negative Reviews
Two benefits of using Amazon Brand Stories are reducing return rates and lowering the likelihood of receiving unfavorable reviews. Additionally, Amazon product reviews significantly impact how consumers decide which products to buy. 
A seller can gain from fewer product returns and bad reviews by improving their reputation; all of the advantages above help raise conversion rates.
Customers Can Connect With Brands Through Amazon Brand Stories 
Customers must develop relationships with brands for them to purchase a product. Sellers may communicate their brand narrative directly with customers by using Amazon Brand Stories. You can achieve this by expressing your brand's principles and discussing the product's purpose. 
Customers love to feel inspired and connected by a product and frequently choose to support brands they identify with.
But being open and honest about the selling procedure is also crucial. In other words, you can present your offering as a good option for the consumer or anyone in need. This can benefit smaller firms that have yet to make an impression on customers but are working to.
Sellers Can Differentiate Their Products Using Amazon Brand Stories 
The Brand Story tool on Amazon can assist sellers in setting their goods out from the number of competitors on their product listing page. You may enhance your Amazon product videos by highlighting a product's distinctive value proposition using Amazon's brand story. 
By adding movies or infographics to your product listing page, you may use this function to sell your products in more depth. Customers' shopping experiences are improved, and customer engagement is increased. 
By showcasing their small-business charm and highlighting the qualities that set their product apart and make it superior to the competition, smaller businesses, particularly, can benefit from this feature.
The Brand Story feature might be in your collection of Amazon tools for sellers with the choice. It can assist you in enhancing the reputation of your company, creating enduring bonds with clients, and eventually differentiating yourself from the competition. 
Additionally, you now have more flexibility to highlight your company's product line and draw customers to your Amazon store. Having professionals on your side is advantageous because Amazon Brand Story is a new feature, and guidelines and best practices will change. 
Read More: How to Create an Amazon Product Listing: a Step-by-Step Guide
How Can You Outsource Amazon's Visual Storytelling?
For most e-commerce business owners, outsourcing is a game-changer since it is readily available, affordable, and efficient. These advantages assist business owners in utilizing the talents of others to expand their Amazon businesses.
 As time passes, running an Amazon business becomes more challenging and competitive. You may need an Amazon virtual assistant more than anything.
Hiring A Freelance Designer 
You can find freelance designers or design firms focusing on producing visual content for Amazon sellers. They can assist you in creating high-quality pictures, movies, and other types of visual content consistent with your brand's identity and messaging.
 Many freelancers and creatives are available on sites like Fiverr or Upwork, who can assist you in producing visual content for Amazon. Look through their portfolios and reviews to find a designer who fits your needs and price range.
Make Use Of Amazon's Creative Services
Amazon provides sellers various creative services, such as product photography, photo editing, and video production. Through your Amazon seller account, you can use these services and collaborate with their team of experts to produce premium visual content.
Use A Full-Service Provider
 Full-service Amazon agencies can handle all aspects of your Amazon presence, including visual storytelling. They can help you create a comprehensive strategy for your brand and create high-quality visual content that aligns with your goals.
Conclusion
An advantage is having an extra hand to assist with the Amazon brand. Delegation and outsourcing increase the productivity of your brand. They provide you with time to develop new ideas to enhance your operations and allow you to focus on the strategic aspect of your brand. 
Undoubtedly, outsourcing makes running an Amazon business relatively simple. Start immediately outsourcing to start enjoying all the advantages it will have for your Amazon business.