Last updated on June 10th, 2021 at 11:57 pm
For brand owners, selling on Amazon can be like walking in a minefield.
On one hand, having access to Amazon's gargantuan Amazon Prime membership base (who spend on average $1.4k per year!) is, of course, one of the main reasons why anyone would want to sell on Amazon in the first place.
On the other hand, you may fall victim to unscrupulous sellers who try to rip off your brand by selling cheap, low quality knockoffs of your brand's products.
For potential buyers of FBA businesses, there is a concern that if your brand is unprotected, it could easily be hijacked and copied, thus losing access to the buy box and missing out on potentially thousands and thousands of dollars in revenue. So if you're looking to sell your Amazon business one day, this is certainly something you should think about.
Luckily, Amazon has their Brand Registry program. Designed to protect sellers from shady counterfeiters, it allows sellers to better control the brand experience that their customers have on the world's largest e-commerce site by identifying you as the brand rights owner.
Here's an in-depth guide to what exactly it is, and how you can enroll your brand today.
What Is Amazon Brand Registry?
Brand Registry is a program that allows Amazon to identify brand owners. It protects owners from intellectual property theft and gives more control to them in how they design their brand experience.
It also gives brand owners access to a dedicated support team whom you can contact for all issues ranging from intellectual property infringement, listing issues, technical issues, and more.
And finally, it allows brand owners to utilize various marketing tools such as A+ Content and Amazon Storefront, which will increase conversions.
Since Brand Registry was rolled out, Amazon has reported 99% fewer intellectual property infringements.
Requirements
According to Amazon:
"To be eligible for Amazon Brand Registry, your brand must have an active registered trademark in each country where you wish to enroll or have a pending trademark application filed through Amazon IP Accelerator​. The trademark for your brand must be in the form of a text-based mark (word mark) or an image-based mark with words, letters, or numbers (design mark)."
There may also be country-specific requirements that you can view here.
Cost
The actual process of registering your brand is free.
However, the cost of obtaining a copyright or trademark in the first place is not free. Typically these fees range from $225-400, depending on where you register and what type of protection you want. You may also have to factor in legal fees as well.
The 7 Main Benefits of the Amazon Brand Registry Program
In today's highly competitive Amazon FBA space, a lot of sellers say getting brand protection is an absolute must.
This is because it offers you so many benefits, including:
Protect Your Brand: Amazon's support team will be on standby 24/7 to help you with issues relating to product review manipulations, counterfeit products, submitting IP infringement claims, getting rid of hijackers on your product listings, and reporting any technical issues. Additionally, with the Transparency program, Amazon will give you special barcodes (similar to a UPC/EAN code) for you to apply to your products to ensure only authentic units are shipped to your customers. There's no limit as to how many registered brands you can have.
Access A+ Content: Quite possibly the best perk of the program, A+ Content (formerly Enhanced Brand Content) is a feature that allows you to add visually appealing text and images to your product description. Ultimately, it gives your listing a much more professional look. It's not uncommon for sellers to report that their conversion rate doubles after implementing A+ Content! This is a great way to improve the search engine optimization (SEO) of your product listings.
Product Video: once approved, you'll be able to upload a video that will appear at the end of your listing's product image reel. This is a fantastic way to show your product and tell your brand story, and help skyrocket your conversion rate.
Sponsored Brand Ads: these are the headline ads that display at the top of search results. If they click on your logo, they will be taken to your store. If they click on products, they will be taken to that specific product's detail page. These function the same way as Amazon PPC (i.e. you will only pay once a customer clicks on your ad).
Understand Your Customers: data is king, which is why you need to understand as much as you can about your customers as possible to maximize sales. Brand Analytics collects customer search and purchase data to help you improve your business operations. There's a ton of info that this provides, including search terms your customers use to find your product (which you can then put into a PPC campaign), market basket analysis
Amazon Vine: getting reviews is one of the hardest parts about scaling up a new listing. Thankfully, once brand-registered you will have access to the Vine program, which lets Amazon give your products to approved buyers in exchange for a review. Be cautious, however, because these can be very honest reviews. Make sure you've used the Early Reviewer program first to make sure customers are having a positive experience with your products.
Virtual Bundles: this allows you to combine multiple ASIN's together to form a bundle. This is mutually beneficial for all sellers―your product appears on their page and vice versa. So if you notice your customers frequently buy products alongside yours, this could be a helpful way to increase conversions.
How to Get Brand Registry on Amazon
The Brand Registry application process is actually quite simple. Here are the steps:
Step 1: Review Eligibility Requirements
As previously mentioned, according to Amazon, "…your brand must have an active registered trademark in each country where you wish to enroll or have a pending trademark application filed through Amazon IP Accelerator​."
The trademark for your brand must be in the form of text-based mark or image-based mark with a combination of words, letters or numbers.
Below are some examples of text vs. image based marks:

Here is a list of everything you need to be verified: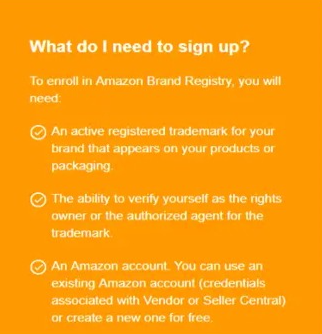 How Do I Apply for a Trademark Number?
You will need to apply for a trademark in the country you intend to sell in.
The particular Amazon marketplace you intend to sell your products in, either right now or in the future, is a consideration when registering your trademark. If you only intend to sell in the US, for instance, filing a trademark with the USPTO (United States Patent and Trademark Office) is sufficient. However, if you intend to sell in the United Kingdom, European Union or internationally, then registering with WIPO will be more suitable. 
In any case, this article isn't meant to be taken as legal advice, so it would be best to consult your lawyer before making any decisions.
When applying, you will need to submit a photo of your product. If you don't, your application could be rejected.
How Long Does It Take to Get a Trademark Registered?
In general, it takes 8 to 12 months to get a trademark application approved.
However, if you opt to file your application with one of Amazon's IP law firms, you will be able to register your brand with a pending trademark in as little as a few weeks.
Step 2: Sign Into Amazon Brand Registry
If you've met the eligibility criteria, the next step is to log into Amazon Brand Registry. If you are already a Vendor or Seller, you just use the same username and password as your Vendor or Seller Central account respectively.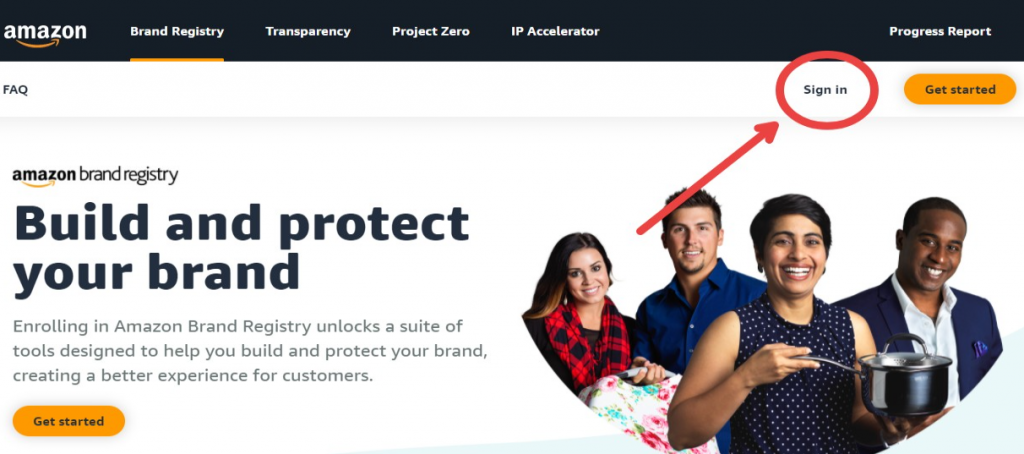 Step 3: Enroll Your Brand
The final step is to enroll your brand by entering all of the required information. It's as easy as that and only takes around 15 minutes!
How Long Does It Take for Amazon Brand Registry Approval?
Enrollment can typically take up to 10 business days before Amazon gets back to you regarding the status of your application.
Final Thoughts
Since there's zero downside to becoming Brand Registered, we highly recommend everyone to go for it.
There are so many Brand Registry benefits, but I'd say protection against shady counterfeiters infringing on your IP is worth getting it alone. Everyone thinks it won't happen to them, until they discover their sales suddenly plummeting because their customers are complaining about their product quality and leaving angry reviews.
Now once you are Brand Registered, you'll want to take advantage of one of the best perks that come with it━A+ Content.
You can figure out how to do it yourself, or you can hire an agency like Kenji ROI to take care of it for you to ensure your listing converts. Check out our A+ Content services here!