Last updated on March 28th, 2023 at 04:05 am
This is the most comprehensive guide on Amazon A+ Content (formerly known as Enhanced Brand Content) on the web. Amazon newbies & veterans alike will walk away with a better understanding of one of the biggest boons available to Amazon sellers in 2021.
Kenji ROI has a conversion rate optimized A+ Content Description Service for brands looking to outsource it to the pros with experience creating more than 1200 descriptions.
Or check our portfolio for for Amazon A+ Content Examples.
What is A+ Content & Should I Be Using It?
Amazon A+ Content (formerly called Enhanced Brand Content or EBC) gives Amazon 3rd party sellers a powerful advantage as it's not available to everyone. If you can use it (and use it well) then you have an instant advantage over competing brands.
Only brands with Amazon Brand Registry can access the A+ Content tools 
Allows you to create an A+ description with eye catching images & text
Ability to show off key benefits of your product with more pictures & graphic visuals than competitors
Much more attractive than Amazon's regular descriptions (if you don't have access to A+ Content, make sure you're using an HTML description)
You can put a video in your last main image slot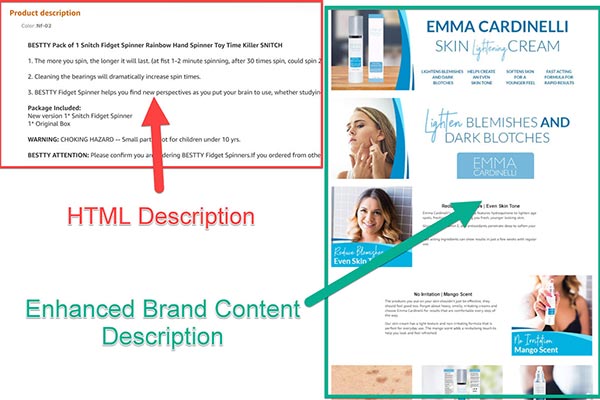 Should All Amazon Sellers Use A+ / EBC?
Everyone who can use it should be… period. It's simply better in every way.
Many listings see a conversion rate increase of 5, 10, even 12% in some cases. Do some quick math on sales you could be missing right now.
If you get approved for Amazon Brand Registry you'll also have the ability to upload a video to your Amazon listing detail page in the main image slot (previously only accessible to Vendor Central accounts).
A+ Video In Your Main Image Slot
It's been possible for some time to upload a video to the "Related Video Shorts" section in the middle of the page, but this is watched many times less than EBC videos.
Marketing gurus have been touting video marketing as the new black for years, and now Amazon sellers finally have a good option to do so on their listings.

A+ Requirements – How to Get Amazon Brand Registry
Just opening an Amazon seller account doesn't gain you access to these powerful tools. Amazon reserves them for brands who have a certain level of legitimacy.
What You'll need to Apply for Brand Registry:
An Amazon Seller Central account on a pro subscription
Amazon Brand Registry for each brand you intend to use EBC
Registered word trademark for this exact brand name require
What if I Don't Have a Trademark?
If you don't already have a registered word trademark, this process can take many months up to a year, but it's totally worth it for Brand Registry alone. You can do it yourself with the USPTO, or hire a company/ lawyer to help
Amazon A+ Content Examples
Here are a few examples of A+ / EBC that Kenji ROI has done for our clients. We have the goal of making each one look like it's a custom landing page on the brand's actual website.
Every image has graphic elements on it, and they are matching colors, styles, and fonts for a cohesive feel.
Skincare A+ Content Example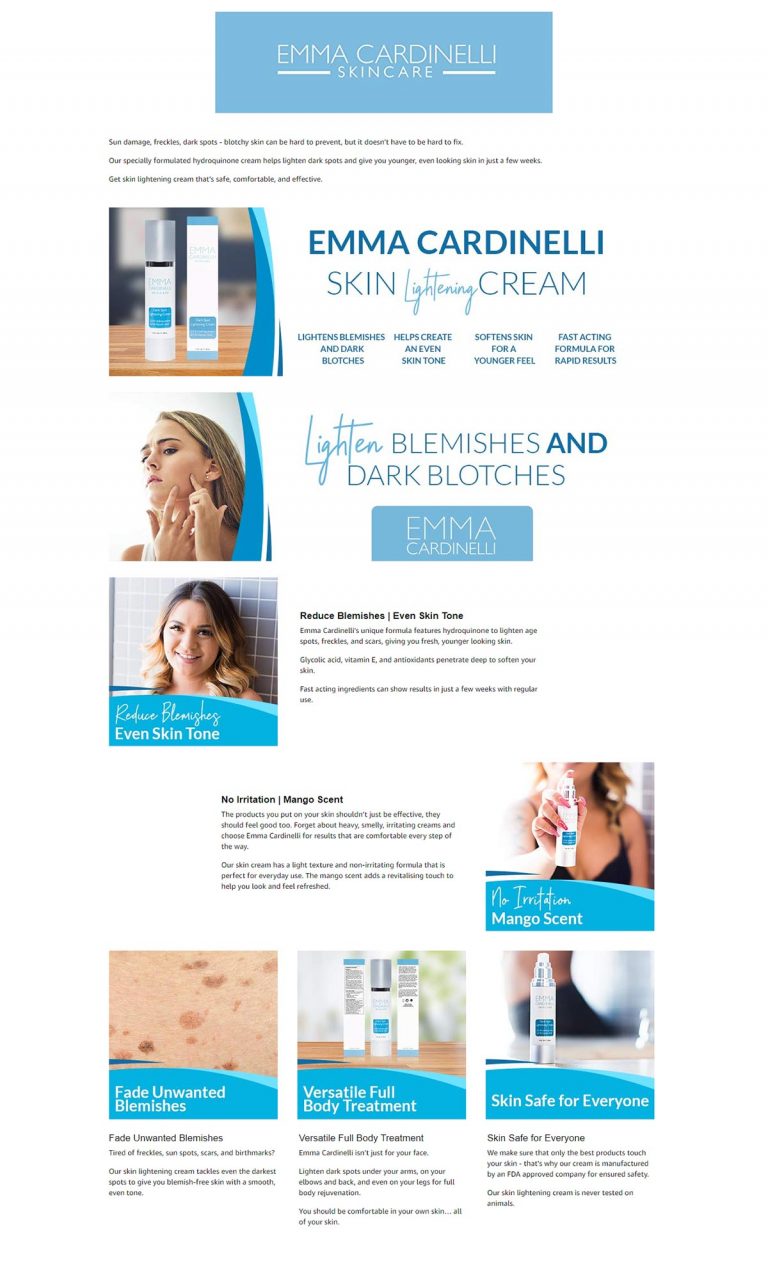 Beauty A+ Content Example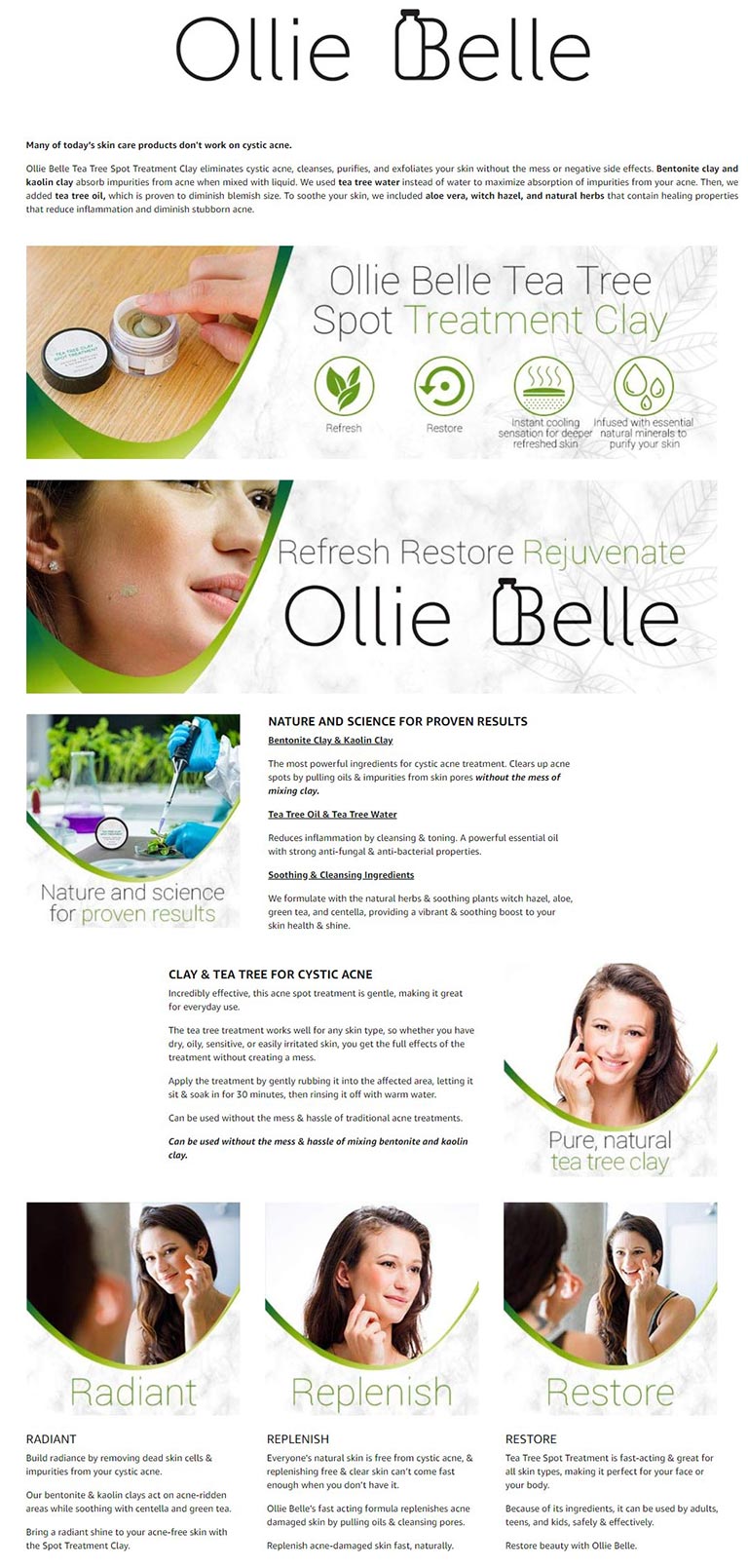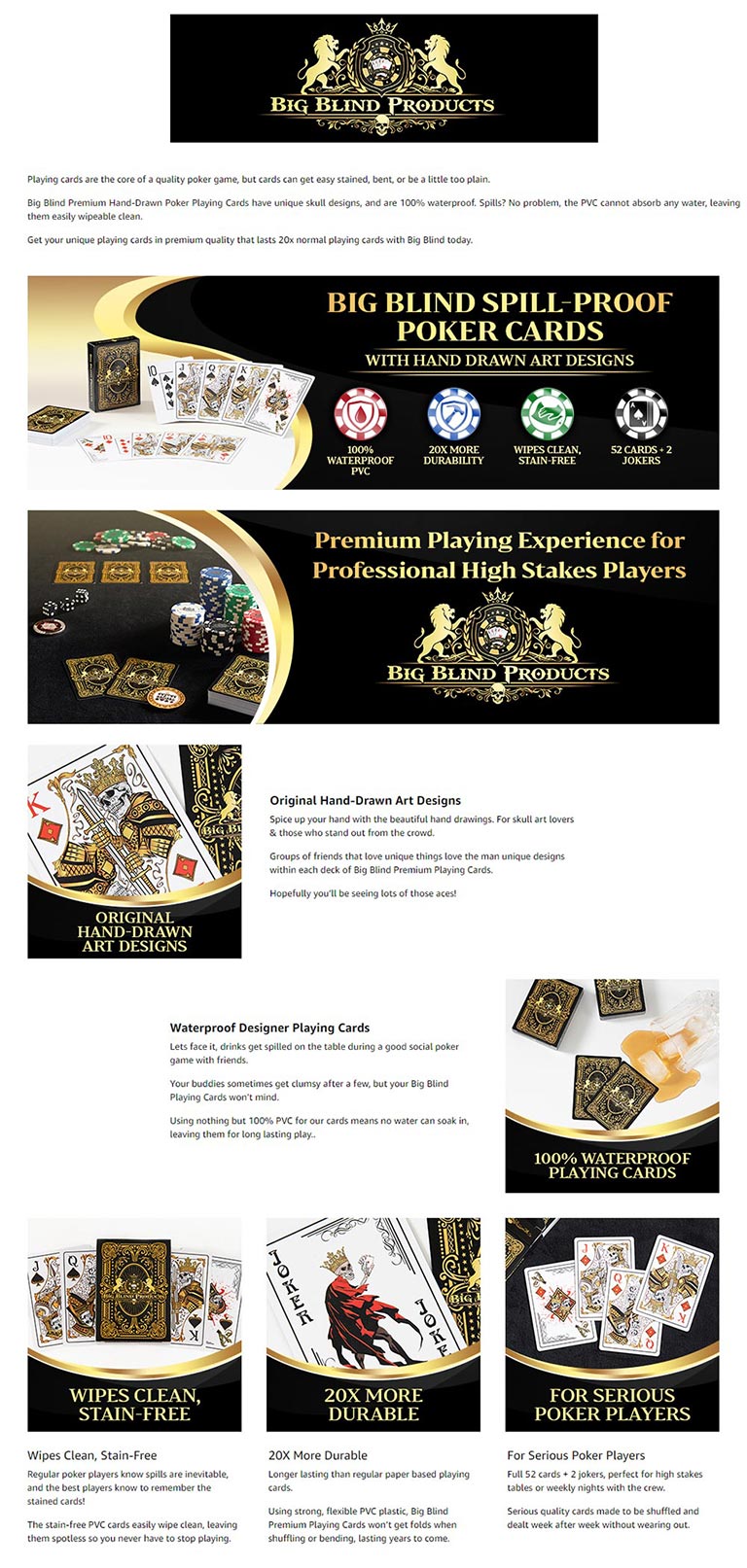 Health & Personal Care A+ Content Example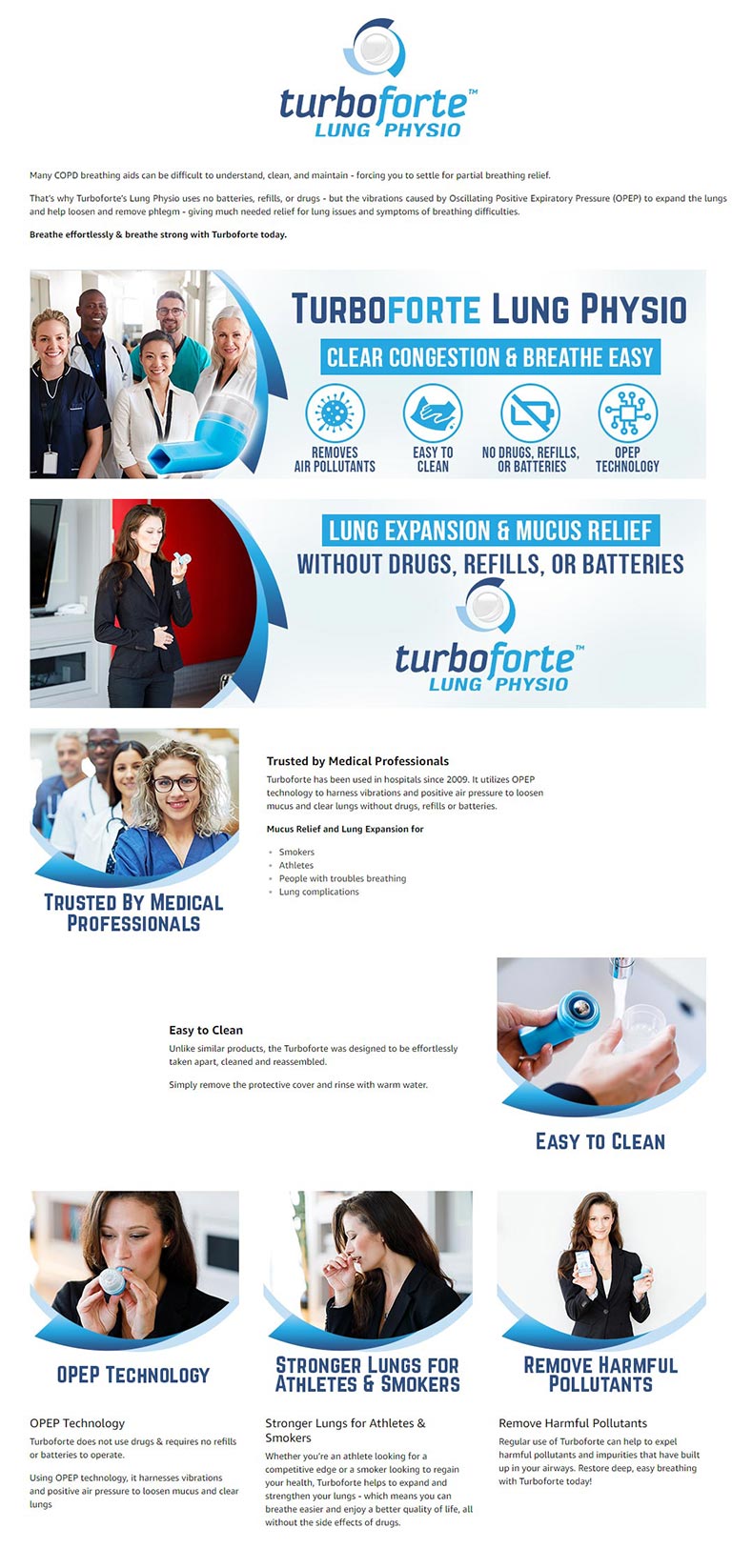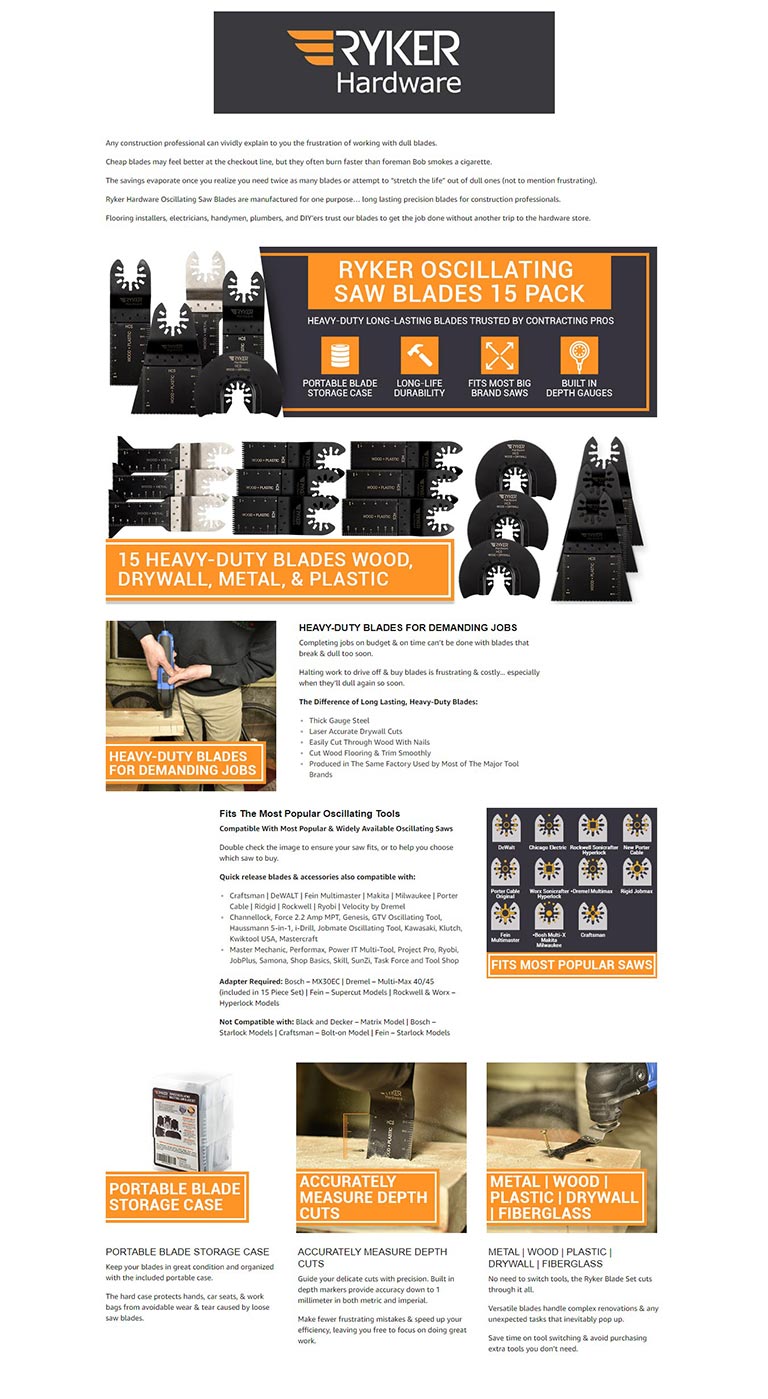 How to Create High Converting A+ Content
If you want to create A+ descriptions that boosts your conversion rate, be sure to nail all of these key points. It's possible to hurt more than help your listing if you miss on these key points!
Style & Layout Best Practices For EBC
See if you can spot each of the bullet points of the best practice bullet points below within these good and bad EBC examples.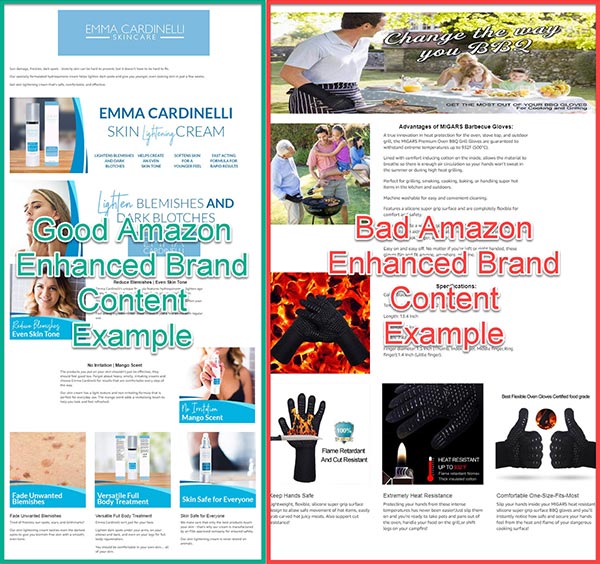 Each section should be about only 1 thing. In rare cases, 2. This allows each section to be more impactful & specific. Otherwise your EBC turns into a giant clusterf*** information soup!
Text should directly correspond with the image next to or above it.
Images should very specifically show the benefit being featured in that section. Bonus points for showing the exact moment the benefit is being received!
Don't use any of the same photos from your main slots (the ones at the top of your listing). It's against EBC terms of service & causes customers to skip over your description after seeing a photo they've already seen.
Make it look like a website landing page. It should feel as if you've opened a brand's website product page.
Take customers through a journey. What should they see first? What should they see second? What information do they need to see in which order?
Use the same fonts, colors, & graphic style as your brand. This should be consistent across your website, Amazon photos, EBC, logo, emails… everything. I'd recommend getting a professional branding package done that outlines this for any contractors you work with in the future.
Using a Custom A+ template by adding you best configuration of custom modules is key to creating great descriptions.
The most powerful one is "Comparison Products" shown below.
If you have products that make sense to cross sell on this listing, this module allows customers to click over to those listings. This potentially gives customers a product that suits them better in cases they would have clicked on a competitor's listing.
Are These The Same From Vendor Central?
Most of these custom modules have been available in A+ Content (the Vendor Central version) for a long time, but recently made available in Seller Central as well. Here are the rest of the custom templates.
Full List of A+ Content Custom Modules
Amazon A+ Content Dimensions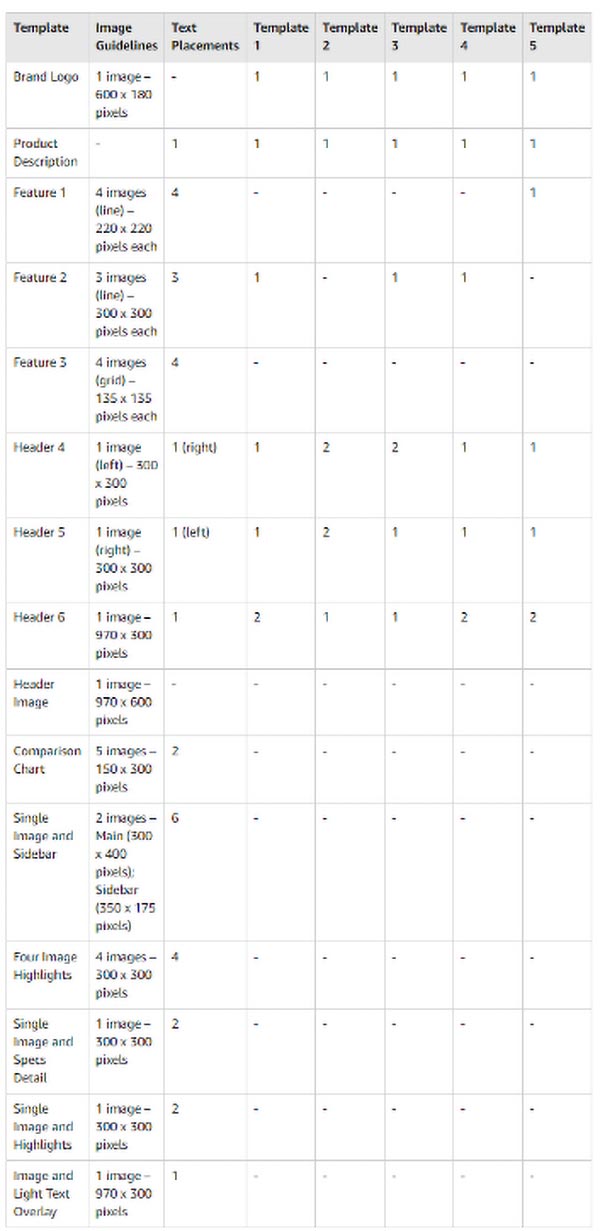 Find the name of each module next to that module in the A+ tool within seller
central.
I recommend also saving files in full resolution in case you want to use them for
other things, or need to have them edited in the future.
It's useful to keep the PSD or AI file (whatever your graphics or photo person
uses) because that's the fully editable version of the file.
*taken directly from Amazon's EBC guideline page.
Amazon has specific terms and policies regarding types of content that may not be allowed, so please review the following list carefully. 
Not following these guidelines could result in violations and may lead to a rejection by our system:
Referencing your company as a seller or distributor (e.g. "buy from us for authentic products", "LLC or equivalents").
Mention of seller authorization such as "product only sold by authorized resellers".
Any warranty or guarantee, satisfaction claims, or references to off-Amazon return or refund references.
Pricing or promotion references such as "affordable", "cheap", "bonus", "free", as well as language directing customers to purchase such as "buy now", "add to cart", "get yours now", or "shop with us".
Information about shipping details such as "free shipping" or "shipping timelines".
Use of copyright, trademark, or registered symbols anywhere in your text.
Boastful comments such as "top selling product," "hottest product," or "#1 selling product". Time-sensitive product information, such as "on sale now," "best new product of the year," or references to holidays.
Adding more than two editorial or third-party quotes. Quotes must be from well-known publications or public figures. Product award information must be presented with disclaimer.
Blurry or low-quality images.
Images containing watermarks or unreadable text. Font size must be 16 or larger and readable against its
background.
Lifestyle images not showing the product. Brand images used to tell the "Brand Story" are not required to contain the product.
Content that duplicates many of the images from the main image block on the detail page.
Images or text that attempt to mimic Amazon logos, detail page headings, or details.
Web links or language attempting to redirect to other sites inside or outside of Amazon (including your other
products).
Grammatical errors, punctuation errors, misspellings, strings of all-caps text, abusing font features, or unnecessary or repeated information. Bold and italic formatting are only intended to be used to highlight headings or a few select words.
Any mention of products being used for criminal activity.
Unverified claims: safety claims; energy saving claims; claims regarding drugs, beverages, food and health products. Health category products such as health drinks, organic supplements and other related products that do not carry any certified disclaimers must have an FDA disclaimer present. (FDA Disclaimer: These statements have not been evaluated by the Food and Drug Administration. This product is not intended to diagnose, treat, cure, or prevent any disease.) For more information, see Prohibited Product Claims.
Comparing products on Amazon other than products from leading national brands or from within your own brand. For comparison tables, you are only allowed to compare products within your own brand.
Subjective language: anything that is subject to your own opinion and/or used excessively; a limited degree of
subjective language is allowed.
Content on adult products that violate any of Amazon Adult products policies and guidelines.
References to off-Amazon customer service, or contact information (e.g. "contact us if you have problems", phone numbers, contact email, etc.).
Content written in languages other than the one spoken in the marketplace you are selling, including HTML tags.
Images submitted without image keywords are not accessible to customers with visual impairments.
Any violations to category requirements or Selling on Amazon policies.
A+ is always better than no A+
It will increase your conversion rate if done correctly.
Amazon Brand Registry is required to take advantage of Enhanced Brand Content
Get brand registered as soon as humanly possible to get the advantage on competition.
A registered word trademark is required for Amazon Brand Registry
& can take up to a year (but it's well worth it)
Poorly designed A+ can hurt more than help
Make sure you're working with an A+ Content Professional like Kenji ROI
You also have ability to upload video to a main image slot with the A+ tool
Consider getting an advantage with a professionally made video to increase conversion rate.
The "Comparison Products" custom module is the most powerful
It allows you to interlink between product pages YOU own, making it more likely customers will end up buying the best product for them from YOU.
Kenji ROI has created more than 136 A+ Content & EBC descriptions for brands across all major categories.
The Kenji A+ process is part of the Kenji Complete Amazon Listing process, where we use a unified team & research to craft cohesive, effective, & highest quality Amazon Photography, Title + Description + Bullets + Keywords, Video, & A+  Content for successful ecommerce brands.
To inquire about A+, or any of these services, click the Inquire Now button below.