Last updated on March 11th, 2021 at 08:45 am
The end of the tax year is approaching of what was for many Amazon sellers, the biggest year yet.
But biggest revenue usually also means biggest tax bill… but it doesn't have to.
Not if you take advantage of these 3 tax saving tips for Amazon Sellers.
NOTE: These are time sensitive, and must be actioned before the end of the tax year, which for most businesses is Dec 31, so don't delay…. or you will pay (the tax man that is).
DISCLAIMER: I am not an accountant or certified tax professional, so please consult with your tax professional. I am just sharing my experience from 5 years of online business as a business owner.
Why More Profit This Year Means Less Growth Next Year
After a profitable year, successful business owners find themselves in a mental dilemma.
"Do I reward myself with a larger profit distribution and slow the growth of my business? Or do I reinvest the profits to grow my business tax free?"
I'm not saying hard working entrepreneurs shouldn't reward themselves, but I think many people don't understand the true cost of extracting profit from their business.
Example:
Company 1 and Company 2 both made $1,000,000 revenue in 2020 at a 30% net margin.

The owner of company 1 decides to take 50% as a profit distribution and reinvest 50%. He pays himself $150,000, and pays $50,000 income tax, leaving him with $100,000 personally and $150,000 to reinvest in the business.

Company 2's owner understands the power of reinvesting profits, and reinvests all $300,000 back into their brand. They paid $0 personal income tax AND have double the cash as business 1.
They can afford to hire 3 new employees and 2 additional product launches within the same time period as company 1.
Obviously this is a simplified example and you should pay yourself a living wage, but the point is by reinvesting business profits year over year, it's possible for the business to pay $0 in taxes, or at least drastically reduced taxes by making smart investments before the end of the tax year.
Making Smart Investments to Pay $0 in Taxes
Notice how I'm saying "smart" investments. Buying a company van just to bring your taxable income down is stupid and irresponsible if there's no direct business advantage gained.
The key here is to identify things you are 100% going to invest in anyway, and invest this year to bring down taxable business income to $0 (or as close as possible).
In most countries, businesses only pay tax on their profits. So if you bring your profits to $0 simply by moving up expenses you were planning on making anyway, it's essentially growing your profits tax free.
This is the exact same strategy Amazon used to obliterate the competition in the ecommerce market. Look at the graph below, blue shows revenue and red shows profit. They continually reinvesting nearly 100% of profits for more than 15 years!
This is one of the main reasons it's nearly impossible for anyone to compete against Amazon in any meaningful way. How can you win against a competitor who can afford to hire more and higher quality employees, spend more on marketing, and undercut your prices?
Over the long term, you can't…
Pre-Pay For Annual Software Subscriptions
This is the lowest hanging fruit. Business software you are using anyway that you aren't already on an annual subscription. You can prepay the entire upcoming year to bring this year's tax bill down.
But be warned, this one requires self control and careful consideration. Will you 100% still be using this software for a year? That fancy new marketing software may not be the best bet, but your project management, accounting, email marketing, or team communication softwares probably are.
Here are the softwares that I personally have an annual subscription for, most of them renew in Nov or Dec 😉
Monday – Task Management
Google Drive – Team Storage
Tiller – Financial reporting
Bonjoro – Video emails
Sales Navigator – Linkedin's sales software
Zoom – Team and client calls
Close – Sales pipeline software
Some of them are affiliate links, but all of them I've used for at least 2 years and will continue doing so.
Amazon Listing Optimization Services
We all know the importance of a high converting Amazon product listing with top relevance keywords, stunning product photography, and killer A+ Content & video.
So why not invest in these services ahead of time? There's a 100% chance you will need it when launching new products in Q1/ Q2 2021, and it will bring your 2020 business taxes down.
If we invested an additional $5000 in Amazon listing services in 2020, and the Corporate tax rate is 20%, that's $1000 extra we have to spend on ads or new products (or a luxurious weekend for you and your partner!)
At Kenji ROI we accommodate Tax-Saving prepayments of any size using "Kenji Credits" that are added to your Kenji Client Dashboard for future use on any of our Amazon listing optimization services.
One Kenji Credit = $1USD, they never expire and the unused balance is refundable at any time.
If you have questions you can email us at support@kenjiroi.com with subject line "Kenji Credits"
Amazon Marketing Agency Contracts
Every brand needs marketing, and especially quickly expanding brands will benefit from working with an Amazon marketing agency to help grow their sales fast.
If you know you are planning to invest heavily in marketing next year, it makes sense to invest in as much of that as possible in 2020, at least if your still show a taxable profit. It's essentially allowing you to invest in growing your business tax free!
Kenji ROI does Amazon Ads Management for brands spending more than $5k per month adspend.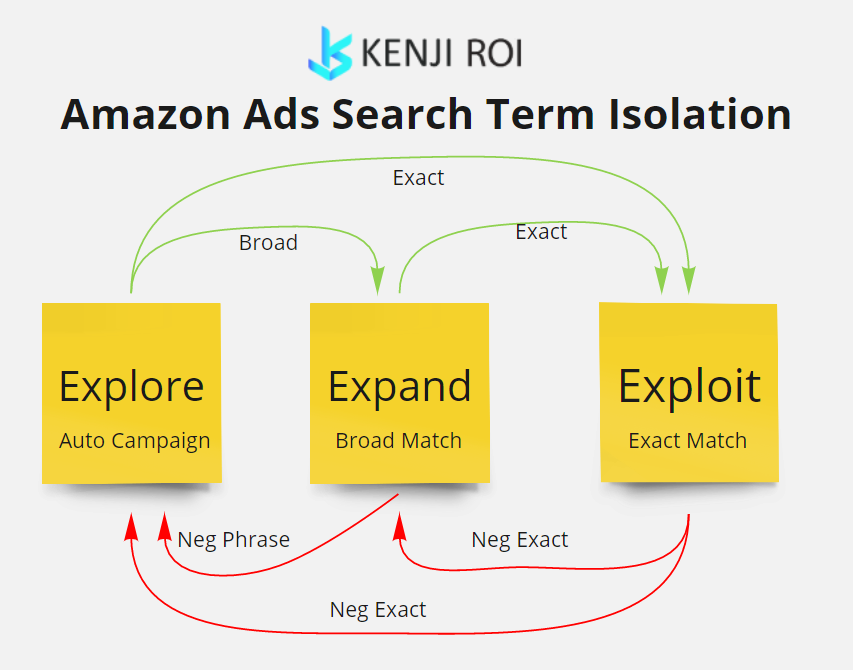 Amazon PPC Ads Courses
Know you need to step up your Amazon Ads game in 2021 but don't have the budget to pay an Amazon Ads agency every month? A one time payment for an Amazon Ads course is probably your best bet.
Now I've been in the Amazon game for 5 years, and I've taken Brian Johnsons, Sean Smith's, and many of the other Amazon Ads courses out there. Many of them are great courses and worth the investment.
But here at Kenji ROI we've developed what I can safely claim is the most comprehensive Amazon PPC program available right now "AMZ Ads Mastery" that teaches every aspect of Amazon Ads from beginner to advanced.

Sponsored Products Ads (still the bread and butter)
Sponsored Display
Retargeting
Sponsored Brands
Branded Campaigns
Search Term Isolation
Bid Optimization Frameworks
Full Explanations of Every Concept Currently Talked About in Amazon Ads
Bulk File Uploads for Ultra Fast Uploads And Optimizations
We cover literally everything step by step and provide you with 8 weeks of coaching calls for support.
Check out Kenji ROI's AMZ Ads Mastery Amazon PPC course here.
Kenji ROI 2020 Tax Saver Deal
We know many of our clients want to make investments that will lower their 2020 tax payment. So to sweeten the deal, for Kenji Credit purchases $2,500 or above, we are throwing in the AMZ Ads Mastery Course for FREE.
This course officially launches in January at the starting price of $2997 before likely increasing to $5k.
But before Dec 31, 2020, we are adding it as a free bonus to any clients purchasing $2500 or more in Kenji Credits.
One Kenji Credit = $1USD, they never expire and the unused balance is refundable at any time.
To take advantage, simply purchase $2500 or more credits through this link: https://clients.kenjiroi.com/order/43P97O
Then email us within the Kenji Client Dashboard mentioning you're claiming the 2020 Tax Saver Deal, and we'll add access to the course within the Training tab of your Kenji Client Dashboard.