Last updated on January 9th, 2023 at 11:37 am
UPDATE: Viral Launch product photography has shut down permanently. They are only focused on launch & software now.
So while they have exited the Amazon product photography game, Viral Launch still has product research software, so the question becomes…
Jungle Scout vs Viral Launch
Both of these Amazon product research softwares have been well established for years. Junglescout was on the market for a few years before VL entered the game, but they both have impressive development teams behind them.
In the classic Viral Launch vs Jungle Scout debate, both have their upsides and downsides, but I personally prefer Jungle Scout as it's simpler and focuses on doing one thing really well.
But Viral Launch has a ton of extra data that can be valuable if you're looking for more in depth info. As a beginner Amazon seller this makes Viral launch more attractive, but personally I've been selling on Amazon more than 5 years and for me, simplicity is better.
Every serious Amazon seller is aware of the benefits pro listing optimization brings.
Who is the king of Amazon listing optimization? Kenji ROI or Viral Launch?
One moment you have a product that wouldn't shift if you were giving it away free. The next you're eagerly getting dozens or even hundreds of sales a day.
But this transformation doesn't just magically happen. Getting an elite-level Amazon listing takes expertise in a whole range of areas, including Amazon product photography, image editing, Amazon copywriting, keyword optimization and SEO.
If you're some sort of super-brain with the natural talent to excel in all these areas then you can boost your Amazon listings yourself with nothing more than a laptop, your camera and a few thousand dollars of lighting equipment.
For the rest of us mere mortals, however, expert help is needed.
There's no shortage of options out there for the aspiring Amazon seller. The problem lies in which option to pick. Because while glossy marketing images and shiny websites make some agencies appear as the perfect solution, the truth can be very different.
Two such Amazon listing agencies are Kenji ROI and Viral Launch photography service. At a glance, both offer the customer similar outcomes. But between the two, which is right for you?
Kenji ROI: Complete Amazon Listings
The only agency that creates complete Amazon listings with photos, keyword optimized copywriting, A+ Content, & video.
 Kenji ROI are comprised of an expert team that offers comprehensive listing guidance, taking the customer from start to finish with a dedicated specialist working on each area. Amazon listings can be created from scratch, completely revised, or have certain parts updated with better versions. Whichever you choose, you'll be getting a service tailored to bring in that all-important cash for you.
These options can be broadly broken down into four key areas – photography, copywriting, A+ content and video. These can in turn be ordered individually to accommodate any skills shortages on the buyer's end, or ordered in packages for a comprehensive service that gives you a ready-to-go listing. Even these packages have two options, letting customers choose the precise option that suits their needs and budget best.
Oh, and did we mention the range of custom add-ons that can be purchased alongside the main services? Yes, these add-ons can be used to bring those special touches to make your listing simply jump off the screen and embed themselves in your prospective buyers' minds.
If all these options sound confusing then don't worry, because they're actually super-simple. Somehow managing to provide lots of options while making it straightforward for the buyer, Kenji ROI offers plenty for the seasoned seller and the newbie Amazon entrepreneur alike.
Customer reviews also seem to give Kenji ROI some serious praise, with their Google review score currently sitting at a healthy 4.4 / 5 for the world to see. For our money, Kenji ROI seem a safe bet for your Amazon listing needs.

Viral Launch, meanwhile, seem to do things a bit differently…
Viral Launch Photography Review
If you're looking for an unbiased review of Viral Launch's photo division then obviously this is not the best place, haha. But now that they have closed the doors to their photo division permanently, it's fair to say that Kenji ROI has won this battle. You can't review am Amazon photo service that doesn't exist!
Viral Launch: (photo division permanently closed)
On the surface it's more of the same. Copywriting? Check. Photography? Check. Keywords? Check. What differs is the way these services are offered and the exact nature of each.
Viral Launch pricing, however, bundles these services up in different ways to Kenji ROI. They also don't seem to offer dual copywriting-photography package deals either, which may make it more difficult for newbie Amazon sellers to determine the best products in their situation.
The photography options also leave much to be desired, offering white-background photos and lifestyle shots but totally neglecting graphic design images. Excluding the latter variety is actually quite common in Amazon listings, but sellers do so at their own peril.
Why? Because it's commonly understood among experienced Amazon vets that the key to a knockout listing is to include ALL three image types. A high-converting listing requires white-background, lifestyle and graphic design images to really come to life and convert, and those listings that don't utilize this are leaving money on the table.
Correction – that's Viral Launch leaving your money on the table.
To their credit, Viral Launch do offer a software option for sellers that want help with their market research and creating an effective listing. This monthly-paid software certainly isn't for every Amazon merchant, but with its four different tiers and range of pricing options it may be useful for some.
The customer experience is critical for every Amazon seller looking to use an agency. You want to know what you're getting, you want to know the limits of the service offered, and you want to understand what you'll be entitled to if you're unhappy with the work done.
Unfortunately for Viral Launch Amazon, it's here that we see either a failure to provide the service offered or a poor customer journey for the buyer…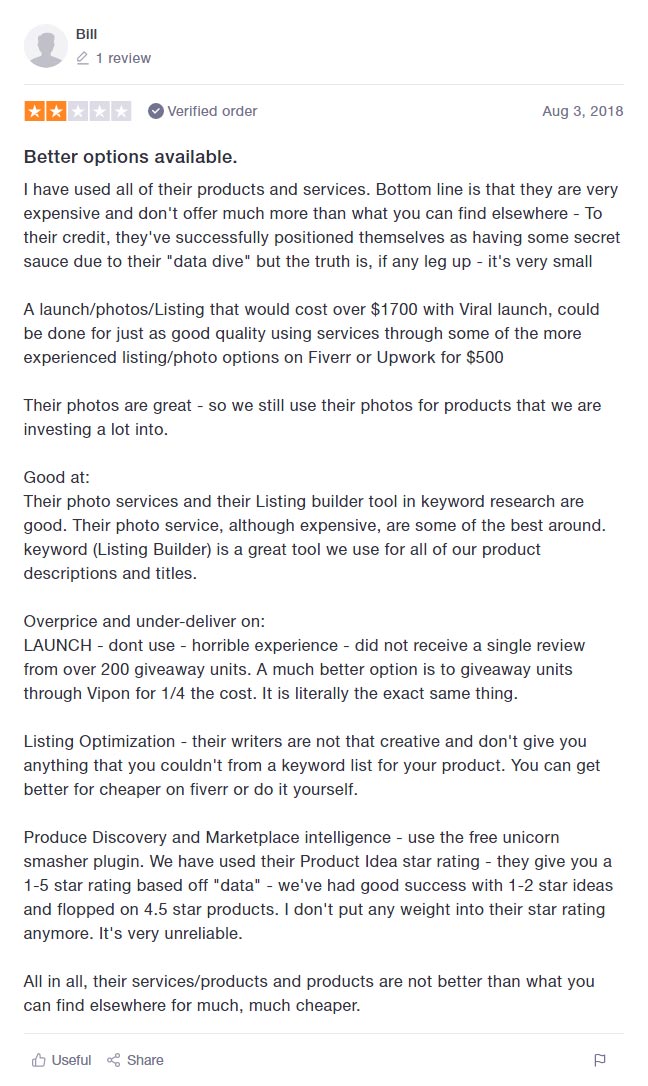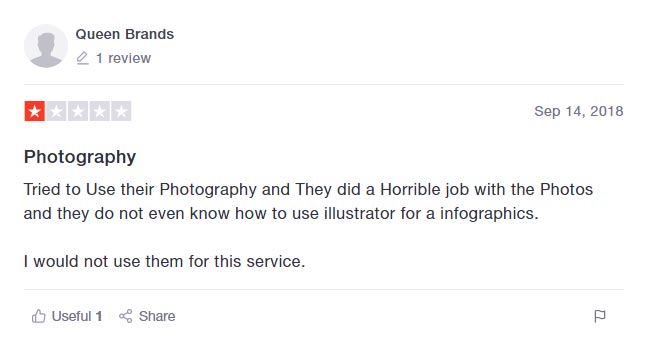 Price-wise, it's difficult to clearly say who comes out on top. The range of options and packages offered by Kenji ROI and Viral Launch mean that one agency may be overpriced in certain aspects while having everything the seller wants for a reasonable sum in another.
But on the topic of price, what's the benefit of getting a lower priced service if the service itself is lacking? This is the question every Amazon seller must ask themselves before making a price-based decision.
In Conclusion... Kenji ROI vs. Viral Launch
In a toss-up between Kenji ROI and Viral Launch, it seems the latter have some serious improvement to make on their customer service record before we could confidently pick them over Kenji ROI.
So the winner of this showdown is….Kenji ROI.
Sporting a comprehensive customer care package, a great track record of success and a long list of happy customers, Danny and the guys at Kenji ROI are a solid choice for your Amazon listing needs.