Last updated on June 17th, 2020 at 09:15 am
Here are some of the most important Amazon FBA slang terminologies to get you up to date & rocking with selling on Amazon. This allows you to more easily search for the resources you need to learn & communicate better with Amazon consultants & service providers.


ASIN – Amazon Standard Identification Number: an alphanumeric identifying number for every unique product sold on Amazon. You can find the page for any product on Amazon with this ASIN, and it is used in many software tools, or Seller Central.

to find the Amazon page using ASIN, type in amazon.com/dp/ASIN-GOES-HERE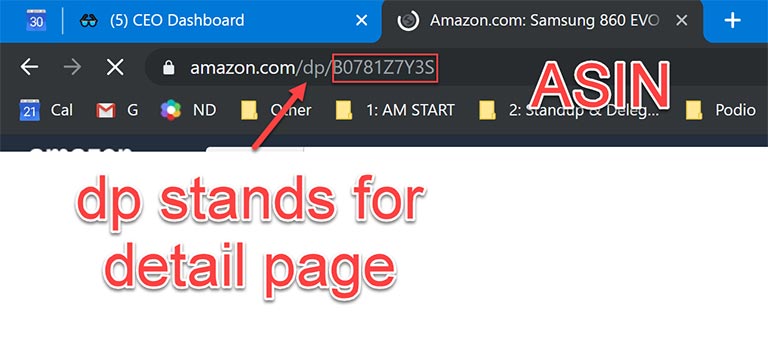 FNSKU – a unique barcode for Amazon products. Products on Amazon must have one of these barcodes on them
Product Launch – a strategy for launching a new product on Amazon, usually involving driving sales through a specific keyword to boost your ranking to page one of the search results
Launch Services – companies that will promote your product to their audience for a fee to help with product launch & keyword ranking
Piggy Backer – a seller on Amazon that lists on your product listing. They are also selling your product and may steal sales. They may have gotten your product from a discount promotion, or they may be selling a counterfeit version.
Hijacker – a seller on Amazon that takes over control of your listing
PPC – Pay Per Click advertising. In the context of Amazon is referring to Amazon Ads
Subject Matter – text fields in the product details that we recommend filling with your most important keyword phrases. The are not visible on the listing, but helps Amazon's algorithm know what your product is.
Search Term – a keyword or phrase that someone types into the search bar
Back End Keywords – any text keyword fields in Amazon's back end setting for a product. Includes search terms and subject matter
Seller Central – the login portal for Amazon Sellers
Vendor Central – the login portal for Amazon Sellers who wholesale to Amazon rather than selling as a 3rd party merchant.
ACOS – Actual Cost of Sales. Possibly the most useful metric to gauge the performance of Amazon PPC. If the ACOS is a higher percentage than your profit margin for that product, you are losing money on every sale.
ROAS – Return on Ad Spend
Impressions – how many people have seen your ad
EBC – Enhanced Brand Content (now called A+ Content)
A+ Content – an enhanced product description that allows images & text in a custom built format based on modules. Must be Amazon Brand Registered to use this.
Related Video Shorts – a small section half way down the listing where you can get any Amazon buyer account to upload a video to a listing.
HTML Description – in the regular description space half way down a listing, you can use basic HTML formatting for text such a bold, italic, line breaks, & bullet point lists to make it stand out and not bunch up into a giant blob of text.
Alt Code Symbols – text symbols, older than emojis that you can use in Amazon descriptions such as ✓ – only certain symbols can be used.
Page One – the first page of search results on Amazon for a given keyword phrase. Ranking on page one for phrases with high search volume is the holy grail of Amazon selling.
Keyword Ranking – the position a product shows up on the search results for a specific search phrase
Rank Tracker – software that tracks keyword ranking over time so you can make informed decisions
A-Z Guarantee – Amazon's guarantee they make to all shoppers on Amazon that you as a seller by default are providing to the customer.
BSR: Best Seller Ranking – your product's ranking within a specific subcategory. A BSR of 1 in kitchen means that is currently the product selling the highest volume of units in the kitchen category.
Buy Box – when multiple sellers are selling on a single product listing, the one with the buy box will get the sale when the shopper clicks "add-to-cart." Often the lowest price will win the buy box but other metrics such as seller rating and metrics play a part as well. If you are the only seller, you will automatically have the buy box unless Amazon penalizes you for something else.
Brand Registry – a program for brands selling on Amazon that requires them to prove they are a legitimate brand through an application process, & provides them with access to an ever expanding list of advantageous tools such as A+ Content, Storefronts, & putting videos in main image slots at the top of the listing
Headline Search Ad – a type of ad on Amazon that shows up at the top of the page and shows up to 3 products in a banner across the top
Lightning Deal – a deal you can schedule in Seller Central that requires you to offer a big discount for a specific number of units, & Amazon will place your product on their deals page.
MOQ – Minimum Order Quantity – The smallest numbers of units of a product a manufacturer will produce at once.
Prime – Amazon Prime is a paid membership for guaranteed 2 day or less shipping on qualifying Amazon products. If you are using FBA, you will be automatically Prime eligible & it's a must to sell well on Amazon.
Unit Session Percentage – Amazon's version of conversion rate. A ratio of a product's impressions to units sold.
COGS – Cost of Goods Sold – a calculation of all costs involved in a product to get it into sellable condition. Usually includes manufacturing, sea shipping, etc but does not include ads or Amazon fees.
Dropshipping – a business model where a seller receives a sales order, then themselves makes an order from a supplier to ship directly to their customer. The seller does not need to hold any inventory and only orders from the supplier when they themselves have received an order, eliminating inventory risk.
Private Label /White Label – when a company uses a 3rd party manufacturer to produce their goods or services for them, sold as their own brand. Usually refers to products that are not uniquely modified, but existing products already being made by a manufacturer and simply branded differently.
FBA – Fulfillment by Amazon – Amazon's shipping & warehousing program for sellers.
FBM – Fulfilled by Merchant – When sellers on Amazon ship orders to customers themselves
Gated Category – some categories of products on Amazon are gated, meaning you have to apply to be able to sell those products. Each category requires different documents or proof.
RFQ: Request For Quote – A request to a manufacturer for a quotation with a specific set of requirements
Verified Review – A review on an Amazon product from an Amazon buyer of that product
Unverified Review – A review on an Amazon product from someone who hasn't purchased that product on Amazon. Holds less weight.
Split Test: aka A/B testing – a test between 2 variations of an Amazon listing, usually the main image or sometimes text, where the one that performs better will become the permanent version until another variation can beat it.
A9 Algorithm – Amazon's proprietary ranking algorithm
Storefront – a customizable Amazon page with images, videos, tabs, & clickable links that can direct shoppers to your Amazon products. Requires Amazon Brand Registry.
Alibaba – an online marketplace mostly filled with Chinese manufacturers you can find to produce your products in large quantities
Seller Feedback – feedback on your Amazon account directly from customers. Different than product reviews & important for keeping your Amazon account metrics in good standing.
Early Reviewer Program – a program on Amazon where you can pay for up to 5 reviews from verified customers on Amazon for newly launched products
Alibaba Gold Supplier – a supplier on Alibaba who has been verified by Alibaba. Can be trusted more than non gold ones.
Alibaba Trade Assurance – an escrow service that will not release money to the supplier until receipt of the order has been confirmed
AMZ – often used as a shorter version of "Amazon"
FC: Fulfillment Center – an Amazon FBA warehouse that fulfills product to customers
Super URL – aka keyword URL – A type of link to an Amazon page that has "keyword modifiers" that says the user arrived at that page from the search page of a specific keyword. Amazon Sellers use this to help rank for their target keyword
General Digital Marketing Terminology
Being an Amazon Seller, you should at least know the basics of digital marketing slang terms to get by. You don't have to be an expert at everything, but you should at least be able to hold a conversation enough to ask the right questions of whether or not certain digital marketing strategies make send for your products on Amazon.
Affiliate Marketing – a style of marketing where partners promote products of another company and make a commission on each sale. Often done through affiliate links that when clicked, mark the clicker as coming from that affiliate so they receive a commission if they buy.


SEO: Search Engine Optimization – optimizing web pages to show up high in search results on Google for specific search phrases. One of the highest sources of traffic on the web.


BOGO: Buy One Get One – a style of promotion when the buyer buys one and gets one free


USP – Unique Selling Proposition – what makes your offer stand out from other offers?


CPM/CPI: Cost Per Mil (thousand), Cost Per Impression – the cost of advertising per thousand impressions or per single impression.


CTR: Click Through Rate – the percentage of people who saw a page/ ad and then clicked through to the next page


Hyperlink – text that when clicked, directs you to a web page. Different than a regular URL, it's simply text.


Lookalike Audience – An advertising audience you can create on Facebook or Google that finds people similar to the audience you want. If you have a list of customers, you can create a lookalike audience of people most similar to them, and run ads to them.


Remarketing – running ads to people who have already engaged with your brand such as viewing a specific web page.


B2B/ B2C: Business to Business, Business to Consumer – types of businesses that either sell to other businesses or to consumers.


CTA: Call to Action – telling the consumer of a piece of content to take the next desired action. Usually in a sales funnel. "click below to fill out an application and see if you qualify."


Pixel – a piece of code installed on your website that allows advertising platforms to track user activity, then create targeted ads based off that activity.


Bounce Rate – The percentage of users that land on a web page, the leave the site without clicking to another page (tells you they were not interested & Google SEP penalizes this. Or it's the percentage of emails that were sent to invalid email addresses or were blocked by spam filters.


Crowdfunding – a method of funding projects through consumers rather than investors. Kickstarter & indiegogo are 2 large platforms in this space.


Google Trends – a free tool by Google that shows the volume of searches around specific topics over time so you can see if a trend is rising or falling.


Landing Page – a web page specifically designed for the people who clicked onto it from a specific link. Often in the context of a user clicking from an ad onto a landing page.


Squeeze Page – a page with only one place to click or one action to do. Usually to collect the email address of the user in exchange for a lead magnet. It's designed purposefully with only one available action to make it more likely to user will take that action.


Lead Magnet – a reward given to the user in exchange for providing their contact info. ex. enter your email below to receive the Amazon FBA Success Checklist.


Funnel – a sales funnel that takes users through series of steps. Often a series of pages with various offers, upsells, downsells, and videos designed to take the user through the most logical series of actions in order to get them to a sale or multiple sales.


Upsell – an offer for an additional item after a user has already purchased something. Usually related to the item they purchased.


Retail Arbitrage – the business model of buying products from retail stores that are at clearance prices and selling them online for full price.


Opt-in – the act of a user providing their contact details to receive something in return. Providing their consent to receive marketing emails.