Last updated on March 28th, 2023 at 03:19 am
During every major economic crash there is widespread fear, uncertainty, and highly predictable human behavior based on scarcity… but there's also people that win MASSIVELY while everyone is freaking out.
The signals all line up, & I think Amazon & ecommerce in general will see a massive uptick in 2020. It's already happening in some product categories, and once people get used to quarantine lifestyle, online shopping will explode even more.
Is now the best time to start selling online & start an ecommerce business?

– Danny Carlson
If there was ever a catalyst for more people to shop online, this is it. As of this writing it's unclear how long the world will be in quarantine for. Maybe a month, maybe many months, but the monumental shift has already happened…
Many small offline brands simply can't survive a bad month with retailers & wholesales shutting down. Brands with enough cash will aggressively jump onto the ecommerce bandwagon & highly leveraged brands will go bankrupt.
Those who stay calm through the fear & keep their eyes on the prize will adapt, thrive, & gain market share while brands unable to adapt quickly will close their doors.
Many brands do well in traditional retail channels & with no need for ecommerce, it has a completely different set of skills, knowledge, & rules required to win.
But it's no longer optional, change is happening faster than most brands can adapt. If there's a lesson we can learn from past recessions, the businesses that adapt fastest stay alive & become the leaders in the next economic boom.

– Danny Carlson, CEO of Kenji ROI
Here's a picture of some of the brands that were founded during the last major economic crash in 2008/ 2009… you may have heard of them.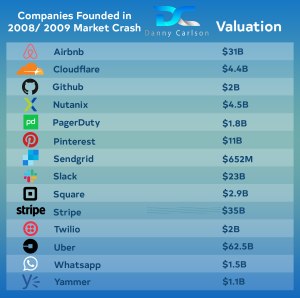 Many ecommerce businesses right now are seeing a MASSIVE uptick in sales because they were positioned well for this change. I got off the phone this morning with a new client of ours in the food industry and they are getting massive orders in from their ecommerce channels to the point they have inventory issues.
My question to brands who haven't got their start in ecommerce… if not now, will there be a second chance? With how fast business changes in 2020's hyper connected world, I wouldn't count on it.
Short Term Impact: Reduced Sales in Most Categories
Unless you are selling survival & health essentials, sales will likely be lower for the duration of the COVID-19 worldwide lock down. Yet some categories will begin to rise & others will continue to stay low until quarantine ends.
Some of Kenji ROI's clients are experiencing massive sales spikes, but they are the exception. Nearly all other product categories have minor to drastic drop in sales.
Lots of product listings are not shipping to customer for a month or longer, even if they are in FBA warehouses & Prime eligible.
But this big shakedown might actually be a good thing… It happens in every industry over time where major events, economic crashes, or technology disruptions come along & clean out the middlemen.
Brands that relied on marketing "hacks", lowering prices, or operated on short term thinking will be the first to die, leaving brands playing the long game with a larger market share.
Does this mean it will be harder to enter the e-commerce market? It sure does, but that's good in the sense that it will weed out a lot of the black hat tactics & people desperately trying to hack together a few extra hundred dollars per month at any cost.
If you are a legitimate brand, or are committed to building one, the game will be in your favor.
Long Term Impact: E-Commerce Customer Base Just Got WAY Bigger
Over the next 2 months there will be hundreds of millions of people making their very first purchase of a product online. The worldwide Corona virus lock down makes access to many items impossible any other way.
Right now everyone is in fear & shock, making buying decisions based on scarcity & survival. No one buys luxury items when they're scared for the future of their health & finances.
But as governments release relief programs for workers & businesses, brands are adapting work from home protocols & previously offline-only businesses are moving online or shutting down for good.
As everyone adjusts to what will likely be the new norm for the next few months at least (looking like it will be longer), they will relax a bit & return to more regular purchases… & guess what the only stores open are?
Amazon: The 10,000 Pound E-Commerce Gorilla
Amazon is by far the market leader in e-commerce, but it's unwise to ignore how much increased attention Facebook, Instagram, & YouTube are getting right now, & how much cheaper the ads have gotten. I predict that brands who are aggressive on the tail end of this outbreak will gain massive market share as they scoop up the cheapest Facebook ads traffic of the past 6 years in front of the largest amount of attention in history.
Where to drive that cheap ads traffic? I recommend to Amazon Storefront Pages as you can create custom layout & design landing pages with videos, clickable graphics, or comparison charts to direct customers to your products & sell them before they ever reach your product page.
But the REAL e-commerce market growth will happen as COVID-19 lock downs are removed and the world moves back to life as normal. Think about it for a second… everyone is back doing what they were before, the economy starts moving again… but there are millions of shoppers who have become newly addicted to the convenience of e-commerce.
Make no mistake, 2 day Prime shipping + biggest selection + best prices is Amazon's drug that has addicted shoppers enough to Make Jeff Bezos the wealthiest man in the world. Once people take their first hit, it's hard not to think of something you want then pull out your phone & instantly buy it.
Worldwide lock down is the earthquake e-commerce needed to finally explode into a true universal sales channel.
The 3 Options to Enter the Ecommerce Game
This will be a quick overview of the different options for brands when choosing their ecommerce strategy. Each one has it's pros and cons and they're all valid, but I recommend focusing on one at a time rather than trying to do them all, but none well.
Option 1: Amazon FBA
FBA (Fulfillment by Amazon) is the easiest, fastest to setup, and largest ecommerce channel in 2020. While it comes with it's downsides, it's the elephant in the room that brands can't afford to ignore.
Amazon FBA Biggest Pros:
They have the largest customer base in the world with credit card on file, many of whom pay annual subscription for fast 2 days shipping (Amazon Prime) & will always prefer to shop on Amazon
FBA handles all shipping so all you need to do is send inventory to FBA warehouses & Amazon ships to customers & handles returns for a competive fee
Platform is already built, 3rd party sellers simply set up an account, upload product images and descriptions, then send inventory into FBA warehouses. 100% self serve.
Amazon FBA Biggest Cons:
Some product categories highly competitive & difficult (like health supplements).
Account can get suspended for violations or suspected violations of policies.
You are reliant on a single platform (Amazon) that can change it's rules or revoke your selling priviledges).
But as I'm about to point out, the biggest downside of Amazon is shared between any sales channel online or offline. The COVID-19 crisis is the perfect example of the retail store sales channel being cut off.
For this reason, the ultimate goal should be diversification of sales between at least 2 large sales channels, on or offline, ideally unrelated to each other to be resilient in the face of major changes. Amazon is a clear choice as at least 1 of these channels.
Option 2: Shopify Store / WooCommerce / etc
Some people confuse Shopify as a sales platform like Amazon, but it's simply a website building platform that makes ecommerce websites easy.
Other good options are WooCommerce (a plugin for WordPress which is the platform for 14% of all websites on the internet) & Magento but for simplicity I will lump these all together as "own website."
In all cases, you will have to use your own digital marketing methods to drive shoppers to your website, unlike Amazon which already has the shoppers browsing their platform.
Own Website Biggest Pros:
You own your website and have full creative control over it unlike Amazon, Etsy, or Ebay.
You can utilize multiple digital marketing strategies to diversify your traffic sources
Own Website Biggest Cons:
If you build it… they won't come. Driving traffic to a brand new website is no easy task, and requires dedication & high skill in at least 1 digital marketing strategy like Facebook or Google Ads, Google SEO, Influencer Marketing, Social Media Marketing, Email Marketing, or likely a combination. These skills take time to develop, and more time to implement & setup.
Can be complicated & expensive to setup a store with endless options for website platforms, plugins, and working with a developer or agency to build it.
Most ecommerce websites get 90%+ of their traffic from one source (Facebook Ads is most common). This leaves it with the same downside as Amazon unless successfully sets up a secondary traffic source.
Own store is a natural evolution of a brand that has gained traction in other areas, but many brands underestimate the resources required to generate traffic to a website that will convert into a sale. That's the biggest advantage of Amazon over own website, they've figured that out so you can focus on optimizing your products for their platform and shoppers.
I personally know a handful of brand owners who have grown Amazon sales to above $10 million per year but fail to bring more than 5% of that from their own website, even after making big investments.
Option 3: Sell Wholesale to Ecommerce Sellers
There are many ecommerce companies that will buy products wholesale from many brands, then sell them on their own accounts on Amazon, own website, or other online channels. This is the online equivalent of a retail store.
Sell Wholesale to Ecommerce Sellers Biggest Pros:
No special skills or experts required, just find online wholesalers to sell to and keep selling to them.
The most similar channel traditional
Sell Wholesale to Ecommerce Sellers Biggest Cons:
Lower margins than selling directly yourself
Can be difficult to find these wholesalers depending on your product categories
Low control over pricing or how your product is presented online
Ultimately this is the simplest way to break into ecommerce, but allows you the lowest margins and lowest control.
Option 4: Emerging Ecommerce Platforms
Amazon is the biggest, but there is also Ebay (best for collectibles, limited items, etc) and Etsy (handmade items). Walmart, Jet, etc, there are lots, but combined together they have a small fraction of Amazon's sales volume.
Unless you sell in the specific categories mentioned above, you focus is better spent on options 1-3.
How to Enter Ecommerce Without Experience
You want to get started but you're not sure how, what are your options?
Here's a brief overview then the section below provides resources to get started in each one.
Educate Yourself & Implement: Learn what skills you will need, start learning them, then start executing. This is the DIY approach and can be done for free with resources like YouTube or paid through online courses on Udemy or websites of niche marketing gurus.
If you decide to take learning into your own hands, I'd recommend taking the Superlearner Course on Udemy to first sharpen the meta skill of learning. I've taken it and it's really helped my comprehension and learning speed. The information in online courses is typically higher quality and packaged up better than YouTube videos so is worth paying for.
Hire a Freelancer or Consultant: This is a good middle ground for those that have small budgets but lack the expertise or time to learn and implement everything themselves.
Hire an Agency: This option is only for brands with enough budget to pay for a done-for-you expertise and implementation. If your brand can afford it, and you dn't forsee yourself dedicating to learning or directing a new ecommerce project like this
Resources to Get You Started in Ecommerce
Educate Yourself & Implement
Amazon Messenger Bot Club – A free webinar about using Facebook Messenger bots to boost sales on Amazon
Steps to Success Amazon FBA Course – Canadian builder & real estate investor turned ecommerce mogul, Sohrab Izad teaches methods to getting started selling on Amazon.
Hire a Freelancer or Consultant
Freeeup – a vetted freelancer & employer matching service. Unlike Upwork, Freeeup matches you with 2-3 of their best freelancers that match your job description.
Upwork – Large freelancer marketplace for any variety of online workers worldwide. Fiverr – Gig based marketplace to hire workers for small or large projects starting at $5.
OnlineJobs.ph – A marketplace for finding Filipino online workers. The largest "export" of the Philippines is online workers for foreign businesses. Most Filipinos speak good English.
Hire an Agency
Kenji ROI – Get Started Selling on Amazon with everything you'll need to get product listings up and selling. Amazon Product Photography, A+ Content Descriptions (EBC), Amazon SEO Copywriting, videos, and Amazon PPC Management.
But Isn't E-Commerce "Saturated?" Am I Too Late?
This is so funny to me because everyone was always asking this question back in 2015 when I started & now people say " I wish I would have started in 2015, it would have been so easy."
The truth is this fear is looking at things incorrectly. It makes the assumption that e-commerce is a zero sum game. Most people don't understand how fast online business gets disrupted & evolves.
Facebook entered the highly saturated "website" game after the dotcom crash. Zappos entered the crazy saturated shoe store game & won huge. The key difference is that both of these companies created a new spin on something that didn't exist before.
So yes, if you want to go on Alibaba & find the exact same fidget spinner that's flooded with sellers on Amazon, e-commerce is saturated. But if you have a vision for a brand that is bringing a unique product, positioning, or brand story to the world. If you know you have a great product that's better than so much of the garbage out there… e-commerce is thirsty for your brand.
Looking for Help Getting Set Up Selling On Amazon?
I host a podcast called Actualize Freedom about selling on Amazon & using the Fulfillment by Amazon program. There's over 80 interviews with guest experts on Facebook Ads, Amazon keyword ranking, e-commerce cash flow, and much more.