Last updated on May 3rd, 2021 at 06:24 pm
With over 112 million Prime members on Amazon, each of whom spend on average $1400 per year, it's no wonder why you'd want to sell on one of the internet's most commercially-active websites.
And with over 50% of all product searches starting on Amazon, there has never been a better time to delve into the world of e-commerce.
But Amazon's vast selection of products (around 12 million different kinds!) leaves newbie sellers wondering… what are the best things to sell on Amazon to make money? In particular, what are the types of products with a high ROI?
With so many different products, and so many customers, does it really matter what product you sell on Amazon?
The answer is YES it does matter if you want to take Amazon seriously. Sure, you could order some random product from Aliexpress, ship it into Amazon, and make a few sales here and there…
But wouldn't you rather be making 10, 20, 30 sales consistently everyday? Don't you want to get to the point where your products are flying off the shelves and you can quit your day job?
If that is your goal, then you will need to spend time researching product markets to see where there is opportunity.
Thankfully, finding a profitable product to sell on Amazon isn't as hard as you think. In fact, a lot of the market research can be done on Amazon itself (for free).
Finding a product to sell on Amazon is the most important step for selling on Amazon. It doesn't matter if you are the best at sourcing or running ads―at the end of the day, customers will not buy if your product stinks.
How to Find Products
Finding winning products can sometimes seem like you're trying to find a needle in a haystack. Thankfully, finding product ideas is not as hard as you think.
Here are our favourite methods:
Amazon Suggested
Don't know where to start looking for product ideas? Look no further than Amazon itself.
The e-commerce behemoth curates a list of best-seller products that are constantly updated.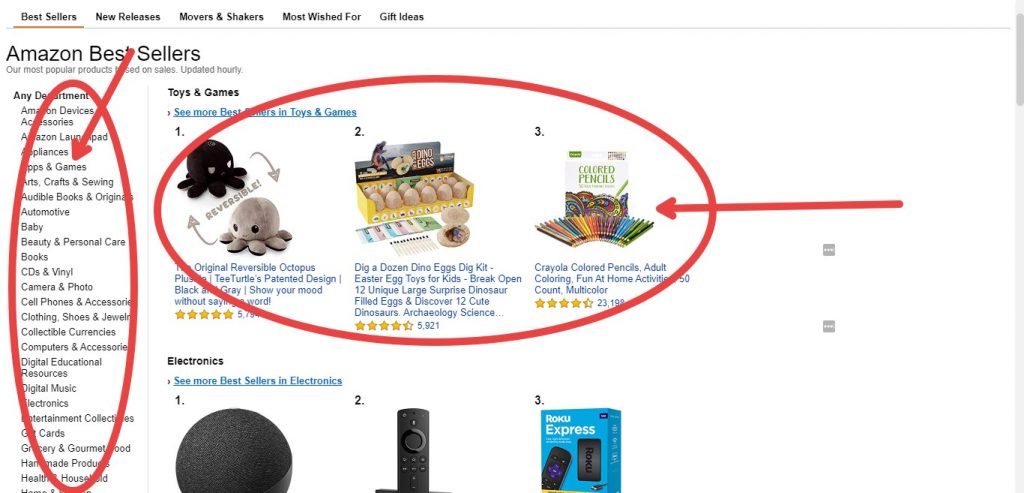 While it is unlikely that you'll find anything you can compete with right away, click on other product categories and just keep clicking away, going deeper and deeper into the rabbit hole.
Eventually, you will find some ideas just by spending time searching through Amazon's massive list of products. Once you have a list of ideas that seem interesting, you can validate your ideas to see if there is opportunity or not.
Touch Method
The Touch Method refers to simply noting down every product you touch on a daily basis.
You'd be surprised how big your list will get if you do this regularly!
Once your list is big enough, you can then go through the validation checklist.
This method is particularly effective because you will encounter products that you yourself use on a daily basis. As a customer, you can think to yourself, what would make this product better?
Pinterest
Pinterest can be a great way to find unique product ideas. Pinterest is a very visually-oriented site, so it is ideal for finding products that are appealing to the eye.

Rebate Websites
Rebate websites are where customers can find massive deals on select products. These deals usually range from 90%-100% off.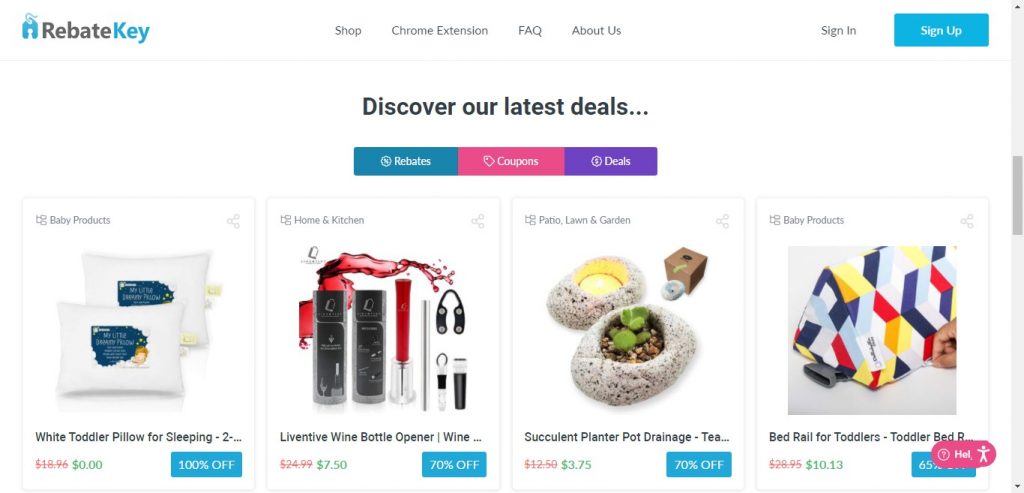 The purpose of these websites is to help new listings gain traffic (and therefore sales), which helps them rank higher. This means that the people selling these products feel that these are good products to sell. Of course, do your own due diligence first before committing to anything.
Great rebate websites include RebateKey and Zondeals.
Exploding Topics
Exploding Topics is a website that analyzes millions of data points around the world, from sources like searches and shopping, to highlight trends. While we always want to avoid fad products (i.e. ones that surge in popularity but quickly die off), trends are much slower and tend to last a longer time.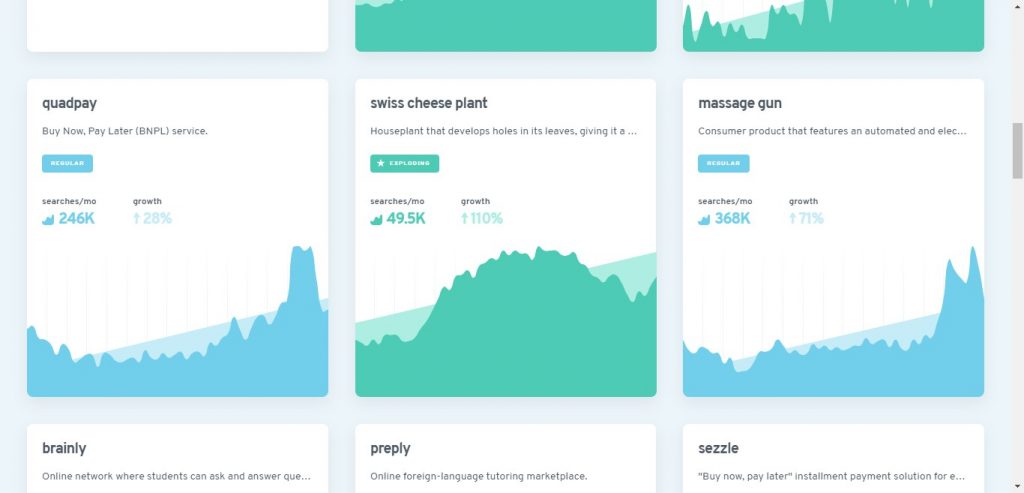 Market Research Software
Product research software, like Helium 10's Blackbox, can help you find diamonds in the rough.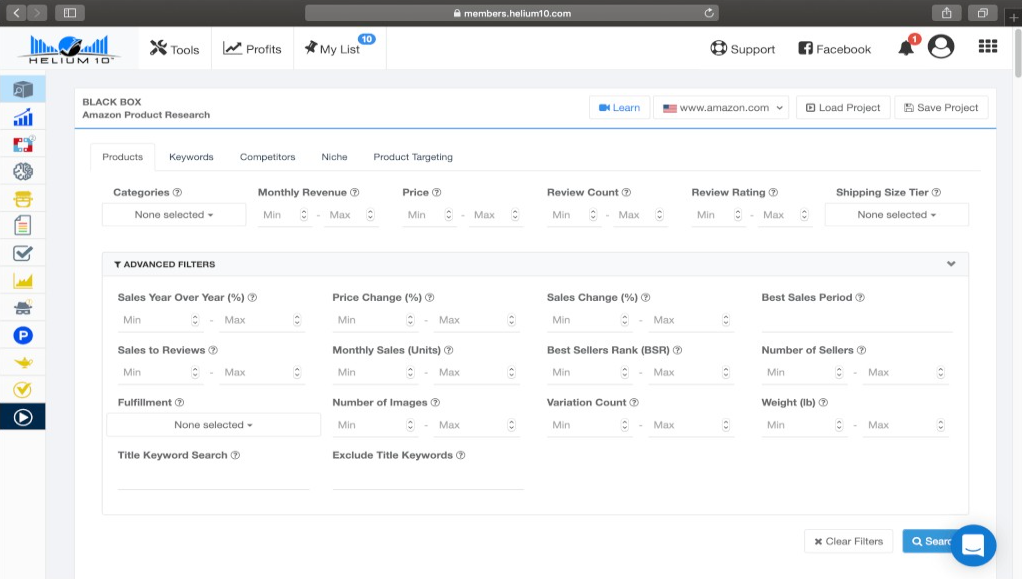 Its robust system of filters can help you narrow down your search. For example, you may be looking for products with over $10,000 in revenue per month in the Home & Kitchen category, but have less than 200 reviews.
As always, once you get a few ideas, make sure you research the entire market with the criteria below thoroughly before committing.
Product Validation Criteria
Once you have a list of ideas, it's time to validate them to see if they could sell well on Amazon. Here are the 10 key criteria you should consider before committing to any product:
Non-Restricted Categories
Top 10 Under 15,000 BSR
Average Number of Reviews
Price Between $10-30
Brand Loyalty
Size Matters
High Margins
Multiple Highly Searched Keywords
Competitor Pages Not Optimized
Keep It Simple
Non-Restricted Categories
Amazon restricts sellers from selling products in certain categories, so make sure to check that your product isn't restricted. If it is, make sure to go through the necessary ungating process.
There may also be additional requirements for certain products. Products that contain batteries, for example, must have their Safety Data Sheet uploaded onto the listing before being sold.
Sellers new to the Amazon game should generally stay away from restricted categories until they have more experience under their belts.
Best Seller Rank of the Top 10
The Best Seller Rank (BSR) reflects both the recent and historical sales data of an item; hence, a high BSR reflects a product with high demand.
That said, if you notice that only one product in a category has a high BSR, that means other products are not able to compete.
Take a look at page 1 of the main keyword (the one with the most searches) for your product niche. Open up the top 10 listings and see if at least 3 are below 15,000 BSR. If this is the case, it is a good sign that many different listings are doing well in this niche.
Average Number of Reviews
Studies suggest that 93% of customers report that reviews influence their buying decision.
Hence, it wouldn't make sense if you wanted to compete with other listings with multiple hundreds (or thousands) of reviews.
Humans are social creatures, which means we also seek validation and confirmation from others before acting.
So the likelihood that someone would choose your product over another one which has, say, 500 reviews and a 4.5 star rating, is small.
That said, this isn't always a hard and fast rule.
You may find niches where some people have hundreds and hundreds of reviews… yet still have a few listings in the top 10 with strong BSR's. This means opportunity!
Why? Because it shows that the market is less sensitive to reviews! This means there may be a chance for a new seller to come in and go well right off the bat.
Price: Between $10-30
Your product should sell between $10-30.
Why such a limited range?
This range is called the impulse buying zone. Meaning people are likely to buy it without too much price hesitation.
Anything under $10 and you will likely struggle to have high profit margins. Anything above $30, and your product falls outside of the impulse buying zone. The higher up you go, the more people will think twice about if they really need your product vs. the cost.
Additionally, if your product sells for more than $30, this means that the cost per unit for your product will probably be quite high.
Brand Loyalty
Avoid niches that are brand-dominated―where customers care a lot about the brand they are buying from.
Brand-dominated niches include, for example, paper tissues, which is dominated by Kleenex.
Size Matters
There's a saying on Amazon that you should only sell something that fits in a shoebox. This is to avoid having your product fall under the Oversized product size tier, which will cause you to bleed profits through extra storage fees.
High Margins
Go on Alibaba to see approximately how much your product would cost to source.
Then, input this into the Amazon Revenue Calculator to estimate your margins. Make sure it is at least 20%. You'll have a hard time scaling if your margins are thin.
Ranking for Multiple Highly Searched Keywords
Finding out how many times people are searching for your product is the key to determining its demand.
Of course, not every customer will type in the same search query to find your product. That's why it's important to have multiple high-volume keywords for your niche. This will help you later when you are doing SEO for these keywords.
If you can find 10 different keywords with over 1000 searches per month, you know that there is a lot of traffic coming from different sources. Remember, you want to have many paths that could lead to your product.
Amazon won't tell you how many searches there are for a specific keywords. Thankfully, there are a few tools you can use to unearth these keywords, like Keyword Tool, Jungle Scout, Merchant Words, and Helium 10.
Competitor Pages Not Optimized
Take a look at the top 10 listings in your niche.
Poor photos, non-descriptive product titles, unhelpful bullet points, copywriting that sounds like it was written by a 3rd grader… these are all opportunities for you to swoop in and blow your competitors out of the water!
Keep It Simple
The last piece of advice we have when it comes to finding a product is to stick to simple stuff.
If you've got this idea for a backpack with rocket thrusters that can link to your Gmail account and automatically pick up pizza when you order it…
Ok stop.
Way too complicated.
If you're reading this, I assume you are beginning your FBA journey as a side-hustle and you don't have a dedicated team and millions of dollars to conduct R&D.
You need to stick to ideas that you can express simply to your supplier overseas who likely speaks English as a second language―who needs to then translate your instructions to the factory engineer who is actually going to bring your product to life.
If you can't explain your product to your buddy, then chances are your supplier (mostly likely in China) isn't going to understand either.
So when you're coming up with ideas on how to differentiate yourself, keep the changes small, like:
Offering a 2-pack.
Including hooks.
Including a tool set to install your product.
Adding a travel case.
Make yours eco-friendly.
Etc…
You are truly only limited by your imagination!
Products to Avoid
Here are some additional things to avoid when looking for the perfect product:
Fads: Fads refer to products that experience a sudden burst of interest, but quickly fade into obscurity. Yes, if you are early to the party, you may be able to get in a quick buck, but odds are by the time you discover the fad you are already too late. By the time you source, manufacture and ship the product, it is likely you will enter the market as the fad is sloping down. Use Google Trends and a bit of common sense to filter these types of products out―if you see a sharp spike up, it's almost certainly a fad.
Products that vary by design: Products within the same niche but that vary in design between each other are hit or miss. On the one hand, if you have a great design that is unique, you will be able to stand out. One the other hand, what if your customers don't like your design? This can be a very subjective area, hence why we do not recommend going for products that rely on having a unique design.
Oversized: Products in Amazon are divided into different size tiers. Avoid products that are oversized, as you will need to pay a lot more in storage fees. Also even if you are planning to sell something in standard size, make sure that your product packaging is under the standard size requirements.
Products with Patents or Trademarks: Patented or trademarked products cannot be sold unless you are the owner.
Fragile/Breakable Products: Products that are easy to break/are fragile could result in a high return rate. If you plan on selling something fragile, good, sturdy packaging is essential―that means higher costs and less profit.
Dangerous Materials (hairspray, essential oils): Products that are dangerous or flammable generally encompass pressurized aerosol sprays, essential oils, products with batteries and other toxic materials. You will need to fill out a Safety Data sheet for Amazon to approve shipments for these types of products.
Products with Multiple Variations: Make sure to gauge if the BSR for listings with multiple products is based on the overall sales of all variations, or if it's different for each variation. If it's the former, that means it is only selling so well because of its variations, making it harder to get into. Plus, you can't determine which variation is selling the most. While this isn't a deal breaker on its own, beginner Amazon sellers might want to look elsewhere first.
Replacement Parts: You could encounter patent or trademark issues for replacement parts.
Accessories: Accessories highly depend on another product, which may become obsolete if it is discontinued. We want to try to extend the selling life of our products for as long as possible.
Pesticides: Pesticides are not allowed to be sold unless you are based in the USA. They also qualify as dangerous goods. Click here for more info.
Baby Products: This requires sellers to be ungated (approved) and require an additional CPC (Child Protection Certificate).
Final Thoughts
Product research is the most important step to be successful as an Amazon Seller. You could have the best suppliers, the best marketing tactics, and rank number 1 on the top of search results initially, but if your product and/or market sucks, you won't be successful.
We don't want you to end up becoming another one of those stories where the the seller had to liquidate their entire stock!
That's why it's best to err on the side of taking your time. Often, the market conditions change, and what looks like a good product or market completely dries up.
On the other hand, avoid analysis paralysis. There isn't such a thing as the "perfect product". Often, you will find a good idea but it fails the product validation criteria in one or two spots (e.g. passes every criteria, except the average reviews are over 500+).
If this is the case, it's up to your judgment to determine whether you can go in and compete. It is totally doable―you just may need to see if it fits your budget.
If you are launching your first product, remember this… your first product is supposed to be for you learn how to sell on Amazon.
Lower your expectations, and accept that you will likely not be able to quit your job after your first product.
But, it will allow you to learn what is or isn't a good product to sell on Amazon, and as your experience accumulates, you will get better and better at choosing products.
Now, once you've found your winning product, you'll need to rank it onto page 1.
Check out our complete in-depth Amazon SEO guide here.