Last updated on April 5th, 2021 at 11:38 am
Effective retail storefront design is a crucial part of any brick and mortar business.
Having a design that is visually appealing will not only help boost foot traffic, but will also help customers understand and appreciate your brand―both of which will lead to more sales.
For e-commerce businesses, your website is essentially the digital equivalent of your storefront. It too needs to be designed well and be easy to navigate, otherwise your customers will click off.
But what about e-commerce businesses that may not have their own website? Ones that sell on Amazon, for example?
How can Amazon businesses give their customers a similar experience?
The answer to that is having an Amazon Storefront.
What is an Amazon Storefront?
One of the hardest things about selling on Amazon is that it's really hard to build up a strong brand.
Every product looks identical, and your brand name is often not very prominent, displayed in super tiny font that is easy to miss.
What Amazon Storefront allows you to do is set up a homebase for your brand that people can come to, allowing shoppers to browse through your catalog away from the main page of Amazon or the search results.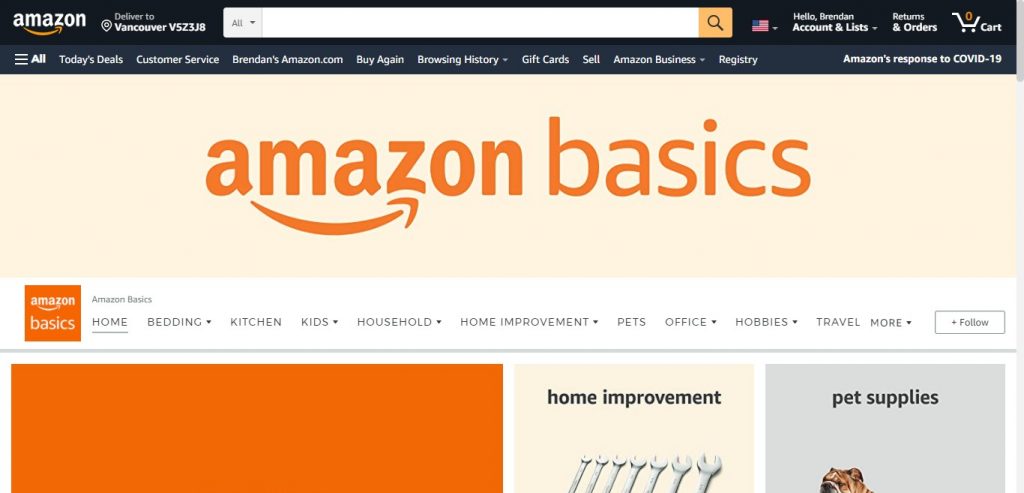 Essentially, it acts as a mini website for your brand on Amazon.
Why Do You Need an Amazon Storefront?
First of all, having a homebase for your brand is one of the biggest ways to instantly differentiate yourself from Amazon's other 2.4 million active sellers.
Your brand needs a destination for buyers to come to learn more about your brand and what value it provides. A simple listing won't convey all that.
Here are just some of the amazing benefits of having an Amazon Storefront:
Custom Storefront Vanity URL
While you don't get a vanity URL right away, all you need to do is message Seller Support and ask them to get one.
With a vanity URL, you'll be able to link people straight to your store rather than just your individual listings.
Increasing Brand Awareness & Trust
As mentioned previously, having a store will help build brand awareness and trust.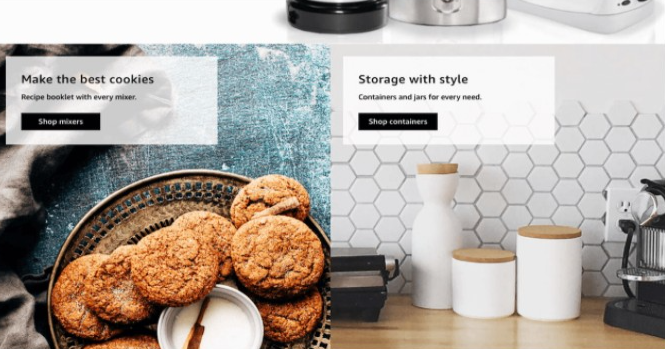 This is a huge differentiating factor on Amazon, where the majority of sellers sell unbranded, cheap and low quality products.
Ensure Only You are Visible
Unlike your product listings, where competitors can run ads to try and divert potential customers away from your product, only your products will show on your storefront.
Boost Ranking & Sales
Having a Storefront is known to boost sales, which will directly increase your organic ranking for your products.
Elevate the Shopping Experience
Storefronts offer you a wide range of new tools to help elevate your customers' shopping experiences.
With shoppable images, you can intrigue your customers with rich lifestyle photos that feature your products in different lifestyle scenarios.
Customers can click on these photos to see basic information, such as size, color, reviews, price, and Prime availability. They can then choose to add that product to their cart.
You can also overlay your images with text to better describe your products, or if you currently have any deals. This text can help improve your store's SEO, which may improve traffic to your store from external sources.
Amazon Store Scheduling
You are able to schedule updates to your store, allowing you to plan ahead and better prepare for new releases, seasonal changes and brand updates.
Amazon Store Insights
Amazon Store Insights allows you to compile tons of useful data to determine how well your store is performing.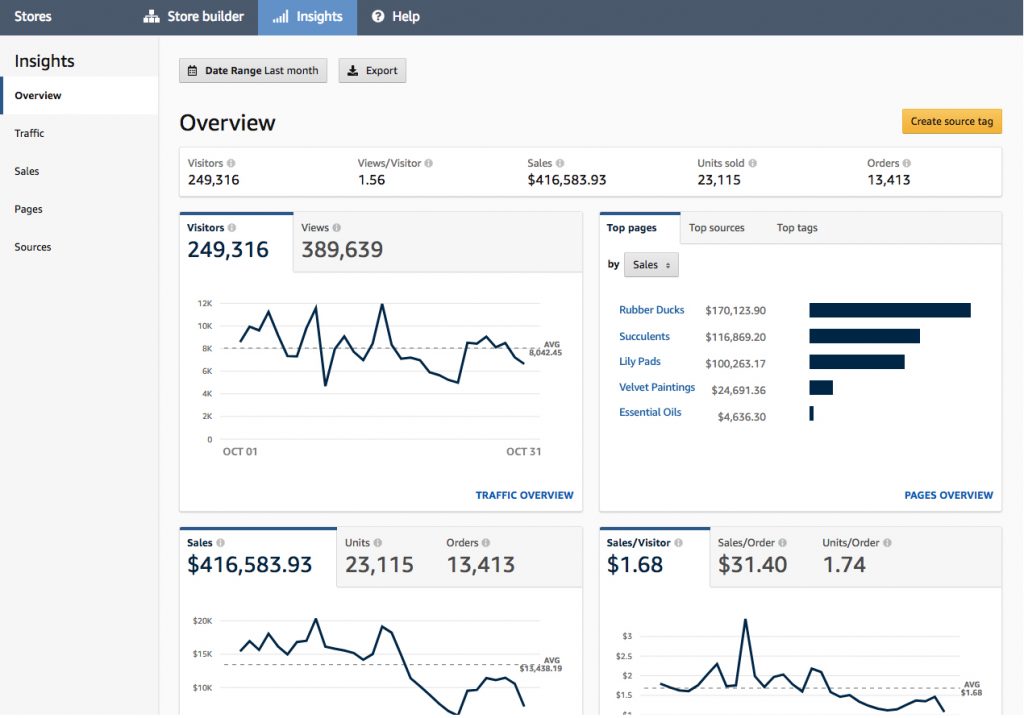 Here's a summary of the key metrics:
Daily visitors
Views
Sales
Units Sold
Views/Visitor
Sales/Visitor
Sales/Visit
Orders
Order/Visit
Units/Order
Sales/Order
Additionally, you can create custom source tags if you are driving external traffic into your Amazon Storefront, so you can measure the effectiveness of that traffic.
Do I Need a Storefront If I Already Have an Online Store?
Many Amazon sellers who already have an external online store think, "Driving traffic to your own website should always be a priority!"
That's not always true.
Even if you have your own online store outside of Amazon, there is one scenario where you'd want to have an Amazon Storefront.
That would be to run Amazon DSP ads.

Amazon DSP ads allow you to drive traffic to your Amazon listings from an external website while leveraging Amazon customer data.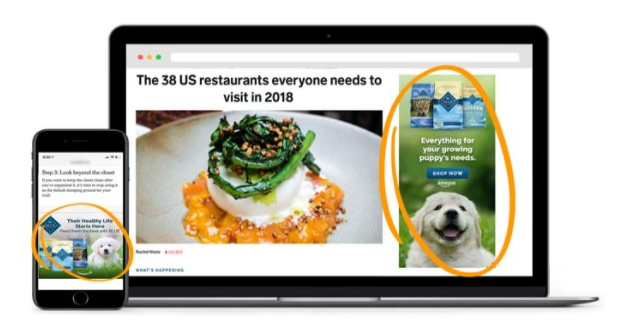 This would be extremely useful when someone visits your Amazon listing but doesn't buy. You can run Amazon DSP ads to bring that customer back onto your listing, even if they are browsing on a non-Amazon website!
This is so powerful because chances are, if someone finds your product on Amazon, they will want to finish purchasing it on Amazon―not your website. That's why you should redirect them to your Amazon Storefront.
In short, even if you have your own website, you should direct Amazon traffic back to your Amazon Storefront, and all other traffic to your website.
How to Open an Amazon Storefront
If you have a Professional selling account on Amazon, setting up your Storefront takes just 7 easy steps:
Step 1: Enroll in Brand Registry
If you haven't already, make sure you enroll in Brand Registry.
Check out our detailed guide here to help you through this easy process.
Once you're ready to enroll, head over to the Brand Registry website to get started.
Step 2: Choose Your Template
Head to Seller Central, and click Storefront > Manage Stores on the top menu.
Then you'll be asked to select a template.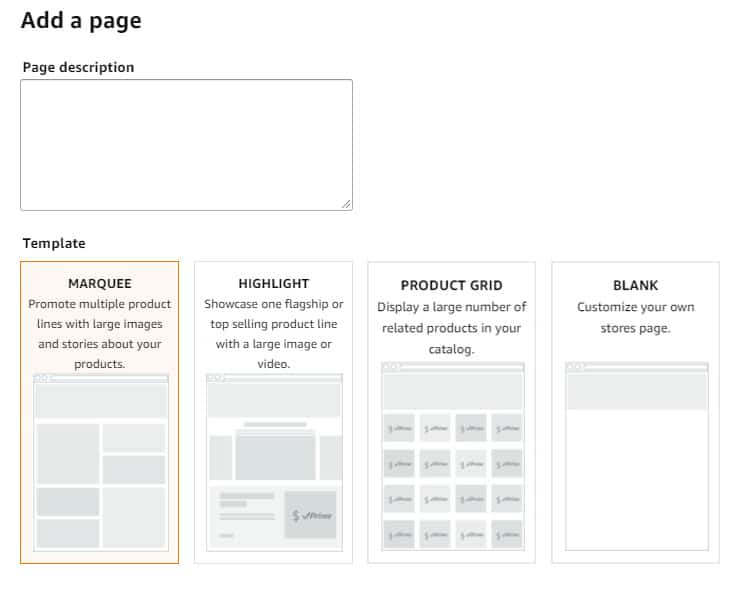 Keep in mind you don't have to select the templates Amazon provides you―in fact, you can create your own template if you want.
Step 3: Enter Your Settings
The next step is to enter in your store settings and logo.
Then choose your product grid style.
Step 4: Design Your Storefront
Now the fun part begins! Time to actually design your store.
Fortunately, Amazon's intuitive design GUI makes it super simple and straightforward.
For your homepage, stick to what works for any other ecommerce website. Showcase your main value propositions front and centre, right above your bestsellers and recommended products.
After that, you'll create different category pages based on what types of products you sell in your store.
Step 5: Add Your Products
After you've decided on the layout, it's time to populate your store with your products.
Amazon makes it extremely simple to do this, allowing you to either…
Have your Amazon products automatically populate based on your keywords
Populate manually by search
Populate manually by ASIN
While populating manually will always give you more control, having Amazon automatically populate your products based on keywords could help you cut down on maintenance.
That way, Amazon automatically updates your store whenever you upload a new listing.
Step 6: Submit for Approval
Once you are happy, you will submit your Storefront to Amazon for approval.
Just a heads up―they can be quite strict.
For example, Amazon really doesn't like…
Spelling mistakes
Grammatical errors
Overly promotional hyperbolic language (e.g. "number 1", "best", etc.)
So make sure you thoroughly edit your Storefront before clicking the submit button!
After submitting, Amazon usually takes a few business days to let you know the result.
Step 7: Get Your Vanity URL
Once approved, for some reason your store does not automatically receive a vanity URL.
In order to receive a much cleaner-looking URL like amazon.com/yourstorename/, you have to contact Amazon support.
In Seller Central, go to Help > Contact Us, and select "Advertising and Stores".
Then tell them what you want the vanity URL to look like and that you are the brand owner.
Within about 5 business days, you should receive a message back with your new URL.
Final Thoughts
If you have a brand already on Amazon, there's absolutely no reason to not create a Storefront.
Need help designing your Storefront? Reach out to our team at Kenji ROI today.