Last updated on August 10th, 2021 at 09:49 am
In October of 2019, Amazon released a new beta program combining the best of e-commerce and social media, dubbed Amazon Posts.
If you haven't yet explored using Amazon Posts for your brand, now is a good time to start.
Most brands are not taking advantage of Amazon Posts, so it's a great opportunity to drive more evergreen sales to your listings for free and with little effort.
It is currently still in beta phase, so it's not clear whether Amazon will fully release it and charge for the service in the future.
This means you will be able to get in while it's still free and before there's a huge swarm of competition.
Now before we delve in, you might be wondering:
What the heck is Amazon Posts? How come I've never heard about it?
Is Amazon Posts right for my brand?
What's the best way to utilize Amazon Posts to drive more sales?
All these (and more) will be explored further in the article. Let's get started!
What is Amazon Posts?
Amazon Posts is essentially what you'd get if you combined Instagram and Amazon—it's a visuals-based social media platform where Amazon sellers can post content about their products that customers can browse through.
In the words of Amazon:
"Posts help shoppers discover new products and see what's new from brands by browsing feeds of brand-curated content. Posts link to product detail pages, making each post in a feed shoppable, and each post includes category tags so shoppers can continue exploring posts in related categories."
Note that this is currently just a feature for the Amazon mobile shopping app on iOS and Android.
Where Do Amazon Posts Appear?
There are several places where you can spot Amazon Posts.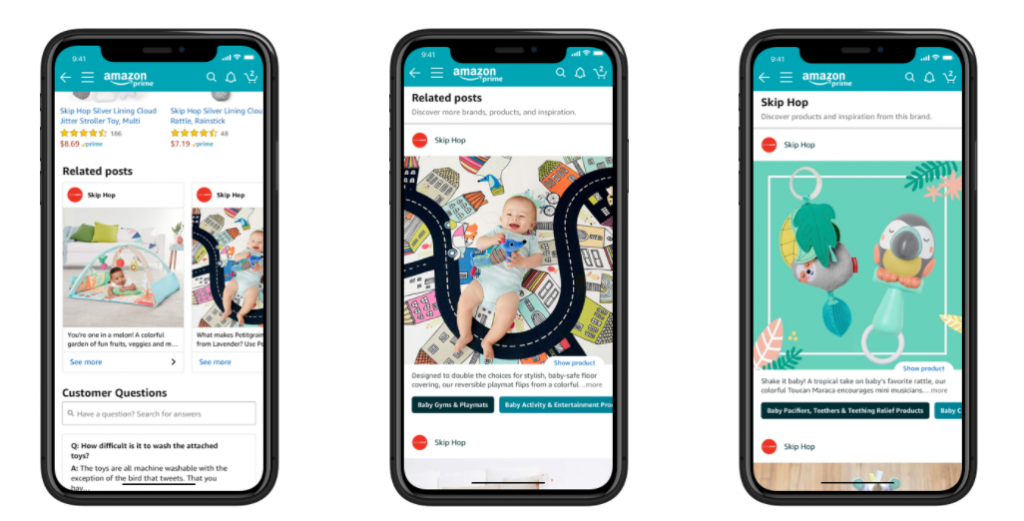 On your brand's listings ("product page carousels"): if you go to any of your listings and scroll down, you should see them wedged in between "Customers who bought this item also bought" and the "Customer questions" section.
On your competitor's listings: if you can really wow your competitors' customers, this is a great way to sneakily steal some business from them. On the flipside, they can just as easily do the same thing to you.
Related posts feed: when you click on a post, you will see a feed of related posts underneath.
Feeds of products in related categories: these are based on tags that Amazon assigns to your posts as determined by the almighty A9 algorithm. If someone clicks on a certain tag, they get taken to a category feed full of other posts that also have that tag.
Can you choose where your posts appear? Nope, that is again up to the mercy of the A9 algorithm.
What Are the Elements of an Amazon Post?
Let's break apart the anatomy of an Amazon Post.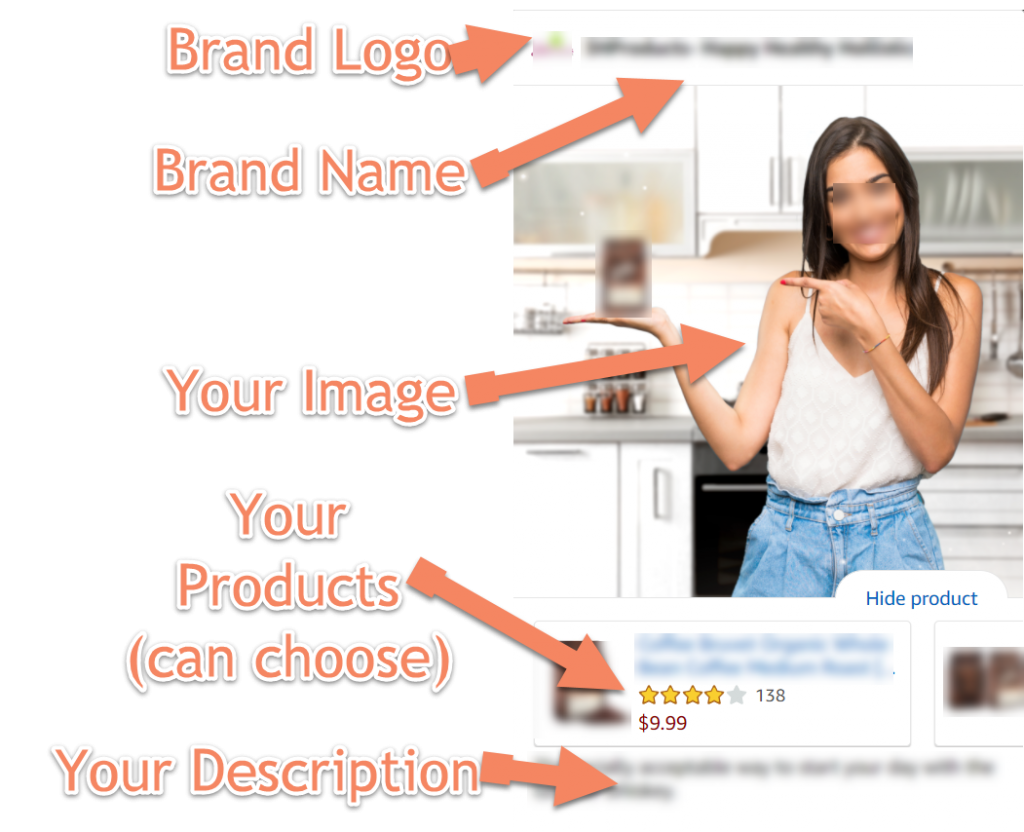 A. The profile banner displays your brand name and your brand's logo.
B. This is the main image.
C. The "Show Products" button will allow you to hide or reveal a product card that contains information such as: price, star rating, and Amazon Prime eligibility.
D. The caption text will allow you to highlight important product features and include a call to action. Keep in mind that even though you are allowed up to 2200 characters, only the first two lines of the caption will be displayed by default, so make sure you keep the most important information at the beginning.
E. Amazon will automatically assign tags to your post. When shoppers click on these, it will take them into a vertical feed of related posts.
How Many Posts Can I Create?
There is no limit to how many posts you can create.
What Are the Benefits of Utilizing Amazon Posts?
You may be thinking, "I don't see many people using Amazon Posts… so that must mean it's not useful, right?"
I can totally see why someone would think that. After all, if something is so helpful, wouldn't more people already be using it?
I disagree. Just because something isn't already widely utilized today doesn't mean it can't blow up in the future.
Now where have we heard this argument before? I remember when everyone used to say this about Instagram and Tiktok. People kept quoting this argument even as more and more businesses piled onto these social media platforms. Now no one can deny the digital marketing power these two platforms have.
Amazon Posts offers tons of benefits for your brand, and considering it's still in beta-stage and not super competitive, I believe it is one of those "secret weapons" that can help you get ahead.
Here are seven reasons why you should consider using Amazon Posts:
Benefit #1: Increase Your Reach and Impressions
No matter what product you sell, there will always be people out there looking to buy it. The question is… how will they find your product?
The more places you appear, the more places there are where you can be found. And the easier it is for the customer to find your product, the more conversions you will get.
You can even see the impressions and number of clicks your Amazon Posts are sending to your product listings.

Benefit #2: Take Your Branding to the Next Level
Everyone knows how tough it can be to build a brand on Amazon. But leveraging Amazon Post's visuals-based platform can help you:
Increase brand-recognition.
Harness the power of lifestyle imagery to showcase your products and brands.
Show your audience more of your personality (so you can stand out more).
Benefit #3: Collect Data from Your Customers
You know that before jumping head-first into something new, you need to run a low-risk beta test and let the numbers tell you what to do next.
Thankfully, Amazon Posts offers a metrics tab. It allows brand owners to view impressions, clicks, and clickthrough rates for featured products.
This can help you try several different ideas out to see what resonates with customers the best. Unlike your product listing, there are minimal restrictions so you are really only limited by your imagination.
Just like Instagram, go for creative, eye-catching and high quality image content, and then let the data tell you how well your content was received.
You might think that everyone is going to like seeing your pet iguana chilling on top of your floating shelves, but the data might say otherwise.
Benefit #4: Repurpose Other Social Media Content
Utilizing Amazon Posts may not be as much work as you think. If you already post brand content on other social media platforms, it's as simple as reposting it on Amazon Posts. Easy peasy!
Benefit #5: Increase Customer Engagement
Amazon Posts is a fantastic way to enhance the customer journey with your brand.
The main goal would be to grow customer retention with your Amazon brand followers. The more someone engages with your product content, the more they are psychologically embedding your brand into their head.
Benefit #6: No Limits
Right now there is no limit to the amount of content you can post.
This means you can fill the Related Products, Related Brands and Product Categories fields with as much content as possible before your competitors are even aware what Posts is.
Benefit #7: It's Free
Unlike PPC, there is no cost-per-click. Free exposure for your brand on one of the world's largest shopping engines is never a bad thing.
Reasons You May Not Want to Use Amazon Posts
Ok, it's not all sunshine and rainbows. There are some downsides you need to consider before determining if Amazon Posts is right for your brand:
No sale attribution: The metrics do not provide revenue data, so while you will know how many people are clicking onto your listings, you won't know how many of them are converting.
Time/Resource drain: To make the most out of Amazon Posts functionality, they recommend posting as frequently as you would on any other social media channel (1x/1-2 days).
Amazon chooses where they'll appear: You can't choose where your posts will appear and you can't choose the tags.
Your competitors can drive away your customers: This is a double-edged sword… while you can steal some traffic from your competitors, they can just as easily do the same to you. This puts the pressure on you to continuously craft engaging content.
It's still in beta: It hasn't officially launched yet, which means Amazon could pull the plug on it at any time.
Amazon Posts Creative Guidelines
If you don't follow Amazon's post guidelines, you may find your posts disapproved or limited in impressions.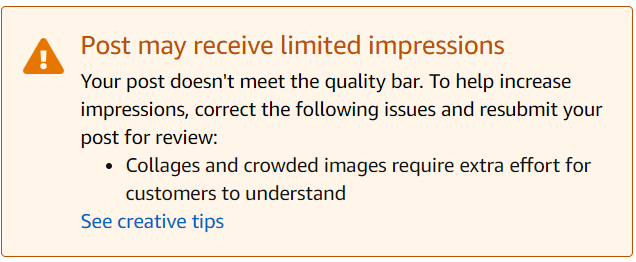 Ensure your posts follow their creative guidelines and you should be good to go!
Show your product-and its value
"Inspire customers to imagine using your product by showing it in a realistic setting or visually attractive backdrop. Avoid using a plain, white background."

Interpretation: Posts should be like Instagram, save the white background for your main images and make Amazon Posts appealing to look at.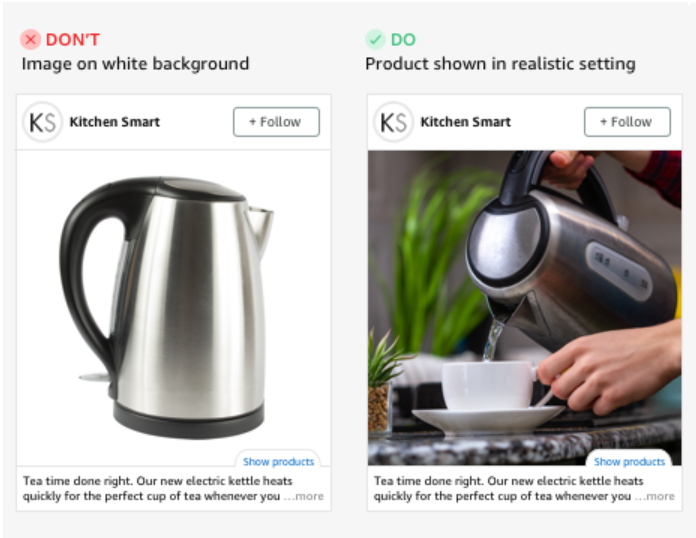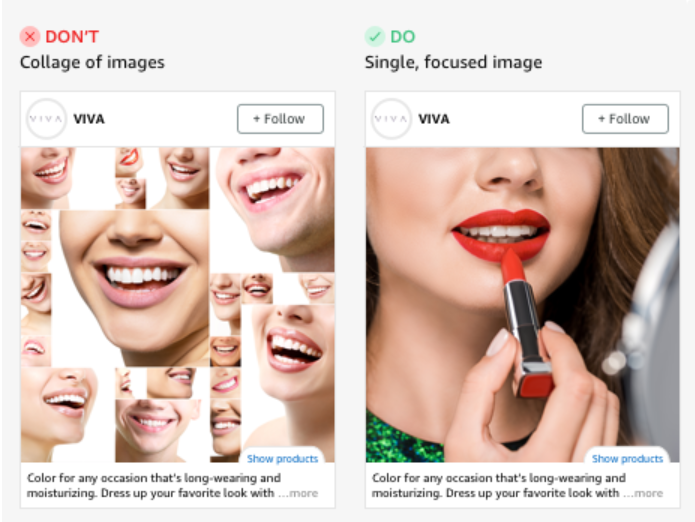 Keep it simple for faster impact
"Complicated images take longer to understand, so they're more easily ignored. Avoid using collaged or crowded images."
Interpretation: Just like Amazon product listings, it's better to keep images immediately understanding in a split second. It should never require a shopper to zoom in or try to read of bunch of tiny text or icons.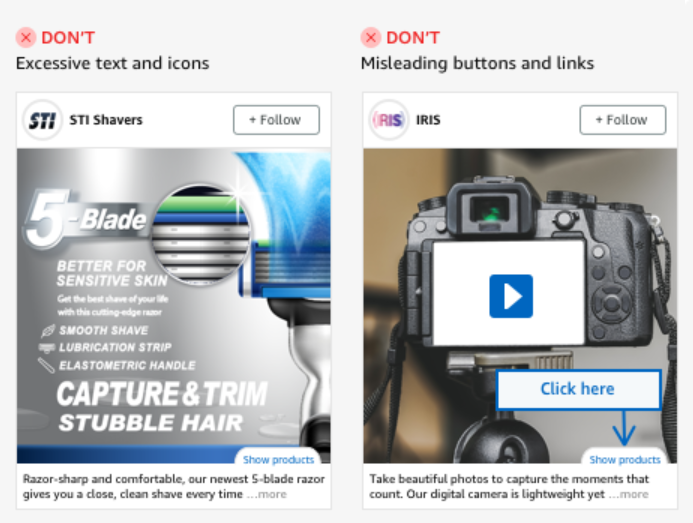 Let the image speak for itself
"Text on an image can be difficult to read, and extra graphical elements can distract from showing your products clearly. Avoid adding text, buttons, or icons to your image."
Interpretation: Amazon has been against bad user experience for over 10 years, and while we think having some large, readable text is important for infographics on your listing, it seems text is a no-go for Amazon Posts. Keep it for the post description.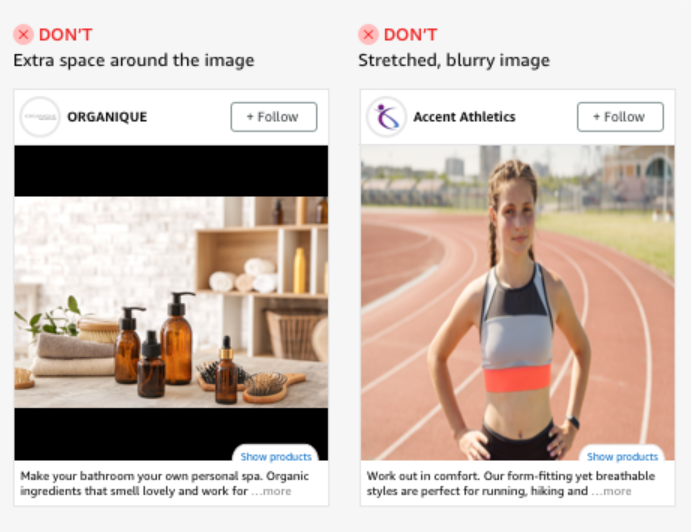 Elevate quality to earn trust.
"Use a high-resolution image to reassure customers of your brand's credibility. Avoid common quality issues like blurring, stretching, or extra space around the image."
Interpretation: This one goes without saying, I would just add to make sure you are checking the work done by a virtual assistant if you have one because at Kenji ROI, we very often see listing page mistakes like this that were done by a VA and never checked.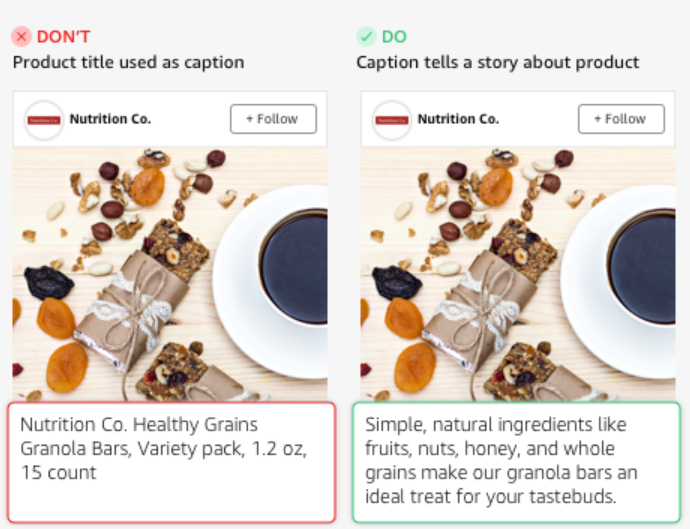 Tell a story
"Build on the visual story behind your image in your caption. Tell shoppers why your products and brand are unique and valuable. Avoid simply repeating your product description or adding customer reviews."
Interpretation: For the same reason why posting simple product images on Instagram doesn't work, it's important to showcase your brand in a visually appealing way that someone scrolling social media would be interested in. Remember, the goal of Amazon posts is to get someone to click to your product page, not to actually sell anything.
Who Can Use Amazon Posts?
Right now, Amazon Posts is available for any brand owner who sells in the US marketplace. This means you need to have a brand registered through Amazon Brand Registry.
Then, you want to make sure you have an Amazon Storefront associated with your Seller Central account.
And finally, your Amazon store needs to be active and linked to your brand's byline on product detail pages.
How Does Amazon Posts Work?
Now let's delve into the nitty-gritty and explain what purposes Amazon Posts serves, and some recommended best practices so you can make the most out of this amazing feature.
Amazon Posts serves three main purposes:
Discoverability—Carousels for participating brands can be found on their product listings' detail pages or by searching tags. Tapping on a post takes shoppers into a feed.
Browsing—Customers can continue to browse through feeds of related posts, and pivot to browse feeds of posts for related products in related categories.
Shopping—Shoppers can tap "Show Products" to instantly learn more and be taken to the product listing where they can make a purchase.
How Often Should You Post?
Amazon encourages users to post as much as possible, just like any other social media platform. That means around 1x/1-2 days to fully maximize its benefits.
What Type of Content Should You Post?
Amazon recommends that posts should generally stay focused on product and brand content, but brands should feel free to experiment with different types of content to see what really resonates with their customers. The sky's the limit!
Metrics That Track The Success Of Your Amazon Posts
Your metrics tab will give you valuable insights such as:
Viewable impressions—the amount of times at least half of the post was shown on a customer's screen for 1 second or more.
Total engagement—how many times the post has been clicked.
Engagement rate—the number of engagements divided by the number of impressions.
Clicks—total clicks on detail page, brand feed, related feed, to show product, to expand caption (available in downloadable reports only).
Tips to Help You Start With Amazon Posts
If you're gonna give Amazon Posts a go, here are some tips to help you get started.
Already doing social media marketing for your brand? Awesome! You already have a pool of content that you can draw upon. Keep in mind that Amazon Posts is mainly for driving sales, not sharing or conversation, so tailor your content with that in mind.
Take your product with you wherever you go. Say you're on holiday or in another country for business purposes. Snap a photo of the product everywhere you go, and really dig into your brand's personality.
If you're more of a creature of habit, add posting to your list of weekly/daily tasks.
If posting regularly on social media isn't your thing, you can still take advantage of Amazon Posts to promote once-off events like a holiday sales special or product launch.
Amazon Posts: How to Sign Up
It's super easy to get started.
Go to this page and click Get Started.
From your Amazon account, click Campaigns.
Select the brand you want to create a post for.
Click Create post.
Skip Amazon's post recommendations.
Create your post.
Click Submit for review.
That's it!
Final Thoughts
Now it's up to you to weigh the pros and cons to see if Amazon Posts is worth a shot for your brand.
That said, it doesn't cost a dime to get started, so it would definitely be worth trying it out for a bit and seeing what happens.
By getting in early and filling your feed up with content, if Amazon does officially roll out the feature, you'll already have the upper hand.
And if it eventually goes the way of the dodo… you can always repurpose all the content to other social media channels.
Need help designing stunning lifestyle and product photos? Or maybe you need a hand with your Amazon marketing strategy? Take a look at Kenji ROI's services here.