Last updated on December 19th, 2022 at 07:47 am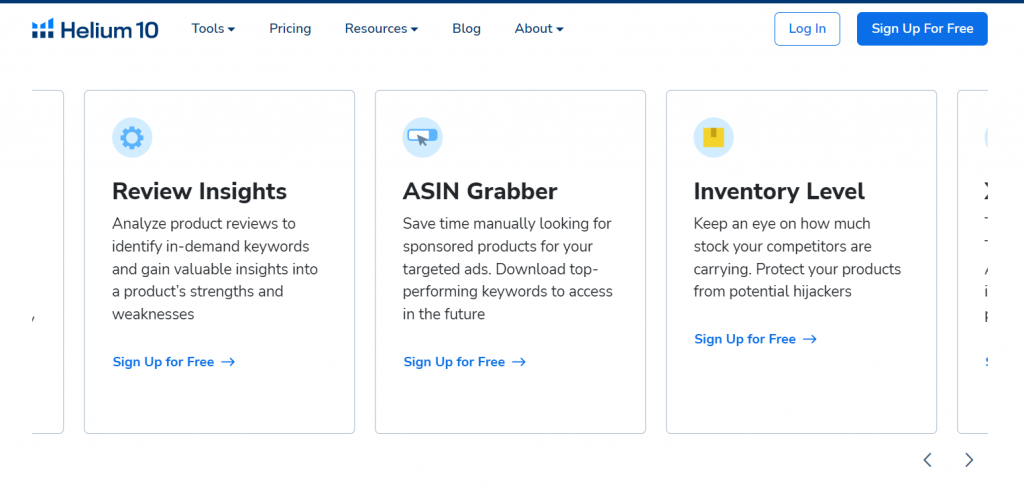 MISSPELLINATOR:
Helium10 provides a powerful suite of Amazon seller tools that have enabled us to reach impressive heights. Its comprehensive package and reliable data have provided invaluable insights, while its pricing is highly reasonable for the quality offered. Our clients can attest: Helium10 has been instrumental in helping them attain great keyword rankings and sales successes!
Helium10 offers Amazon sellers an essential suite of tools designed to give them a competitive edge in their business. From keyword research and inventory tracking to monitoring competitors and alerting users when products are trending, Helium10 provides resources for busy entrepreneurs that simplify time-savings.
With 17 powerful tools covering a range of e-commerce activities, Helium 10 is the ultimate all-inclusive suite for Amazon sellers. From uncovering profitable product research to optimizing and monitoring existing listings, this comprehensive platform has advanced features that can provide valuable insights into every aspect of your sales operations.
Get access to a suite of powerful tools for your product research. 
Black Box helps you identify potential ideas.
X Ray allows you to analyze sales volume and competitiveness in the niche. 
Review Downloader filters through thousands of reviews quickly so that you can gain customer insights. 
Track inventory levels with Stock Alerts.
Trendster also provides seasonality and trend analyses for ongoing popularity monitoring. 
The Profitability Calculator simplifies pricing decisions by providing cost-benefit calculations. 
Magnet aggregates keyword data from multiple sources like Google Trends & Amazon Autosuggestion.
Cerebro's reverse ASIN lookup tool gives visibility into competitors' strategies.
Scribbles enabling listing optimization.
Frankenstein manages all keywords in search query results making this comprehensive package invaluable!
Index Checker unlocks the full potential of your Amazon product listings by ensuring your keywords are properly indexed.
 With Keyword Tracker, you can stay on top of rankings and keep track of important metrics for optimizing visibility—a must-have to maximize sales. 
Profits provide real time performance data via a customizable dashboard so that profits remain within view at all times.  
Alerts help protect against any malicious activity.
Inventory Protector manages stock levels with customized alerts when supplies run low or require replenishment. 
Refund Genie simplifies remedying damaged/lost items associated with orders; it automatically submits form requests to Amazon, saving time for dealing with refunds.
Follow-Up automates email interactions and feedback management, saving hours compared to manual workflows.
Read More:- Amazon FBA External Traffic Evolution (top strategies) with Alex Czechowski
HELIUM10 FEATURES
BLACK BOX:
Black Box is an essential Amazon product research tool adapted specifically to meet your needs. With this powerful resource, you can analyze the sales volume, price point, weight, and competition of any item on the site in a matter of seconds, streamlining hours' worth of tedious work into minutes! 
Furthermore, Black Box lets users save their findings by sorting them into different lists, enabling efficient future reference and providing assurance that important information isn't forgotten. 
Finally, what makes BlackBox stand out from similar keyword resources are its quick results due to intelligent filters and strategic data, which gives it our highest endorsement for those looking for reliable performance when researching new products for Amazon.
HELIUM10 CHROME EXTENSION: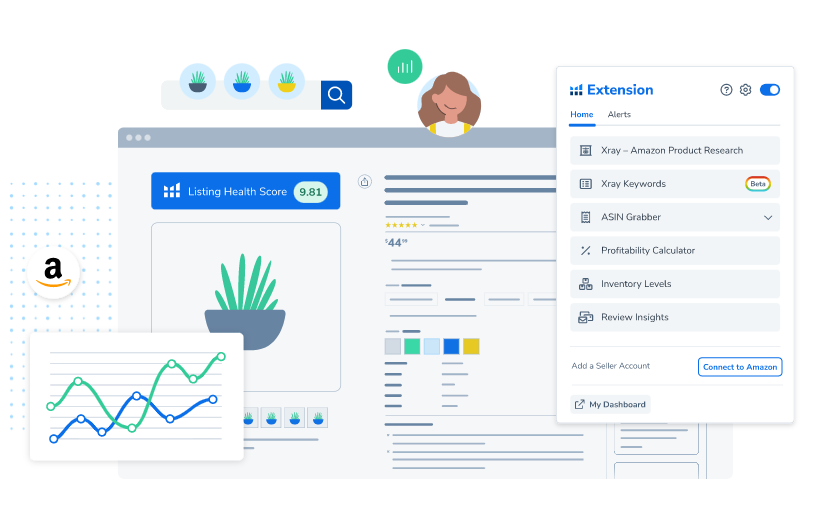 XRAY:
With Helium10, you can get extensive details about Amazon products and marketplaces in real time through the amazing Chrome Extension. 
Streamline your workflow with access to five powerful features – X Ray, Profitability Calculator, ASIN Grabber, Review Downloader, and Inventory Levels – from one central location! Obtain insights on sales history data like revenue estimates and prices quickly for smart marketing decisions or competitive analysis research. 
Make sure you stay ahead of rapidly changing trends by getting instant metrics at a glance today!
PROFITABILITY CALCULATOR:
Get a reliable and comprehensive assessment of your expected item profitability with the Profitability Calculator, which expertly factors in costs such as manufacturing unit pricing, size/weight parameters for shipping requirements, and fulfillment charges from FBA providers – all to give you an informed estimate.
ASIN GRABBER:
The ASIN grabber offers a practical way for merchants to quickly create focused pay-per-click ads or discover products that may experience a spike in demand. 
In addition, this powerful tool allows users to copy and paste numerous Amazon Standard Identification Numbers into the system effortlessly!
REVIEW DOWNLOADER:
The Review Downloader section of Helium10's Chrome Extension for thorough Amazon product research makes it incredibly simple. By quickly sorting and exporting reviews into easily understandable spreadsheet lists, users can learn what thousands of buyers think about their products or ones they're considering selling in a matter of minutes—an unprecedented level of convenience for such detailed analysis! 
It is advised that you use this feature at least once per month; doing so ensures you remain up-to-date on any public opinion fluctuation regarding your item and flag any arising issues requiring attention.
Read More:- 4 Secret Methods Professionals Use to Do Amazon FBA Product Research
INVENTORY LEVELS:
With the Inventory Levels tool from this Chrome Extension, you can quickly see inventory levels for any Amazon product on sale—even your competition! 
So keep tabs on competitors and beat them to the punch when their stock runs out. 
Maximize your strategic advantage by keeping an eye on inventory levels—unlock new opportunities and ensure you're always ready to capitalize.
TRENDSTER:
Trendster is an Amazon-specific tool created by Helium10 that offers a comprehensive data analysis over multiple years. It provides insightful insights about seasonal changes and product trends in one neat package, making it incredibly user-friendly for those seeking to investigate these phenomena.
Furthermore, its design makes navigating complex analytics easier than ever—something we rely on regularly during our investigations into market dynamics.
MAGNET:
Helium10's Magnet keyword research tool provides complete access to all Amazon keywords available. With an expansive database of volumes and relevancy, finding powerful words that drive list visibility is as simple as clicking a few buttons. 
Along with any already existing ideas you may have, this feature offers vast suggestions for optimizing your listing potential, so there's no shortage of inspiration!
Magnet provides top-tier keyword research capabilities from one of the most respected names in the Amazon business. Their searches are instant, the data is extraordinarily reliable and accurate, and a free trial allows new entrepreneurs to explore whether Magnet can be incorporated into their operations—perfect for those still deciding whether to commit. 
We use it exclusively with our clients due to its unparalleled ease of use; you won't find another tool that works this well!
CEREBRO:
Cerebro takes keyword research to a whole new level. Its advanced filters and long-tail search functions have become our go-to tool for identifying the most powerful keywords with precise search volume data. 
In addition, its unique features of Cerebro Product Rank and IQ Score allow you to assess how much effort needs to be taken to get your product into prime ranking positions on Amazon's listings pages.
With Cerebro, you can gain a competitive edge in keyword research. It's an easy and efficient way of discovering exactly what keywords your competitors are using in their listings so that yours stands out from the rest. 
Input a competing ASIN into Cerebro and get access to all its ranking keywords, giving you valuable insight on how to optimize your product listing for maximum performance potential!
SCRIBBLES:
Scribbles simplifies your listing creation journey, ensuring you get all the important features and keywords. It checks that the keyword count for each listing is optimized, meaning there is no overstuffing and not too far used. 
To top it off, Scribbles also stores drafts of all previous listings to allow comparison between them, which can be switched back instantly if needed—keeping an extensive list of 'new' yet high-traffic value keywords. 
Tick those off as they get typed easily – ensuring maximum reachability and visibility for potential customers searching the web.
It's never been easier to climb the Amazon rankings with Frankenstein and Scribbles on your side keywords easily. It follows best practices in optimizing client products for higher online visibility, ensuring that missing even the tiniest detail wouldn't be overlooked. 
We turn to it often during list building, including in cases where we've already made our keyword selections and built a comprehensive strategy.
FRANKENSTEIN:
Frankenstein is the perfect tool for optimizing your Amazon A9 algorithm, allowing you to take multiple keyword lists and transform them into separate, cohesive collections. 
With powerful sorting options such as filtering by frequency of appearance, detecting duplicate words, or searching out those absent from listings – it's never been simpler to ensure all your keywords hit their mark!
With Frankenstein and Scribbles working together, it's never been easier to conquer Amazon rankings. And with their attractive designs and user-friendly interfaces, you'll have as much fun using them as winning the race! 
So quickly get your listings up to the top position without breaking a sweat—let these tools do all the hard work for you.
INDEX CHECKER:
The Index Checker tool is a powerful diagnostic that can help Amazon sellers analyze the effectiveness of their product listings. It examines whether products are indexed for specific keywords, enabling users to determine which practical terms should be targeted and if any irrelevant words need to be added as negative keywords to optimize visibility on A9. 
Additionally, it grants insight into competitors' rankings, providing an opportunity for successful strategy stealing! This cutting-edge solution replaces traditional manual ranking tracking by adding and monitoring keyword rank over time.
With Index Checker, Amazon sellers can gain critical insight into the keywords they're targeting and how well they execute. This comprehensive tool allows users to review each keyword listed in their product description so that nothing slips through the cracks—ensuring you won't find yourself blindsided by unindexed words after investing time and energy into optimization efforts! 
Leverage this powerful resource for a more effective approach to research strategy today.
Read More:- Amazon SEO: Rank & Stick Onto Page 1 in 2021
KEYWORD TRACKER: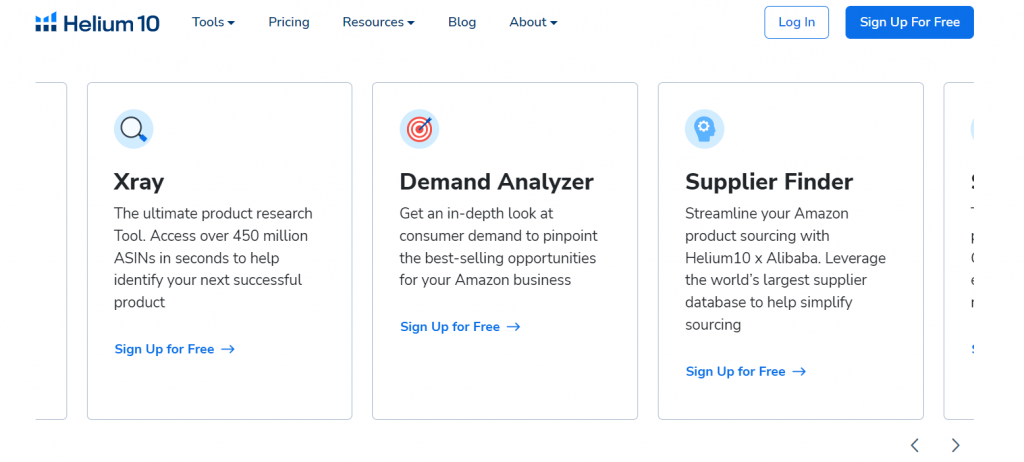 With our Keyword Tracker, you can gain profound insights into optimizing your product listings and those of your competitors. It's a resourceful instrument that reveals how rankings fluctuate over time and provides helpful information on what works best for successful marketing strategies. 
Unlock this powerful tool as part of your overall package; it will provide an invaluable assessment in making informed decisions about promotion efforts!
PROFITS:
Discover Profits is the ideal real-time way to stay informed about your business's performance. This advanced analysis tool allows you to access essential data such as gross revenue, net profit, sales trends, and more, all visible on a user-friendly dashboard. 
Monitor product profitability by identifying which items are selling well and adjusting promotions accordingly for maximum ROI. Plus, track inventory levels so you can make smarter decisions regarding stock availability. 
Make sure your Amazon store is running optimally with Profits!
A comprehensive analytics dashboard gives you complete control over manipulating the data to gain insights. Our team has reviewed countless options, but we consistently return to this one due to its clear advantages in usability and convenience.
ALERTS: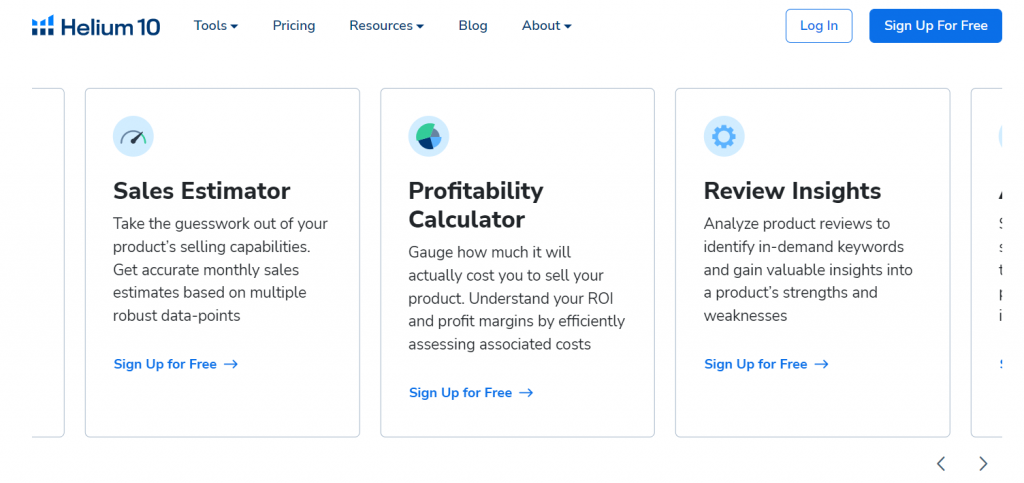 Helium10's AMZAlert offers comprehensive coverage to ensure your brand and product listings remain safe from malicious sellers. Featuring a dashboard that allows you to quickly monitor all of your Buy Boxes and immediate alerts sent via email or SMS when questionable activity arises, it keeps you informed in real time. 
Additionally, the platform provides preformatted reports so users can swiftly report offenders directly with Amazon while capturing screenshots daily for easy verification without wasting precious time manually checking each detail. 
Customers are now guaranteed protection from the market devaluation of their trademarks or products caused by attempts at imitation. 
INVENTORY PROTECTOR:
Inventory Protector is the perfect companion for any business looking to gain a deeper understanding of its stock and respond quickly in volatile markets. Our sophisticated widgets provide actionable insights, like what products are increasing or decreasing sales trends over time frames customized to meet your needs. 
Furthermore, our exclusive Maximum Order Quantity feature helps safeguard against unexpected demand spikes by limiting orders on certain items—ideal if you're running coupon code promotions!
With the Alerts tool, you can safeguard against potential stock depletions due to competitors' actions or discounted purchases. It is a reliable insurance policy for preventing large-scale losses and ensuring consistent product availability.
REFUND GENIE:
Amazon's FBA reimbursement process can be a major headache for sellers, leading to unnecessary delays and lost opportunities. To combat this hassle, many Amazon merchants are turning towards refund tools like Refund Genie that automate the entire procedure from start to finish, allowing them to reclaim their hard-earned money with minimal effort or stress. 
The best part is that these refunds come directly from Amazon itself, not just one of its third-party suppliers! With Refund Genie taking care of your reimbursements quickly and efficiently, you save time on cumbersome paperwork while ensuring top-dollar returns in no time.
Helium10 is the ultimate solution for Amazon sellers seeking stress-free reimbursement. With automated analysis of up to five common refund reasons, their system quickly puts together comprehensive reports on any funds owed, saving users incredible amounts of time and effort compared to manual labor! 
Plus, they offer tailored solutions that can be used across multiple marketplaces, ensuring you never miss out on your hard-earned money again.
Read More:- Best Things To Sell on Amazon FBA 2021
FOLLOW UP:
As an Amazon seller, time is of the essence. With Follow-Up from Helium10, you don't have to sacrifice your customers! This email automation tool allows you to contact all past purchasers effortlessly and convert them into loyal regulars with no extra effort. Keep track of user reviews—capitalize on customer lifetime value, and maximize positive responses today by using this revolutionary technology solution!
Follow-Up offers the ability to design emails that can be tailored and sent out after certain events, such as a customer ordering your product. This automated email could thank them for their purchase while providing added value in the form of eBooks or discounts. 
Additionally, these communications let you stay in touch and engage with clients by rapidly offering them contact options if they have delivery concerns, soliciting comments on the quality of service, and sending invitations for inspections.
Not only is it simple to set up, but its customizable design means full control over automation timing strategies. Hence, businesses come closer to meeting consumer needs at every stage of the fulfillment process!