Last updated on March 28th, 2023 at 05:53 am
This guide will allow you to quickly determine if selling on Amazon makes sense for your brand, and the steps to take to get up and selling on Amazon if everything looks right!
How to Determine If There's a Good Market For Your Products on Amazon While Maintaining Healthy Profit Margins
3 Little Known Methods of Spying on Competitors to Learn the Market Demand for Your Products on Amazon
Step-by-Step Amazon Seller Account Setup Checklist & How to Avoid Major Delays
How to Ship Your Products Into Amazon FBA Warehouses From the Comfort of Your Home with No Minimum Order Quantity
Is Amazon the Right Sales Channel for Me?
Before learning anything about how to sell on Amazon, it's important to make sure your brand is the right fit because not all products are good opportunities. It's quite possible there's not enough demand, too much competition, or there's some restriction on your type of product (such as CBD or adult products).
Amazon is NOT For You If:
You are selling anything on the Amazon restricted items list such as drug related items, CDB, or alcoholic beverages
You do not possess the required certifications to sell your type of product in the United States such as FDA or various labeling requirements. Amazon strictly enforces these regulations.
Your products do not have enough demand (we will show you how to check this later in this guide)
Your products are too competitive for your resources & budget (we will cover this later
Other than that, it's safe to assume there are hundreds of thousand if not multi millions of customers already buying products similar to yours on Amazon's worldwide marketplaces, and all you have to do is get your product in front of them.
Amazon Is Growing Exponentially While Retail Is In Emergency Mode
Just to give you an idea of where retail is headed right now. Here are some quick stats on Amazon's response to the COVID-19 outbreak. Many brands that relied on retailers for 90%+ of their sales are scrambling to get onto Amazon where the sales are massively increasing.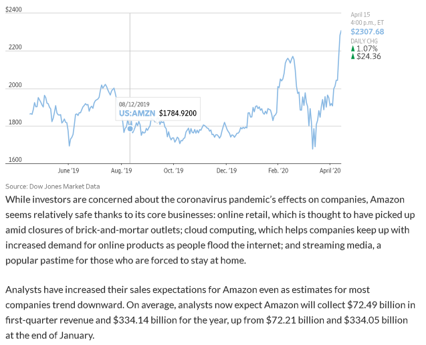 Amazon is hiring 100,000 new employees to deal with increased demand
Potentially 100s of millions of people making their first ecommerce purchase during quarantine
$72.49 billion expected Q1 revenue, $334.14 billion annual expected
Resilient to pandemic situations
Food products are considered "essential" by Amazon
Amazon Vs. Traditional Retail Channels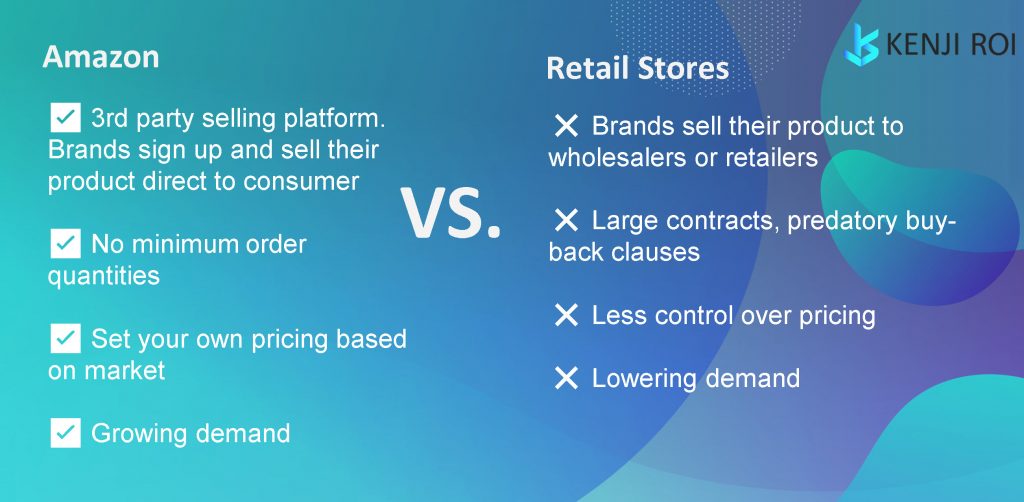 Selling on Amazon is fundamentally different than traditional retail. It's important to understand the key differences and misconceptions surrounding selling on Amazon to see if it's right for your brand.
In a nutshell, Amazon FBA automates the entire selling & shipping process for you. You set up your product pages, send inventory into Amazon FBA warehouses, then Amazon takes care of shipping to customers when they buy, handles returns, and gets your product in front of their shoppers on search results pages.
Pros Of Amazon Vs. Traditional Retail
Largest customer base in the world with credit card on file & annual subscription for Amazon Prime which guarantees 2 day shipping. This is Amazon's biggest advantage & the reason no one is effectively competing with them for the top ecommerce marketplace.
FBA handles all shipping so all you need to do is send inventory to FBA warehouses & Amazon ships to customers & handles returns
Platform is already built: set up an account, upload product images and descriptions, then send inventory into FBA warehouses. 100% self serve.
Potential Downsides of Selling on Amazon
It wouldn't be honest to say Amazon is all sunshine & rainbows as it comes with unique risks & challenges.
Some product categories are highly competitive (like health supplements).
Your Amazon account can get suspended for violations or even suspected violations of policies.
You are reliant on a single platform (Amazon) that can change it's rules or revoke your selling privileges.
There are horror stories of brands who get accounts suspended and lose their ability to sell after building up a large income on Amazon, but as long as you aren't violating their policies by getting incentivized reviews or infringing trademarks, it's very likely your account will be reinstated.
Honest Self Assessment, Is My Brand Right for Selling on Amazon?
In this section I'll explain step by step how to determine if your brand has potential for strong sales on Amazon. The topics we'll cover are:
Is there enough demand for my products on Amazon?
Are my products too competitive on Amazon for me to compete?
Do my margins make sense for selling on Amazon?
If you check off all 3 boxes then you can proceed to the last part of this guide which is how to get your products up and selling!
Is there enough demand for my products on Amazon?
Amazon doesn't release official sales numbers of products on their platform, but there's many 3rd party software tools that use a mixture of real data & estimates to give you a good idea.
By using the chrome extension Jungle Scout, I can see estimated sales volume on any Amazon search results page. What we want to see here is at least 3-4 sellers doing good sale volume, but not massive volume as those products are more difficult to compete on.
How to See Amazon Sales Volume For Similar Products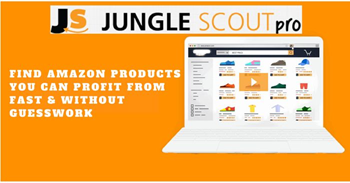 Download the Jungle Scout chrome extension (or a similar one, there are many)
Search for your main keyword phrase on Amazon. Try to use the broadest phrase you can that's specific enough that most of the search results are that product. If your product is "unsalted chocolate covered cashews" try searching for "chocolate cashews."
Open up Jungle Scout chrome extension on the search results page. Click the Jungle Scout icon in the upper right menu of Google Chrome to open it on the page.
See the estimated sales data as it populates from the search results. You should now be looking at estimated sales volume & many other hidden metrics for every product on the page.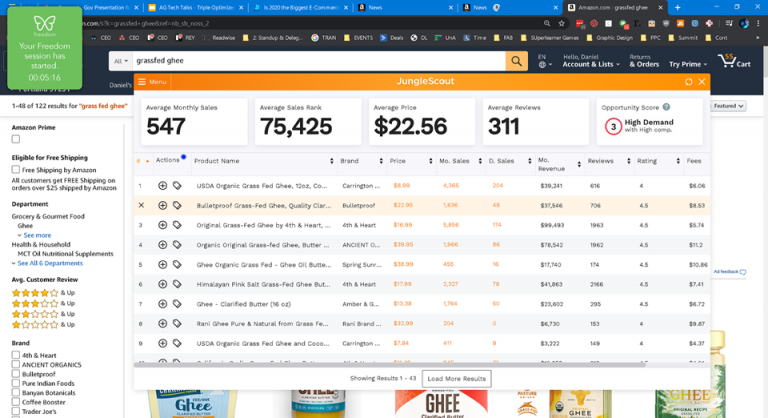 We can use this data for many things, but for now the goal is to simply verify there's enough demand for your products on Amazon to make it worth it.
There's no right answer, if your competitor's are all making $2000 per month revenue & that's enough for you, do it! But if you need $20,000 per month to bother, better to know before you go through the whole process to save the trouble.
Will My Profit Margins Work on Amazon?
This is a potential deal breaker. If the search results for your product on Amazon is flooded with brands selling basically the same item but for half your price, you will not be able to compete.
Amazon is a comparison shopping engine and shoppers are bombarded with similar products on literally every page, including your actual product listings. If you can't show that your products are somehow better, shoppers default to the lowest price.
Fees for Selling on Amazon
These fees the underlying costs of selling on Amazon you must factor into your equations.
$39 per month Pro Seller account. This is the basic cost of keeping your Amazon Seller Account up.
15% referral fee on every item sold. This is Amazon's fee for using their platform to sell. It can vary a bit but in general this is great value considering how much it would cost to use Facebook Ads to sell your product instead. Consider this a marketing expense for your right to access Amazon's loyal shoppers.
Amazon Fulfillment Fees (shipping from Amazon FBA warehouses to customers): This is typically about 15% of revenue + or – depending on package weight and size. Calculate your fulfillment fees here.
All in you should expect Amazon's costs to run you about 30% of sale price. When compared to a typical wholesale model of selling to retailers at 50% of sale price, that's a good deal!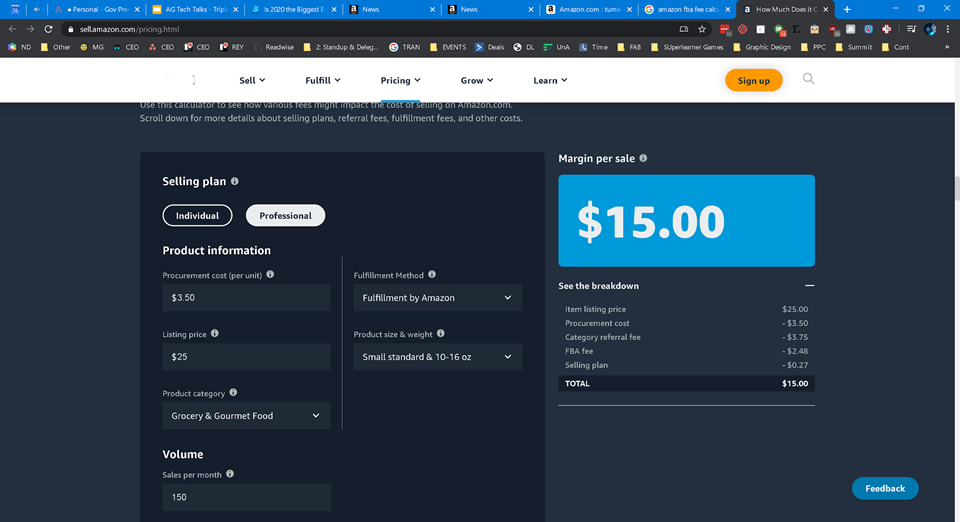 Steps to Get Set Up Selling on Amazon
You'll need a professional seller's account to sell your products on Amazon which requires you to submit official documents & ID proving you're a legitimate business. Amazon has severe issues with fake accounts and people opening multiple accounts (against their terms of service) so they ask for documents that can be difficult to procure.
Under NO circumstances should you submit false documents of any kind as this will get you an immediate account suspension before you even start. They are always changing the requirements but you'll likely need a government issued ID of the registered business owner, a piece of mail that matches the business address with the business name on it.
Step 2: Create your product listings
The more optimized your listings are on Amazon, the higher your conversion rates, the higher your rankings, the higher your sales. It's all about presenting your product in a way that clearly shows the product benefits in an appealing way while giving Amazon's keyword ranking algorithm what is needs.
Essential Pieces of Optimized Product Listings
These are required for all products selling on Amazon, your images & description, ideally packed with relevant keywords your customers are searching for.
This is the single most important piece of your Amazon listing that affects your conversion rate (percentage of viewers that buy). Many shoppers use the photos alone when deciding to buy and Visuals are Processed 60,000 x Faster in the Brain Than Text.
If you're looking for someone to create your photos for Amazon, reach out to us here.
The goal of Amazon photos should be that a customer can scroll your photos and know EVERYTHING they need to know to make that buying decision without reading any text.
Similar to Google search engine optimization, it's important to have the right keywords on your product listing that match what your customers are searching for.
The key to high performing Amazon listing writing is to nail the right balance of important keywords, key information, and persuasive copywriting without making it "keyword stuffed."

Danny Carlson, CEO, Kenji ROI
Over optimizing for keywords looks bad to customers and Amazon's algorithm will penalize you for it. If you're looking for an experienced Amazon listing copywriter who can do this for you, we have a team of American writers with 4+ years experience. Contact us here.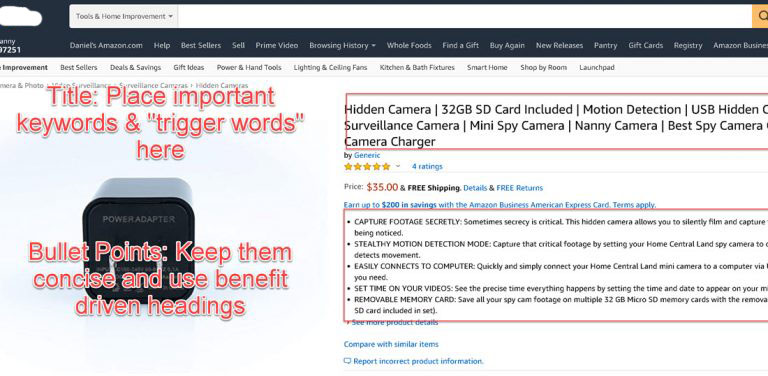 Optional Pieces of Optimized Product Listings
These are not required but they will improve the conversion rate (the percentage of viewers that buy) on your listing. Only sellers with Amazon Brand Registry can use them. To get Amazon Brand Registry, you need a registered trademark for your brand name so it's a big advantage as smaller brands won't make this investment.
These are special descriptions that allow you to add images and text in a custom layout. Regular HTML descriptions only consist of text and can have same basic formatting using HTML code.
The key to creating high quality A+ Content (formerly called Enhanced Brand Content then Amazon changed it) is to intentionally design the layout so the images and text work together, while utilizing graphic design to communicate key product details in a way that shows you as a premium brand.
See our full guide to Amazon A+ Content here, and if you want us to create it for you contact us.
Amazon A+ Content Examples
Brand registered sellers can upload a video to one of their main image slots, otherwise they will only be able to add it to the "Related Video Shorts" section halfway down the listing which gets less views.
Some sellers also have the ability to run video ads on Amazon which is totally crushing it right now for almost every brand I know that's using them. If you want us to create Amazon videos for you, contact us here.
The 3 Essential Pieces of a Triple Optimized Amazon Listing
Based on Kenji ROI's experience creating more than 1300 Amazon listings for client brands, we've created a methodology  to maximize click through and conversion rates on Amazon product listings in a reliable & repeatable way. These 3 concepts are essential to a smooth buying experience that shows.
This is the framework for creating photos & descriptions that will explode your sales on Amazon.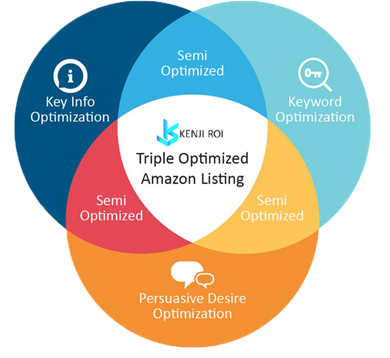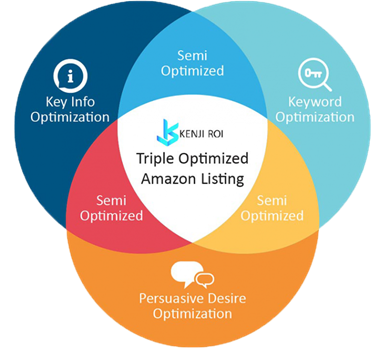 Keyword Optimization
Key Info Optimization
Persuasive Desire Optimization
I dive fully into this methodology in my blog post Triple Optimized Amazon Listing Methodology.
Step 3: Ship Your Inventory into Amazon FBA Warehouses
Amazon makes it super easy to send your products into their warehouses. They have a network of more than 20 Fulfillment by Amazon (FBA) warehouses across the United States & in Canada, Europe, Australia, Japan, and rapidly expanding.
Sending in a shipment is done through your Seller Central "Manage Inventory" tab.
Create a new product and add the product description and images. You will be assigned a FNSKU (Amazon's bar code system) and you can "Print Item Labels" once the listing is created so you can get the barcode printed on your packaging or stickered onto your box.
Find your newly created product on the Manage Inventory page, click edit on the far right, then "Send/Replenish Inventory"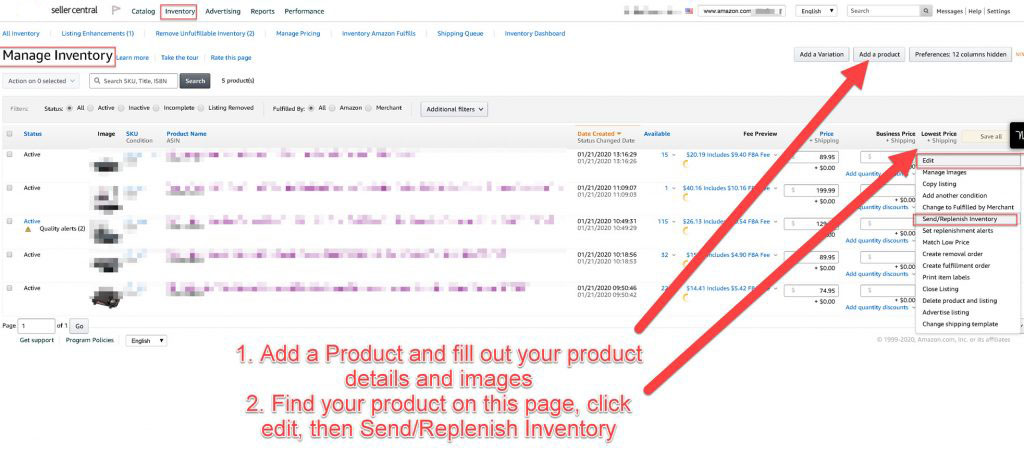 Their interface is very simple, input the number of cases you're sending in, units per case, and the dimensions & weight of each. Amazon will automatically calculate which warehouses you should send to, shipping costs with their partnered carriers, and a printable prepaid shipping labels you can place on your cartons and have Amazon's partnered carriers pick them up.
It's simple to figure out whether you are sending the product in yourself or emailing the shipping labels to your warehouse for them to ship them to Amazon. Once it arrives in Amazon FBA warehouses, they take care of the fulfillment to the customers who buy your product.
Learn more about Fulfillment by Amazon on their official site.
Congratulations, You're Now an Amazon Seller!
You've noe completed all the necessary steps to getting your products live and selling on Amazon. If you're pivoting away from traditional retail and into ecommerce, Amazon is the fastest way to enter the online space. Setting up a Shopify store takes time but also lots of money & specialized talent using ads (usually Facebook ads) to drive traffic to your store. Amazon has the platform AND the customers, and all you have to do is optimize your products to sell on their platform.
It definitely comes with downside risks as we discussed above, but it's become the 10,000 lb gorilla that no one can ignore any more. Not selling on Amazon is undisputed leaving money on the table.
More Selling on Amazon Resources
At Kenji ROI, we help brands get set up on Amazon with everything from listing creation to Amazon Ads Management & strategy. Contact us and let us know you're looking for help getting set up selling on Amazon and we'll see how we can help.
We also have the Actualize Freedom Podcast and many other in depth blog guides on our blog page here.