Last updated on April 12th, 2021 at 09:49 am
Let's face it… every new Amazon FBA seller is waiting for that first piece of bad feedback to appear.
With positive feedback being such a rare commodity, it really stings to see that piece of negative feedback finally come in.
And it can make you feel totally helpless when the review is about something completely outside of your control!
If you plan on growing a successful Amazon business, you should brace yourself for feedback like these:
"Discovered this a day later on Walmart for half the price!"
"Too blue, hate it"
"I paid for PRIME TWO DAY shipping and it arrived a day late and ruined my child's birthday party"
One bad review can sometimes make or break a business… no matter how many other positive reviews there might be.
No where is this more true than on Amazon. Maintaining positive Amazon seller feedback goes a long way in building trust amongst potential buyers.
With over 2 million third party sellers, competition for FBA seller is extremely cut throat.
By quickly scanning feedback ratings, customers make a split second decision on who they can trust with their business.
99% of the time, they will go for the one with the higher rating, especially when quality and price are similar.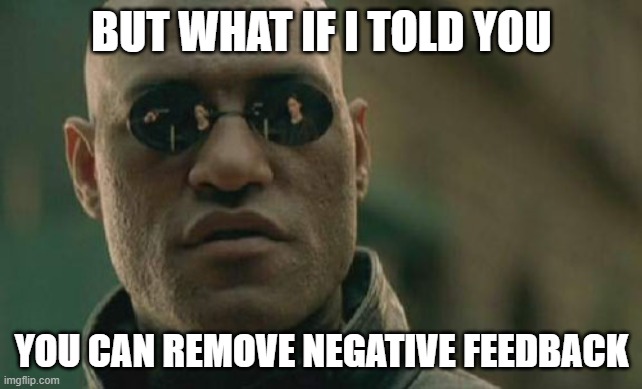 Thankfully, removing negative seller feedback is a lot easier than you think.
This guide will give you an in-depth rundown on everything you need to know about seller feedback, including:
What could happen if your Seller Feedback drops too much
What types of feedback you can remove
How you can remove them
How to best deal with negative feedback you can't remove
Ready? Let's dive in.
What is Amazon Seller Feedback?
After a customer receives their product, Amazon lets them submit a review of their experience dealing with the seller.
Amazon always asks these three questions about the service they received:
Did the order arrive on time?
Did the item's condition match the seller's description?
Prompt and courteous service? (if you contacted the seller)
Amazon also allows the customer to leave a written comment.
Every seller has a Feedback Seller Rating based on the total amount of customer feedback they have received. This number is displayed as both a 5-star rating as well as a percentage.
Here's how Amazon explains their rating system: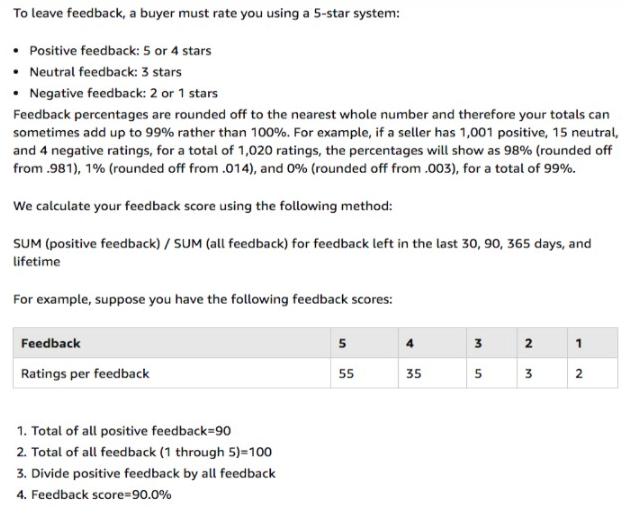 You can view and manage feedback by logging into your Amazon seller account and navigating to Performance, and then selecting Feedback. You'll be taken to Feedback Manager.

Amazon Seller Feedback is NOT a Product Review
Note that seller feedback and product reviews are completely different.
For customers, product reviews are more important. They want to know more about what other people think about a certain product than about the individual seller.
Product reviews cannot be removed from a product page very easily. Often your only way of dealing with them is to publicly respond to them in the comments. That way you'll show future customers that you at least tried to fix the problem.
Why is Seller Feedback So Important?
You might be thinking that since Seller Feedback is so rare, it can't be that important, right?
That couldn't be further from the truth!
Amazon deeply values the customer experience. They want to ensure that their customers can trust shopping on their platform, so if they notice a pattern of bad experiences, they will take action to protect their brand integrity.
So how can negative feedback affect your Amazon sales?
Lower Conversion Rate
Let's say you're a customer on Amazon and you notice this when you're about to buy a product: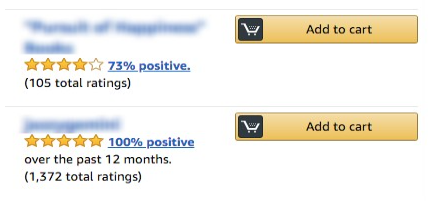 Which one would you choose?
I know for sure I'd choose the bottom one. First of all, there's a lot more ratings. And second of all, I wonder why the bottom one has a lot more negative ratings… is it because of counterfeits? Late deliveries? Breaks after 1 week?
As soon as I'm doubting my purchase, I click off and try elsewhere. Don't give your potential customers a reason not buy your product.
You Can Lose the Buybox & Other Seller Privileges
If multiple sellers are competing to sell the same product, how does Amazon determine which seller should get the Buy Box?
Amazon's algorithm determines this by figuring out each seller's "seller score". Basically, with every order, the seller either receives or loses points that go towards their Buy Box seller score.
For example, an order that goes through without any issues nets the seller 100 points. On the other hand, if an order receives a negative rating (1 or 2 stars), that will subtract 500 points from the seller score.
That means to repair the damage done from 1 negative rating, you need to have 5 good orders go through.
And that's not all.
Amazon also measures your Order Defect Rate (ODR). This is the percentage of your orders that have received negative feedback in addition to other poor customer interactions.
According to Amazon's guidelines, having an ODR above 1% could result in you losing your selling privileges. That means that if more than 1% of your orders have negative ratings, your account could be in trouble.
You can check your ODR by logging into your Seller Central account.
Even Neutral Feedback Can Negatively Affect You
Neutral feedback (which is defined as a 3-star rating) can drag down your average seller score.
Even though you're a 3rd party selling on Amazon's platform, they still require you to provide the same level of customer service as a large corporation.
A rating of 3-stars is the equivalent of getting a C amongst an ocean of overachievers —it's just not good enough.
What Types of Feedback are Eligible to be Removed
Amazon may remove negative feedback from your seller account if it violates any of these guidelines:
Contains obscene or profane language
Contains seller-specific, personal information, such as email addresses, phone numbers, full names, etc.
The feedback is actually a product review
The feedback is related to storage, packing, customer service or shipping for an FBA product
If a customer's feedback falls in line with any of these, you are entitled to submit a feedback removal request.
In the case of FBA related products, if a customer complains about slow shipping or late deliveries, this is the fault of Amazon, not the seller. If this happens, Amazon will take responsibility for this and "strike through" the feedback from your seller account.
A struck through piece of feedback looks like this:

While not deleted from your account, it will not count towards your ODR or your seller score.
Feedback Removal: a Step-by-Step Guide
Ok, so you've just gotten hit with negative feedback… what should you do?
Let's go through your options one by one.
Contacting Amazon to Remove Feedback
The first thing you should do is check if the feedback violates Amazon's rules as outlined above.
If it does, here's the steps you should take:
Log in to your Amazon Seller Central account.
Click on the Performance tab.
Scroll down to Recent Feedback.
Find the negative feedback you'd like to remove and match it with the order ID (you can use the filter to simply exclude all the positive feedback to find it quickly).
On the right side, under Actions, open the drop down menu, and select Request Removal.
On the right side of the prompt, click View Case. You'll then be taken to the Feedback Removal Request page. Select Get Help.
Affirm that you think the feedback is violating Amazon's guidelines.
Lastly, right a short paragraph explaining why you think it violates guidelines.
Keep it short and sweet. No one wants to wade through a huge swamp of angry complaints and whining, and that goes for the Amazon seller support team as well.
Now you can sit back and wait to hear from the support team.
Contacting the Customer to Remove Feedback
If the feedback does not violate Amazon's guidelines, the next thing you should do is contact the customer.
Contact the Buyer Directly
Amazon might not be able to remove the feedback, but the buyer can. This is a tricky situation and should be followed with care.
What to do:
Reach out to the buyer promptly after you receive the feedback.
Maintain a polite and professional tone.
Apologize to the buyer and try to fix the issue or offer a refund if appropriate.
What NOT to do:​
Demand they remove the feedback immediately.
Bribe them with a refund or other sort of monetary or material incentive. This is against Amazon's policies. Yes, you can offer a refund, but it cannot be on the condition that the buyer removes the negative feedback. You can ask for a removal after the issue is resolved or after you send them a refund.
How to Ask the Buyer to Remove Feedback
Find the piece of feedback in Feedback Manager as outlined above.
From the drop down menu on the right, select the Resolve button.
Select Contact Customer.
Select the subject, write a message, and hit send.
What To Do if the Customer Doesn't Remove Feedback
Sometimes the buyer will simply refuse any attempt resolve the issue, or refuses to remove the feedback. Or, sometimes just doesn't even see your message.
At this point, the best you can do is just leave a response. That way another Amazon buyer will see that you at least made an attempt to solve the issue, so they know if they experience a problem, they can expect good customer service.
It's best to right a short, concise and polite apology. Outline the steps you took to try and resolve the problem. Make sure your response aligns with the customer service of your brand.
You can find out information about response templates and design your own here.
Proactive Ways to Limit Negative Feedback
Negative feedback will eventually come your way, but you can be proactive and try to limit how much you will get by taking these easy steps:
Set up instant feedback alerts with third party seller software.
Check for new feedback every week. As a seller, you have up to 60 days to take action on any feedback you receive.
If you make a mistake and receive legitimate negative feedback, act quickly, be generous, and apologize. The quicker you act you resolve the issue, the more likely the customer will be to remove the feedback. They'll be less likely if you leave them hanging for 2 weeks.
The Takeaway
The key to staying in Amazon's good books is to take a page from what they do best: focus incessantly on the customer experience. Be quick to act, be profusely generous, and always take responsibility.
That said, even the best sellers with all their ducks in a row can't please everyone, and negative feedback will come in eventually. In these cases, it pays to be prepared with the steps needed to remove unwanted feedback that drags down your performance metrics.
Negative feedback isn't the end of the world. If it's legitimate, take a deep breath and use it as a learning opportunity to improve your business. Big brands like Nike, McDonalds, and so forth receive complaints all the time and yet still manage to satisfy huge numbers of people with their products and services.
Want learn more about how to not just survive, but thrive on Amazon? Check out our comprehensive guide on Amazon SEO here.