Last updated on March 28th, 2023 at 04:10 am
Amazon sellers & large ecommerce brands are using Facebook Messenger marketing to reliably rank for keywords, launch new products, & boost review rates better than the competition.
Actualize Freedom Podcast guest Daniel Philips has nearly 300 employees worldwide, and many of them are building funnels on ManyChat (a tool for Facebook Messenger marketing) and sequencing customers through to millions in sales.
But you'll find an equal amount of FAILURES… sellers in Facebook groups who've wasted thousands on ads with zero results to show.
So what are they doing wrong that guys like Daniel are getting right?
They aren't dedicated true students of the art of Facebook Messenger marketing for Amazon FBA…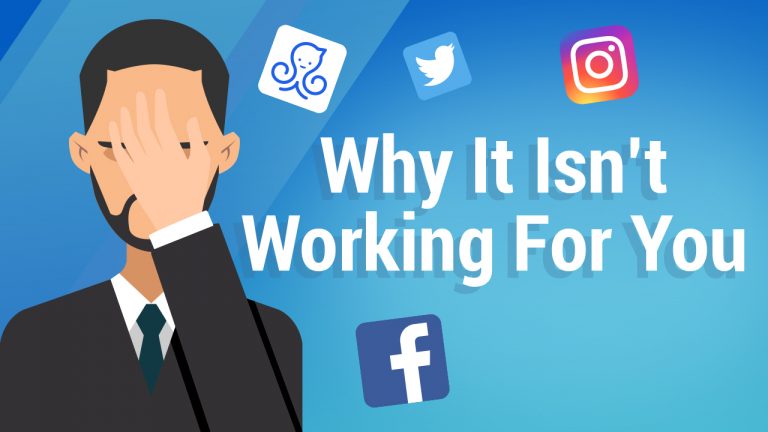 Why Facebook Ads & Manychat Isn't Working For you
Most people underestimate the skill, time, & systems required to make Facebook ads and messenger funnels that produce a positive ROI.
Hint: It requires more than just copy and paste templates made by gurus.
Amazon sellers are spoiled with access to Amazon's obsessive & loyal customers with a credit card on file, & don't realize how much more difficult it is to convert sales from off Amazon.
There are so many more variables & moving pieces, for example:
Facebook ad creatives. Which images will catch your audience's attention?
Ad copy. What words have the power to hook potential buyers enough to click?
Targeting. Some audiences are more responsive, more expensive, or more difficult to accurately target on Facebook. Some are just nearly impossible to make work.
Most "failures" usually stop before they could figure out which offers, audiences, creatives or ad copy works best. Plus, the Facebook Ads algorithm needs some time to sort things out & serve your ads to the best subset of the audience targeting you've chosen.
If you're not split testing 10+ creatives and haven't spent at least $2000 on ads, realize this is simply the price of "buying the data" that will help you make better decisions on your ads in the future.
Don't dip your toes into Facebook Ads or Messenger marketing because it's probably WAY more complex than you think, & takes more time and money to figure out than you think. Work that into your budget.
How 8 Figure Brands are Crushing it with Messenger Marketing
While you may be interested in Manychat for Amazon FBA for just reviews or product launches, it's important to understand the full scope of this powerful strategy. If you don't, your competitors will!
Build a Suspension-Proof Business
Every Amazon seller's worst nightmare is waking up to an email from Amazon with "suspended" in the subject line.
Brands that rely too heavily on Amazon are left with thousands of dollars in inventory with nowhere to sell it, and watch their business literally explode over night.
Amazon owns their customers, so smart sellers can greatly lower their risk exposure by owning their own customers as well.
In the worst case scenario you still have an avenue to sell through the rest of your inventory & hopefully make a successful "pivot" to drive customers to your own Shopify store or other sales channels.
Getting Reviews Fast on Autopilot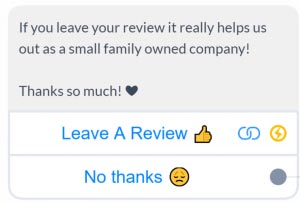 Unfortunately, many competitors are using blackhat tactics to get tons of reviews, & you're probably not willing to risk the suspension.
Even if they eventually get taken down, it's hard to compete when your own review rate is slower than dial up internet (especially when launching new products).
Unlike emails sent to Amazon customers through their email system, every single Messenger subscriber receives every message you send, & the open rate is usually at least 4x higher.
By requesting reviews from anyone who bought through your ManyChat funnels, and also running retargeting ads of custom audiences of past Amazon customers, you can DRASTICALLY raise your review rates.
Even to the point where you'll need to shut it off to avoid getting a "review velocity block" (an automatic block on new product reviews meant to combat fake reviews).
Just be sure to follow Amazon TOS and do not offer any incentive for people to leave reviews. Yes it will increase your review rate but if you're caught it's straight to suspension town.
WARNING: Just to be totally clear, any incentive to leave a product review of any kind can be seen as review manipulation by Amazon & get your account suspended. If you have to convince yourself a tactic is TOS safe, you are probably kidding yourself!
Build Your Own Launch List
Using launch services like Viral Launch, Rebate Key, or Sixleaf isn't working as well as it used to.
Many of them have recently set their maximum discount % to a less attractive amount so less people are claiming the deals.
The main benefit of using these services in the past has always been quick & reliable sales velocity to help rank for keywords.
But as they become less reliable it becomes more attractive to build your own launch list using Manychat or email lists (or both!).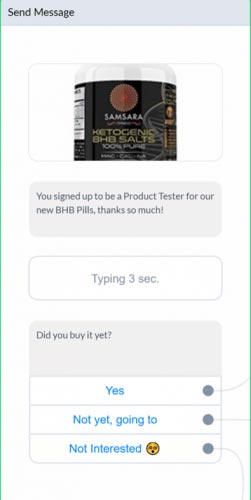 Benefits of Building Your Own Launch List
Save money on launch fees of $300+ per launch. Launch to your existing list.
More targeted customers. Launch services have lists of deal hunters that may or may not actually care about your product & are unlikely to become repeat purchasers.
More control over the offer. Launch services require certain % off promos & won't allow you to get creative with your offers.
Survey customers on which new products or variations to launch next. In a recent Actualize Freedom Podcast Episode, Eric Dahl told us how he asked his customers which colors of baby crib they wanted, & the results were the exact OPPOSITE of what he assumed.
Downside of Using Your Own Launch List
Takes time and money to build up the list large enough to be effective
Takes skill & expertise to build and engage a list of customers that will trust you enough to purchase
Requires maintenance. You can't just message them once every 2 months or they will forget how they ended up on your list in the first place & report your page as spam.
For building subscriber lists on Facebook Messenger, we use & recommend Manychat. For email lists, we use & recommend Active Campaign for their advanced automations & easy connectivity to Facebook Ads custom audiences.
Don't Let Your Competitors Destroy You
Digital marketing is a constant game of survival of the fittest. Unlike business 50 years ago when strategies were implemented on decade long timelines, your strategy 3 years from now will be VERY different than it is today.
The more brands that figure out how to leverage Messenger Marketing for Amazon FBA to gain an edge, the more important it will become.
It's a strategy that takes time & focused effort to setup and figure out, so companies with a headstart have a durable advantage.
Don't be left with your pants down when your product launch isn't working. Amazon Ads usually isn't enough to drive ranking alone.
If you're someone who knows they should be using manychat to build an audience, but have no idea how, educate until you understand it, then hire a professional to implement for you.
It's a competitive asset for your business… or your competitor's.
How many 1-3 star reviews have you gotten from people you KNEW you could have turned around if they just would have messaged you before leaving a review?
When customers can't easily find a way to get support, they often leave a negative review. Better they vent to customer support than in a 1 star review!
By having an already opened communication channel with customers (Facebook Messenger), they're way more likely to message YOU there when something goes wrong before leaving a review.
It should be easier for them to message you than to go on Amazon & leave a review… & that's pretty easy.
Set up an automated message at the end of any interaction with a new customer that reminds them to reach out to you "here in messenger" if they have any issues, concerns, or questions.
You can also put a Messenger scan code or URL on your product inserts that will automatically open up a Manychat messenger convo with them and deliver them some free gift or whatever your incentive is for them to opt in.
Best Messenger Marketing for Amazon Strategies
Ok here's the fun part, actually setting this all up! I'm going to share the top 4 strategies that every Amazon seller should be using if they're using Manychat *download my template for each one here
Subscriber Growth Campaign
This campaign can quickly grow your messenger subscribers. If you're starting from scratch, it's a great way to grow your list fast!
There are many ways to do this, but what's been working really well is a viral giveaway contest for a high value item.
To enter, people must click on your Facebook Ad to enter the ManyChat flow, enter their email address (because you should be growing your email list too!), then they're told they can DRAMATICALLY increase their chances of winning by sharing with a friend or tagging a friend on the Facebook Ad comments.
This adds a viral effect & some people will literally tag 20 people on the ad!
Offer: Typically 1 super high value prize $150+ works better than lots of lower value prizes. Ideally it's a bundle of many of your products, but if not it MUST be directly related to your product or you will get lots of people entering that have no interest ever buying… they just want the Amazon gift card!
Facebook Ad: Use fairly open targeting for this one. You want to create an ad & offer that will ONLY attract your target customer so targeting can be a fairly broad interest based audience.
Make it short & to the point
Manychat Flow:
Remind them of the prize they are entering to win (so they are clear why you are sending them the message)
Ask for their email to confirm their entry. In the example below 330 people opened the message & 74% gave their email! Don't miss an opportunity to get people in more than 1 of your audiences.

Prompt them to share with friends to boost chances of winning! The card below allows them to share with friends directly within Messenger or open the Facebook post to tag a friend in the comments.

Announce the winner of the giveaway & offer all the "losers" a consolation prize. This can be a discount code for any of your other products. Just make sure it's directly relevant to the items you were giving away.
Don't expect any crazy results from this, but you will get some sales from this & more importantly, it introduces your products to people who may not have considered your brand yet (they just wanted to win the giveaway).
Now they're aware of what you have to offer & have been warmed up for future campaigns.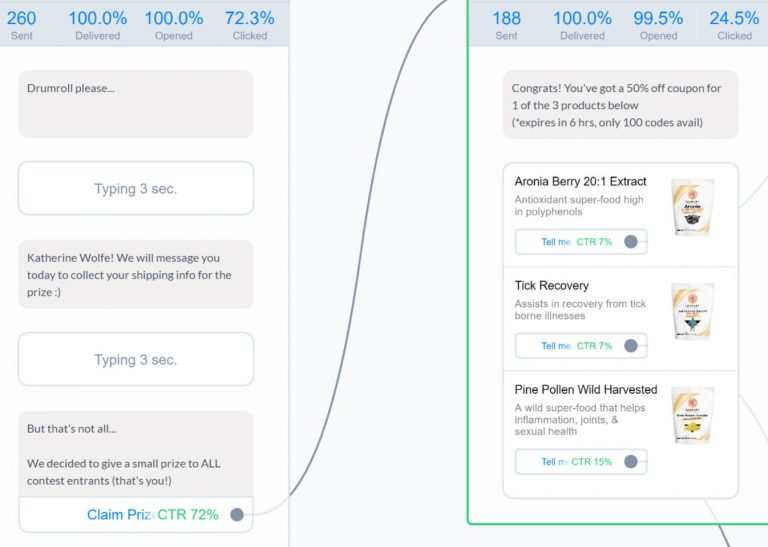 Keyword Ranking / Launch Campaigns
The doozie, this is the weapon that will allow you to bring the firepower to your keyword ranking campaigns on Amazon.
Just to set expectations here guys… these campaigns are the most difficult to get dialed in & it's highly likely it will take a few iterations to really find what works for your product.
So please, do NOT rely on this as your one & only launch method if you're new to this. Get your PPC setup, use a launch service, just have some backup in case this is one of your "learning" campaigns.
Quick Note on Amazon URLs for Keyword Ranking
There's a lot of controversy over whether modified URLs are against Amazon TOS (there always has been).
In a recent Actualize Freedom Podcast interview, Viral Launch CEO Casey Gauss firmly stated that based on data from 40,000+ launches, the 2-step/ Storefront URL is still working well and has yet to see ANY issues with Amazon TOS.
Here's a few key terms you need to know here:
Keyword URL / Super URL / Storefront URL / 2 Step URL, etc: a type of modified URL to an Amazon page that makes it look as if the customer searched for a specific keyword to get to that page. The idea is that is helps boost ranking for that keyword when a sale is made.
Pixeled Link: Using a software like Pixelfy.me, you can add a Facebook or Google ads retargeting pixel to anyone who clicks that link so you can deliver ads to them later.
Deep Link: Automatically detects if a user is on mobile, & has the Amazon shopping app installed, then opens in the app instead of mobile browser (where they're probably not logged in). We use geni.us for this.
A lot of people don't use deep links and it kills conversion rates. It's super annoying to have to login to Amazon on the crappier mobile browser version of Amazon when you're used to being always logged into the sleek Amazon Shopping app.
Stand Alone Launch Broadcast
If you already have a large enough list of subscribers, you can send a free broadcast to them to promote your launch.
In the most basic terms, you are using them in the same way as a launch service like Viral Launch or Sixleaf, generating the daily sales velocity you need to rank for your target keyword over 7-14 days.
Here are a few different methods of doing this:
Keyword URL: Send them to your product page using a keyword ranking URL
Search Find Buy: With Manychat it's easy to send a flow that helps walk customers through the process. Give them instructions with screenshots on how to type your target keyword into the Amazon search bar, scroll to find your product, then purchase.

This makes it look like an organic search for your target keyword & may be more effective than a keyword URL, but less people will buy because the process has more steps.
Guidelines for Product Launch Broadcasts
Keep it Concise: Michelle Smith told us on an Actualize Freedom Podcast episode that "Messenger is a notification platform, not a drip platform like email is."

It's important to consider that people communicate on Messenger in short, conversational messages rather than long winded emails, & sending many messages in a row seems "spammy" whereas in email it's normal.

Follow Up to Confirm they Purchased: If a user clicks your link to purchase on Amazon, send them a follow up message shortly after asking if they managed to checkout okay.

This serves as both a reminder for people who got distracted, and also allows you to confirm they have purchased & tag them as a buyer so you can put them into review follow up sequences & the like.

Have the 1st Step in the Broadcast Trigger a Flow: Rather than putting the entire flow into the broadcast itself, have the first step "automatically continue" then the 2nd step trigger a flow.

This allows you to edit the flow after sending if you run out of coupons, or an error was made with a link, etc. Regular broadcasts cannot be edited after sending.
Launch/ Subscriber Growth Hybrids
Who says your campaign can't be both? While this may not be as reliable as a launch broadcast because you can't be sure how many people from your Facebook ad will end up buying (whereas the broadcast you know how many people you're sending to) it can be a great way to turn new subscribers immediately into buyers.
How do you do this?
One method that works quite well is "Spin to Win" where people can win discounts from 50-90% off.
It gets subscribers for cheaper than if you ran a simple 50% off promo because there's something psychologically hooking about the element of chance ( as proven by the gambling industry).
You can set up the percentages of people who get each level of discount and send a separate flow to each with their unique coupon codes.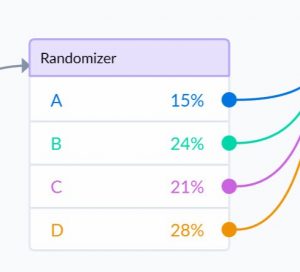 For people to claim their discounts, send them a Keyword URL or Search Find Buy instructions for the target keyword, and you're on your way!
You just got a bunch of cheap subscribers and keyword ranking at the same time!
Obviously the more aggressive your discount is, the more people will actually buy. You can't just set most of the codes to 30% and a few to 90% and expect everyone to buy. Make it appealing!
Review Follow Up Campaigns
Set it up once and reap the benefits of increased review rate forever.
Just be sure to set up your tags in Manychat so you can exclude people who got deep discounts (won't count as verified review).
Basically you can get this up as a "flow" in Manychat, then just trigger the flow at the end of any flow you want the customers to receive a review request.
There are a few big advantages using Manychat for Amazon reviews over Amazon email follow up systems like Feedback Genius or Zonmaster.
Many Amazon shoppers opt out of all non order related seller emails, but all of your Messenger subscribers can receive messages with open rates of 70%+
You can add tags to people who leave a review using ManyChat so you can segment them for later targeted campaigns.
You can follow up with people to ask if they've left the review yet in a friendly manner to increase the amount that do! Just don't do it more than once or it gets spammy. This also is a good method to confirm them as a "reviewer" so you can tag them as one.
How to Remain TOS Compliant When Asking for Reviews
Review manipulation is the clearest & easiest way to get banned from Amazon, so be super careful & intentional about how you word your review requests.
Here's a few easy ways to get suspended faster than me in 8th grade math class:
Offer a discount code, free product, or any incentive in exchange for leaving a review. Some sellers "get around" this by offering a gift to everyone regardless of whether they leave a review or not, but this can still be seen as review manipulation and is highly risky.
Route customers who like the product to leave a review, and ones who don't to your customer support. Amazon suspends people for this when they can see it within their email follow up system, but obviously they can't see inside your Manychat flows, right?… All it takes is one screenshot. Less risky than doing it by email, but still risky.
Put all your discount code buyers through your review follow up sequence. While this isn't review manipulation, firstly they won't count as verified reviews, secondly it's highly likely to get your account flagged when a high amount of deep discounted coupon customers leave reviews.
Best Resources for Amazon Seller Chatbots
There's a ton to learn, so here are a few of the best resources we have consumed & follow. Some are free, some are paid, and some are affiliates, but we have personally used them all & found them to be the most valuable.
Training:
AMZ Messenger Bot Club by Michelle Smith (the webinar has more info than most people's entire course)
Messenger Marketing & Chatbot Mastery (free course by Manychat)
Podcast Episodes:
Michelle Smith – Messenger Marketing for Amazon FBA
Ryan Rigney – Facebook Ads & Manychat for Reviews & Launch
Done For you Services:
Kenji ROI Messenger Marketing Management
We setup & manage everything mentioned in this article as well as running the Facebook ads.
Blended with our experience creating & optimizing thousands of listings to rank & convert on Amazon, we've created a truly unique offering tailored just for Amazon sellers.
We work with a limited amount of brands to ensure we can grow with them & deliver the best results we can.