Last updated on October 14th, 2021 at 02:27 pm
Editor's Note: This article was written by our friends at Kandy, an e-commerce marketing agency specializing in non-Amazon marketing.

????Scaling eCommerce brands to 7 figures and above with (mainly) creatives. Here's
how we did it… ????
For us, brands with poor content are a deal-breaker in eCommerce.
In order to scale with ads, you need to be consistently testing.
The problem for many brands, however, is consistency and repeatability.
Why's that?
Well, someone has to understand the brand and its audience.
Someone has to analyze all the ads, spot the winners, and brainstorm ideas.
Someone has to brief the staff, watch their progress, and manage work.
Find the right models, locations, correct props.
Shoot, record, edit and make it interesting.
Review, give comments, feedback.
Launch the ads, analyze, give instructions…
You get the point.
SO – we took matters into our own hands and develop a system. One that gets results like this…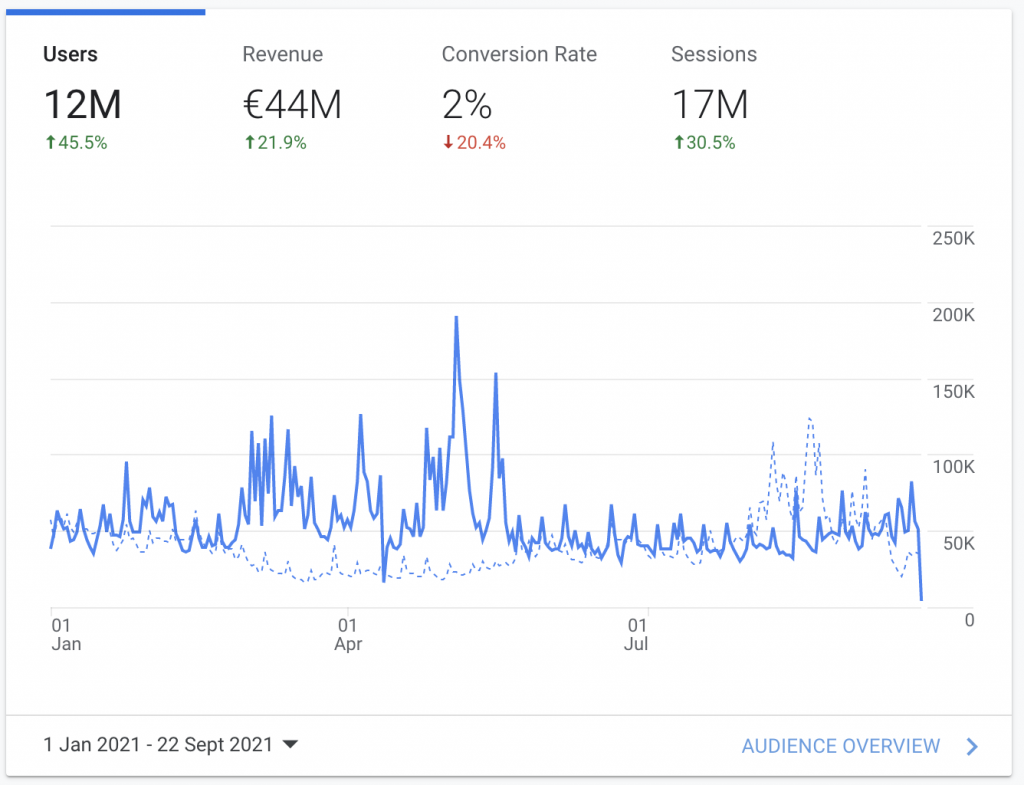 A system that can help YOU create better creatives, hit the right pain points, and start coming up with creative angles that convert.
How to Make Facebook Ads Creatives that Convert:
???? Research – Research is a never-ending process you should be doing. By mining reviews, stalking competitors, and learning as much as possible about your audience – you can create compelling angles to engage customers.

Look for their motivations, anxieties, and other values.

Few of the strategies you could use:
Create ad swipes from your top 3 competitors, go through ad comments, Amazon reviews, jump on Zoom calls with your customers, do post-purchase questionnaires, etc etc. That's where the gold is.
???? Ideation – Based on data and competitors, we create Safe, Medium & Wild Card angles – for maximum content efficiency. You can do something similar, based on what your audience values more.

It's good to experiment and throw in a crazy angle here and there, just make sure you back it up with something safe you know works. This step also includes brainstorming, scripting, and briefing.
???? Execution – Time to cast, produce, shoot, edit and organize everything. Quickly. Be sure to also take into consideration the actors' fees, gear rent, production fees.

Having our list of part-time actors/models and some influencers helps us drive their costs down. Then, you need to import everything into your project management system (we use Notion). (Let me know if you need more info on this, glad to elaborate).
???? Analysis – Finally, you should analyze your ads post-launch, review them, and plan accordingly. Based on data, then create new ideas or refurbish past ones. Data is essential. Make sure you're tracking everything.
Rinse and repeat. Each month, every month.
And here's the thing:
You don't even need to have expensive $40,000 cameras or overpriced studio lighting.
Your strength should be in somewhere else – creating content that converts, quickly, repeatedly, and a lot.
High conversion-driven principles go a long way with your creatives.
This exact template generated more than $2m in revenue for one of our ads
Hook (First few shots) is the most important part. Imagine what happens if you suck on this part.
UGC Stack. Take out all the benefits, features, objections that your product has and translate the whole idea using different influencers/actors.
Benefit stack. There goes your studio shots + headlines focusing on benefits of your product.
Risk Reversal. Money back guarantee, free shipping, etc.
Some more attention grabbers (Up to 5s).
Authority. Mentioned in, tv shows you've been in, etc.
Call to action. Make sure not to fuck up on this one
Some more important bits:
Full video ad shouldn't be longer than 1.5min, don't overuse high-quality shots, focus more on organic ones and make sure you've done your research – look and talk like your customer.
This article was written by our friends at Kandy for Scale. If you want to reach out to them, you can get a 30-minute complimentary consultation (worth $250) using discount code:
kenjiroi https://www.kandyforscale.com/consulting