Last updated on March 28th, 2023 at 01:00 am
If you're an Amazon seller using HTML in your product descriptions the party is over. An official release from Amazon explicitly states that HTML formatting will no longer show in descriptions as of July 17, 2021.
What should Amazon sellers do instead of HTML descriptions?
What should brands do if they have dozens or hundreds of descriptions to update?
What will happen if you don't change them?
We'll dive into it all in this blog post.
The Official HTML Description Ban Hammer From Amazon
After July 17, 2021 Amazon will be phasing it out, as you can see from this screenshot of an official Amazon announcement.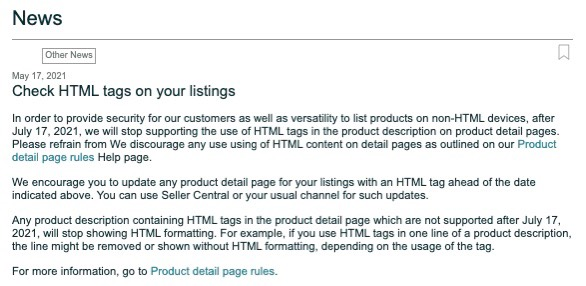 There reasoning seems to be for "security" purposes, but Amazon has always been against HTML for the most part. Ever since I started selling on Amazon in 2016 the TOS had clear language about strongly suggesting not using HTML coding. But they did state that very basic HTML formatting was ok.

Well party is over, all HTML in Amazon descriptions is very clearly not allowed any more. So sellers are left with the job of updating every product description to avoid potential issues.
What Happens to My Existing HTML Descriptions?
It's unclear whether the description will show without the formatting or be wiped out completely. ‍‍In Amazon's update, they mentioned both as possibilties.
The biggest risk is that your description with HTML would be not only removed visibly from the listing, but also the keywords potentially de-indexed. So you would not be showing up for some keywords.
‍‍‍‍‍‍‍‍‍‍To avoid the risk of having descriptions removed (or deindexed for keywords), I recommend updating your product descriptions without the HTML. ‍‍ ‍‍‍‍‍‍‍‍‍‍‍‍
How to Change Amazon HTML Descriptions Into Regular
1. Open a free HTML Editor, there are many on Google
2. Copy and paste your HTML description (HTML code version) into the editor. This will give you the non formatted version.
3. Copy and paste the new non-formatted version into your Amazon description field ‍‍ ‍‍‍‍‍‍‍‍‍‍‍‍

Obviously this can be very time consuming if you have dozens of hundreds of products. In that case you'll want to use a bulk file upload to save time. ‍‍ ‍‍‍‍‍‍‍‍‍‍‍‍
Update Amazon Descriptions with Bulk File Uploads
1. Download the correct bulk file template from Seller Central under Inventory > Add Products Via Upload
2. Add your product SKUs, then change only the description (other fields will stay unchanged)
3. Make sure you locate the field 'update_delete' and enter 'PartialUpdate' ‍‍ ‍‍‍‍‍‍‍‍‍‍‍‍
This will be a massive timesaver if you have lots of descriptions, but for 10 or less products probably is easier to do manually.
What Should Sellers Use Instead of HTML Descriptions?
A little known fact is that even if a product has an A+ Content description, it sometimes still shows the regular description as well. So there may be 2 descriptions shown at once.
So it's important to still have your normal description field filled out in a way that looks presentable and could actually be useful to someone reading it. Without HTML formatting however, it will always appear as a giant blog of text that's very difficult to pick useful information out of.
For that reason, the regular description is best used as a place to rank for relevant keywords, and don't worry too much about making it readable. But at the same time you don't want to totally keyword stuff it in case Amazon shows both your A+ Content and regular listing at the same time. It would look bad to potential customers.


A+ Content Descriptions
If you have Amazon Brand Registry, an A+ Content description is a must. According to Amazon's data snippet they share in Seller Central, AT+ Content boosts conversion rate by an average of 6%. For many products that can add up to thousands, even tens of thousands per month in additional revenue.
If you've been delaying on A+ Content descriptions, there's never been a better time than when your HTML description is going away. Luckily it's never been easier to get brand registered with the Amazon IP Accelerator program, allowing sellers to apply for Brand Registry after starting the their trademark application rather than waiting until the trademark is approved (which can take 1 year or longer).
A+ Content is a dramatic upgrade to a regular description, allowing for a custom configuration of modules with images, writing, and ideally some professional imagery with graphic design that gives your brand high perceived value.
Learn more about Amazon A+ Content here.
Amazon A+ Content Service
At Kenji ROI, we provide a full done for you service for A + Content descriptions including product photography, infographics, and writing. It's often done together with the main images (including lifestyles, models, infographics), Amazon videos, and listing copywriting, but can be done as a stand alone service as well.
To request a quotation for your brands, reach out to us here.